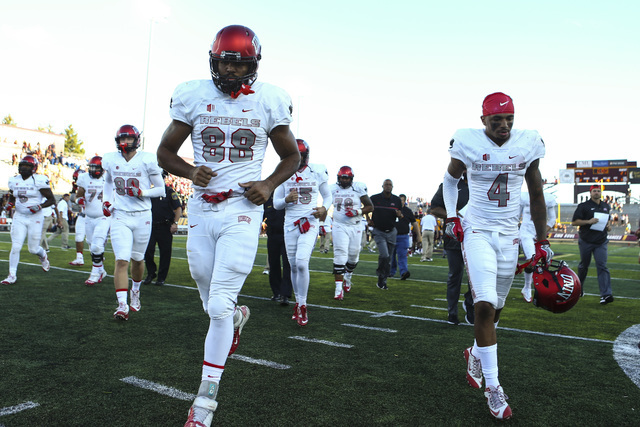 Five takeaways from UNLV's 44-21 loss Saturday at Central Michigan:
1. Old habits are hard to break
The Rebels' defense was expected to be bolstered this season by added depth and experience but thus far that hasn't been the case. UNLV (1-2) has allowed more than 30 points and 400 yards per game in each of the last eight seasons and is on pace to do so again this year, allowing 33 points per game and 416.7 yards per game. The Rebels gave up 42 points and 499 yards of total offense to UCLA and 44 points and 499 yards of total offense to the Chippewas.
UNLV is tied for 89th in the nation in total defense (with UNR) and is 100th of 128 Football Bowl Subdivision schools in scoring defense. The Rebels also have struggled on special teams, where they're No. 102 in kick return defense, allowing an average of 23.3 yards on 10 returns.
2. Johnny Stanton's slide
Against teams not named Jackson State, the junior quarterback who began his career at Nebraska has completed only 26 of 69 passes (37.7 percent) for 284 yards, two touchdowns and four interceptions.
Rebels receivers dropped several passes on Saturday, but the strong-armed Stanton also simply missed many open targets. Stanton is 36 for 81 (44.4 percent) overall for 501 yards, five touchdowns and four interceptions. He's tied for 84th in the country in passing yards, is No. 101 in passing efficiency (106.9) and UNLV's passing offense is ranked No. 105 at 169 yards per game.
3. Pass rush is still weak
Hard to believe, but UNLV is on pace to produce only eight sacks this season after finishing last in the nation in sacks last year with nine. The Rebels had one sack in each of their first two games but none on Saturday, when Central Michigan quarterback Cooper Rush comfortably threw for 342 yards and a stadium-record six touchdown passes.
Senior defensive end Jeremiah Valoaga was expected to make a major impact this season but has yet to step up. The Rebels are tied for 113th in the country in sacks and tied for 120th in tackles for loss, with only 3.3 per game.
4. Lex marks the spot
Lexington Thomas has been the team's big bright spot. The sophomore running back sprinted off left tackle for an 85-yard touchdown run in the first half Saturday en route to 113 yards rushing for his fifth 100-yard game in only three career starts. Thomas, who has four touchdowns, is 23rd in the country in rushing yards with 293.
UNLV is 43rd in the nation in rushing offense with 212.3 yards per game.
5. Things can only get better
Along with the news that the Fertitta family's $10 million gift, the largest in UNLV athletics history, will help pave the way for the Feritta Football Complex to be built on campus and that the proposed 65,000-seat domed stadium that would house the NFL's Oakland Raiders and the Rebels is closer to becoming a reality, the rest of the schedule shapes up well.
UNLV should even its record at 2-2 on Saturday at home against Idaho (1-2), which has been outscored 115-20 the last two weeks at Washington State and Washington. If the Rebels beat the Vandals, they could match their win total from last season by defeating a Fresno State team (1-2) that has been outscored 95-27 in losses at Toledo (52-17 Saturday) and Nebraska (43-10).
Contact reporter Todd Dewey at tdewey@reviewjournal.com or 702-383-0354. Follow him on Twitter: @tdewey33