Air Force coach compares UNLV's Armani Rogers to Cam Newton
October 11, 2017 - 5:52 pm
Updated October 11, 2017 - 6:41 pm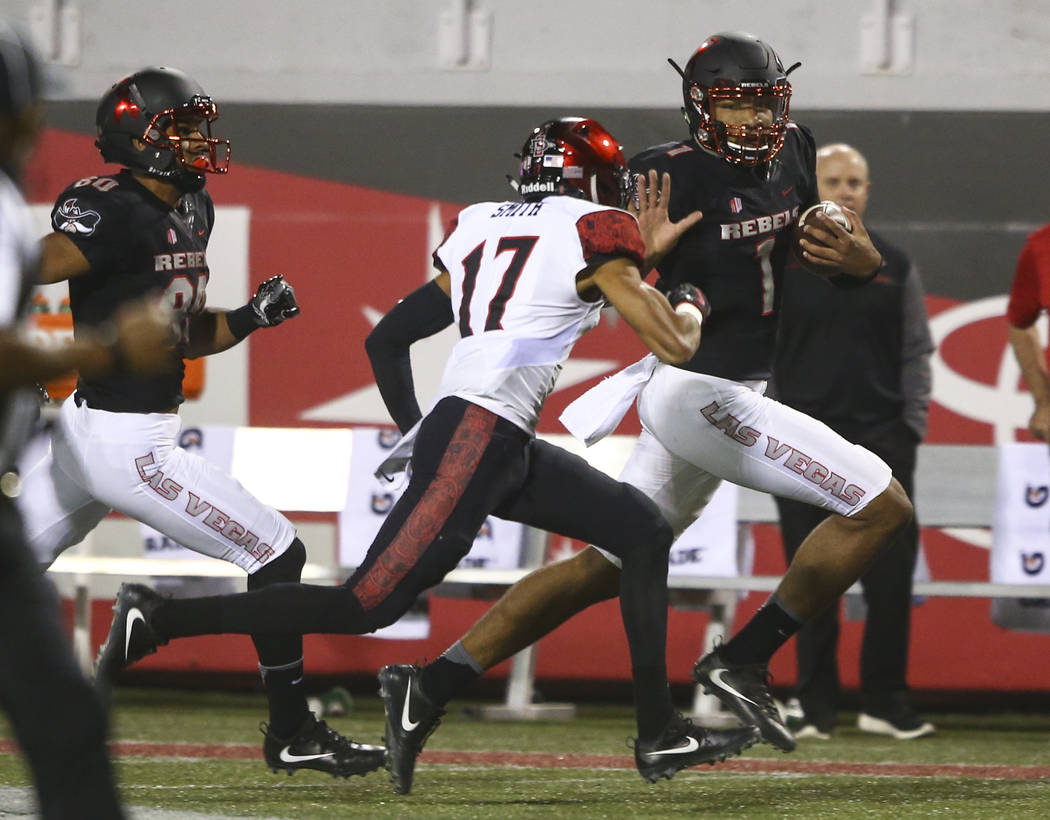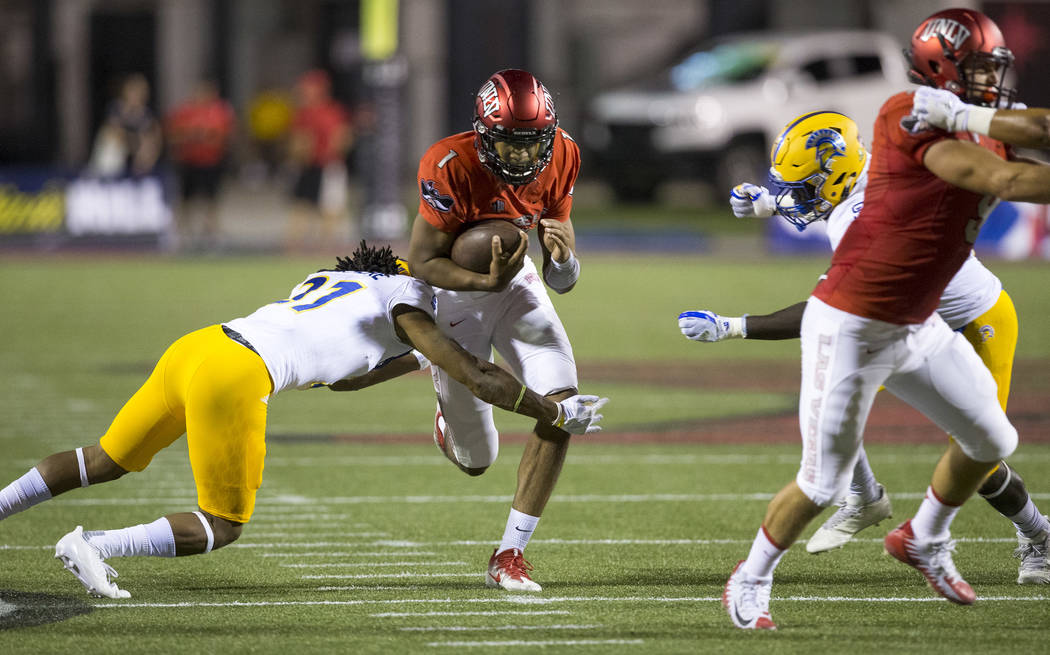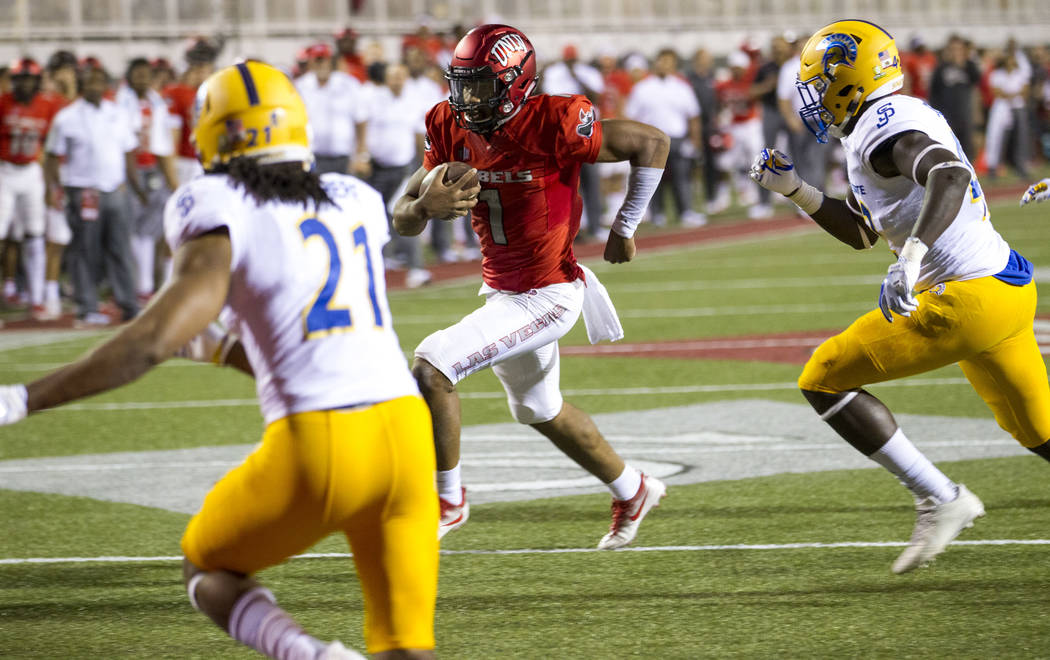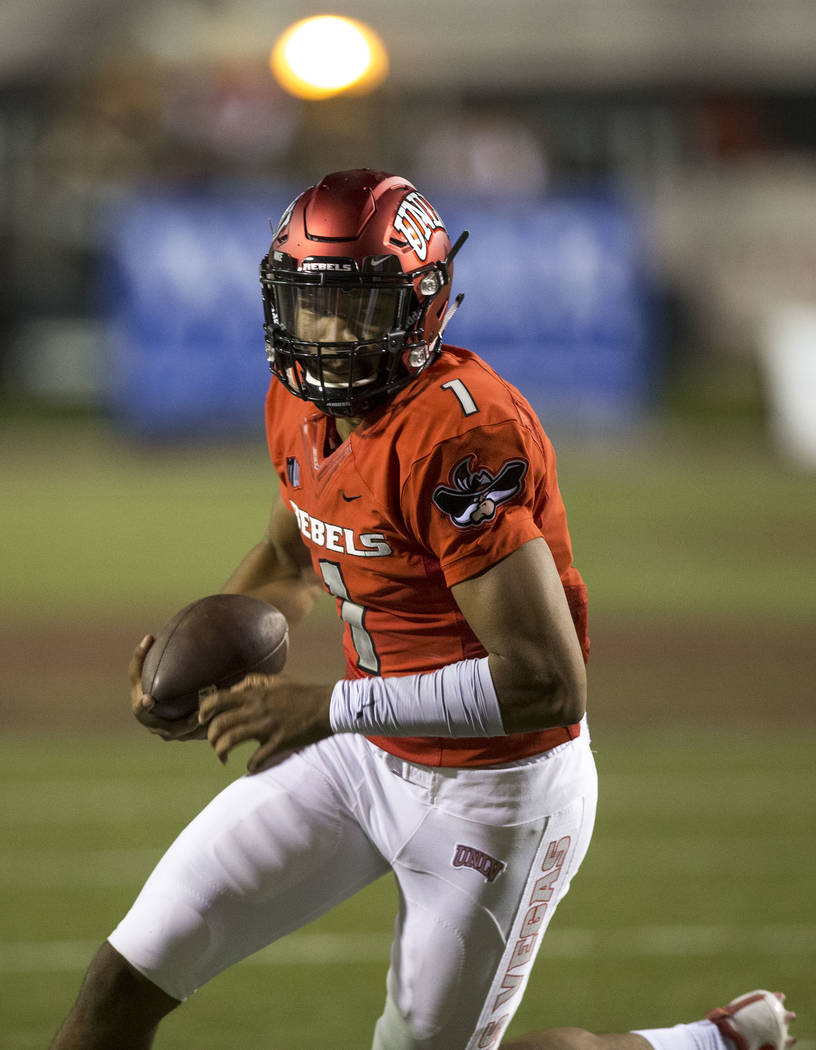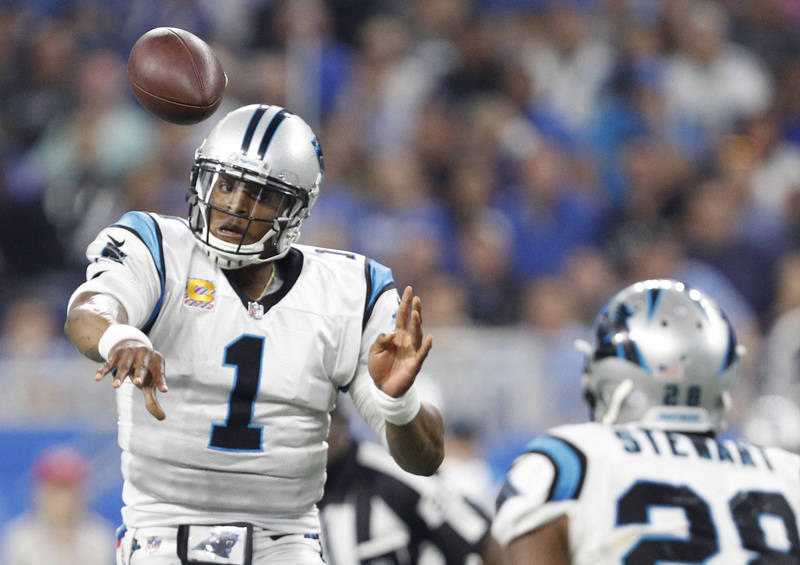 Athlon Sports created a bit of a stir in the summer when its college football preview magazine compared UNLV quarterback Armani Rogers to Carolina Panthers star Cam Newton.
Now Air Force coach Troy Calhoun has done the same.
"You guys are going to say, 'Come on,' but I'd love to have a tape of and be able to see where Cam Newton was when he was a freshman in college," Calhoun said at his Tuesday news conference. "This guy (Rogers) is just a great, great talent, a guy that had all kinds of offers as he should've. He throws it, and he can flat move, too."
Calhoun, whose Falcons (1-4, 0-2 Mountain West) host UNLV (2-3, 1-1) at 11 a.m. Saturday, returned to that comparison later in the news conference.
"Like I said earlier, I don't think it's a stretch at all," Calhoun said. "I mean it. Go see Cam Newton's freshman year in college. I'd love to see some of his clips and watch them with the guy that UNLV has."
Newton played in five games as an incoming freshman at Florida in 2007, rushing for 103 yards and three touchdowns on 16 carries. He completed 5 of 10 passes for 40 yards. Newton redshirted the following season before transferring to a junior college and then to Auburn, where he won the Heisman Trophy in 2010.
Rogers is a redshirt freshman who has completed 55 of 97 passes (56.7 percent) for 881 yards and five touchdowns. He is second on the team in rushing with 312 yards and three TDs on 69 carries.
Looking ahead
According to teamrankings.com, a computer-based sports analytic website, UNLV's toughest remaining game is Air Force. The site gives the Rebels a 17.1 percent chance to win.
Teamrankings.com projects a UNLV record of 5-7. It gives the Rebels a 36.5 percent chance of going 6-6 and becoming bowl eligible.
By the site's projections, UNLV should defeat Hawaii (79.5 percent), Brigham Young (59.3) and UNR (55.5). The most likely victory after that is against Utah State (42.5 percent).
Long snapper a long shot
UNLV junior long snapper Joe Lang is going through the concussion protocol and isn't expected to play Saturday. Senior Trevor Kanteman, also the starting tight end, is his replacement.
"You saw (Kanteman) in the Wyoming game last year," UNLV coach Tony Sanchez said. "He came in and did a tremendous job, and against San Diego State, this last game, he came in and did another really good job. Trevor's a tough guy. He does a really good job. He's a very confident young man. He's just a hair right behind Joe Lang, so who knows, if he didn't play so much tight end, maybe he would beat Joe out at snapping."
Warmer this time
This is UNLV's first trip to Air Force since 2013, when the Rebels dominated from the start in a 41-21 victory to become bowl eligible. The warm-weather Rebels prevailed in snowy conditions and a temperature of 11 degrees at kickoff — the coldest game in each program's history.
The forecast for Saturday at Air Force, according to weather.com, is for a high of 58 degrees with sunny skies.
Contact Mark Anderson at manderson@reviewjournal.com. Follow @markanderson65 on Twitter.