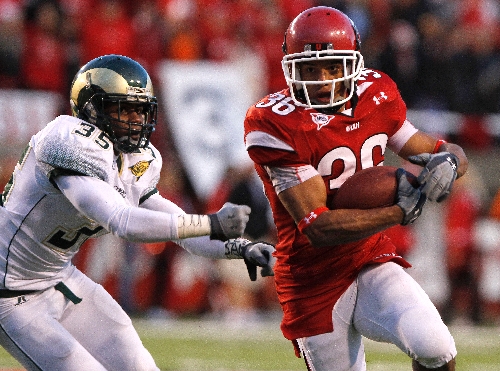 Utah was the original Bowl Championship Series buster in 2004.
In 2008, the Utes went undefeated and shocked Alabama in the Sugar Bowl, earning 16 first-place votes and a No. 2 ranking in the final Associated Press Top 25 poll.
But could Utah be even better this season?
"I think that might be the best team they've ever had," Air Force coach Troy Calhoun said Tuesday of the Utes (7-0, 4-0 Mountain West Conference).
Of course, Calhoun has reason to speak kindly of eighth-ranked Utah.
His Falcons (5-3, 3-2), coming off a 38-7 loss to No. 4 Texas Christian, host the Utes on Saturday, and there's no reason to provide any more fuel for a Utah team that is trying to impress poll voters.
The Utes' chance to make a definitive statement comes the following week, when they host TCU (8-0, 4-0).
It's a tough stretch for Utah, which after facing the Horned Frogs plays Notre Dame, San Diego State and Brigham Young.
"We had some challenging games prior, but we realize the meat of our schedule is upcoming," Utes coach Kyle Whittingham said.
■ TOUGH LESSONS — Not surprisingly given its brutal schedule, UNLV has been hit hard by injuries this season.
This week's Rebels injury report, with the team coming off a bye, lists 24 players, including 12 who have been ruled out, for Saturday's 8 p.m. game against TCU at Sam Boyd Stadium.
"Most of our injuries are more long term than not," UNLV coach Bobby Hauck said.
The Rebels have played 23 freshmen and redshirt freshmen, largely because the number of banged-up players has forced the youngsters into a quick football education.
Their experience could help UNLV build for the future. But for now, it's just painful.
■ SOME SALES JOB — TCU coach Gary Patterson did his best to convince folks that UNLV should be taken seriously despite its status as a 35-point home underdog Saturday, saying, "They've played a lot differently at home than on the road."
He's right — to a point. The Rebels' one victory was at home, 45-10 over a New Mexico team that might be the nation's worst. They also played somewhat respectably in losing by 20 points to Wisconsin and 18 to UNR.
UNLV's four road losses were all by least 23 points, and in the Rebels' most recent away games, they were outscored a combined 92-20 by West Virginia and Colorado State — the same Colorado State team that followed up that win with a 59-6 loss to Utah.
TCU's main issue — and a big reason Patterson is playing up UNLV — is remaining focused with its showdown against Utah looming.
While the fourth-ranked Horned Frogs need a big showing against the Rebels to maintain their lofty ranking, an upset of a distracted TCU would make just about any team's season.
"Every team left on our schedule has a reason to want to beat us," Patterson said.
■ ANOTHER SETBACK — New Mexico has lost leading rusher Demond Dennis because of academic reasons.
Dennis led the Lobos with 427 yards rushing last season and had a team-high 155 yards this season despite missing nearly two complete games for academics.
Contact reporter Mark Anderson at manderson@reviewjournal.com or 702-387-2914.
MOUNTAIN WEST CONFERENCE FOOTBALL
PLAYER OF THE WEEK
TEXAS CHRISTIAN RUNNING BACK ED WESLEY
Wesley rushed for 209 yards and two touchdowns in the Horned Frogs' 38-7 victory over Air Force.
FROM THE LOCKER ROOM
"We felt like we left a lot of plays on the field. Our goal is to win the Mountain West Conference. And we're not going to get it done if we play like that." — San Diego State linebacker Miles Burris, on a sloppy 30-20 victory over winless New Mexico
THE WRITTEN WORD
"The 1-6 Rebels are all kinds of terrible, having surrendered 30 or more points to every opponent but New Mexico — and the Lobos are redefining terrible as we speak. The Rebels have been considerably better at home than on the road, but the only way to concoct an upset scenario involves the Horned Frogs on a bender at the Bellagio the night before." — ESPN.com's Pat Forde, on Saturday's
COACH-SPEAK
"We're probably playing our best football right now." — Utah's Kyle Whittingham, after a 59-6 victory over Colorado State to improve to 7-0
THIS WEEK'S TOP GAME
No. 8 Utah at Air Force. The Falcons were no match for TCU, but they have another chance to wreck someone's season. Utah must avoid looking ahead to next week's showdown with the Horned Frogs.
MARK ANDERSON / LAS VEGAS REVIEW-JOURNAL