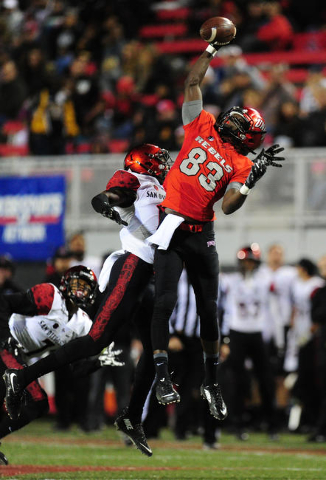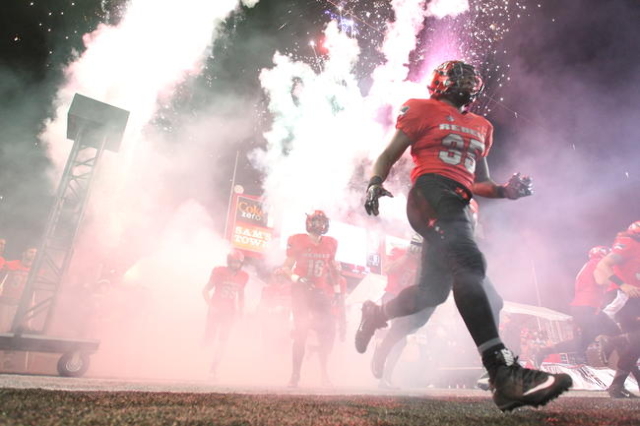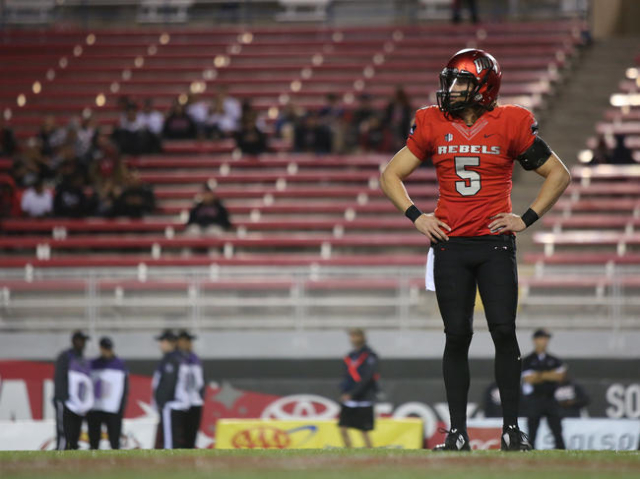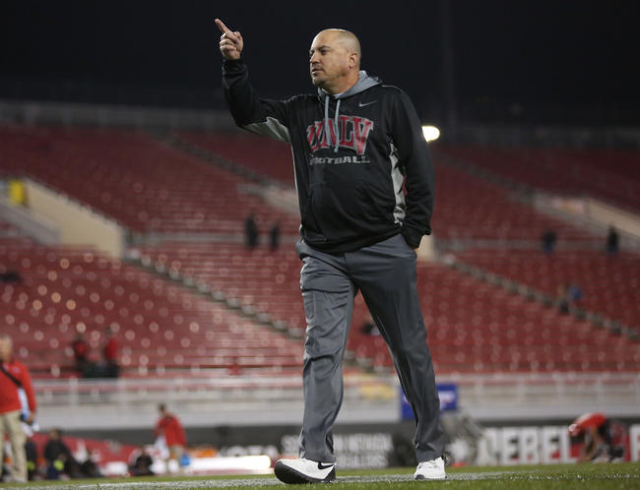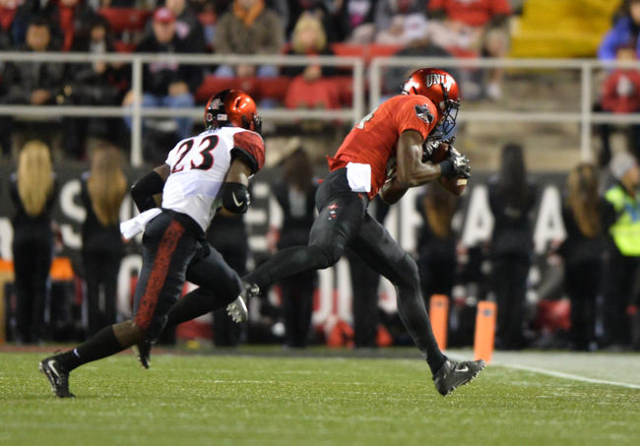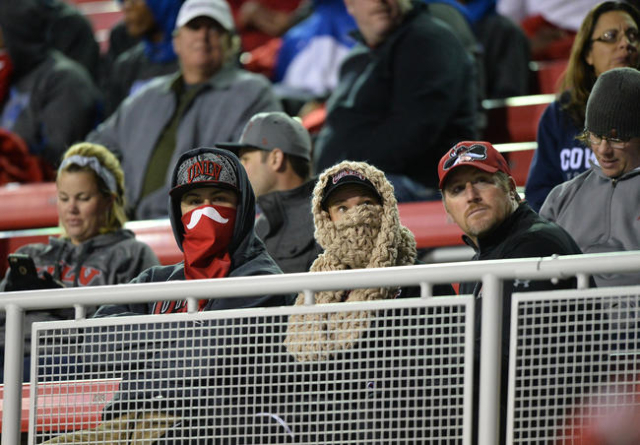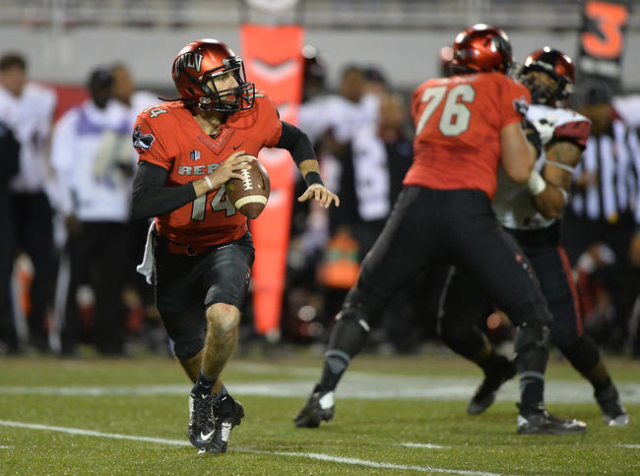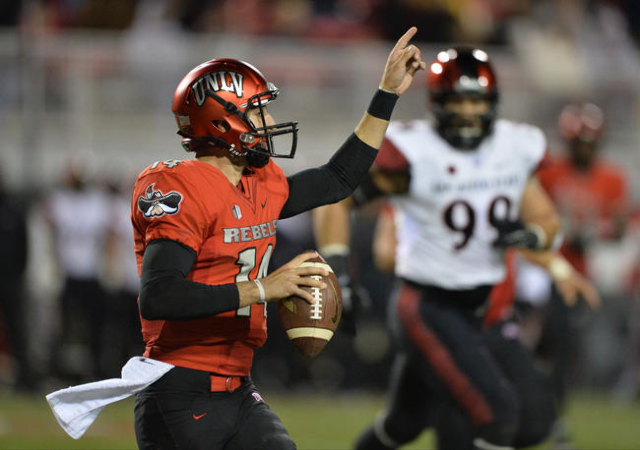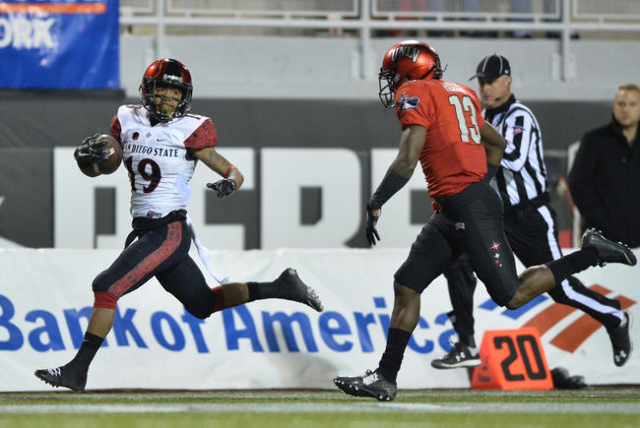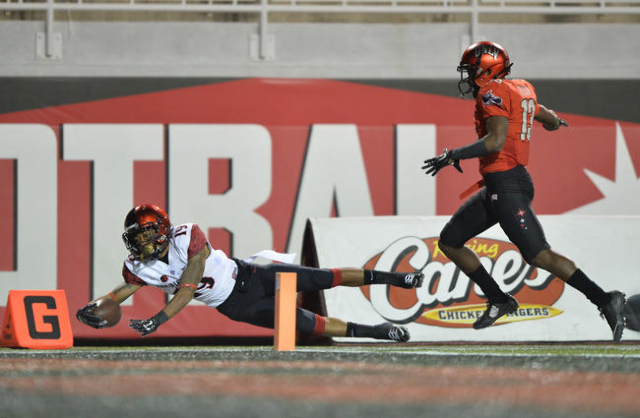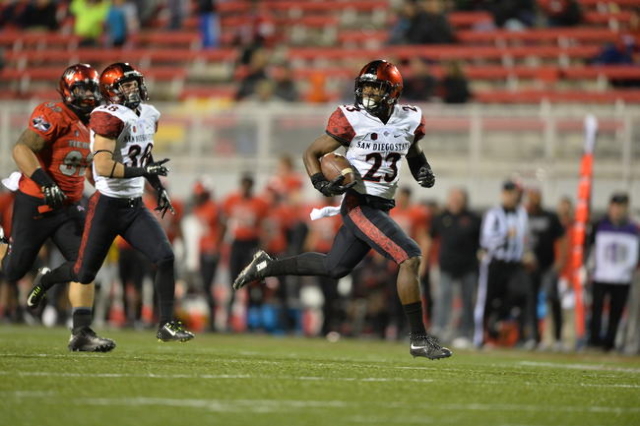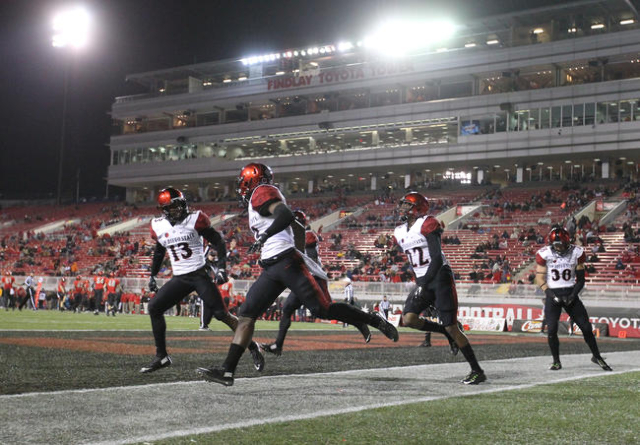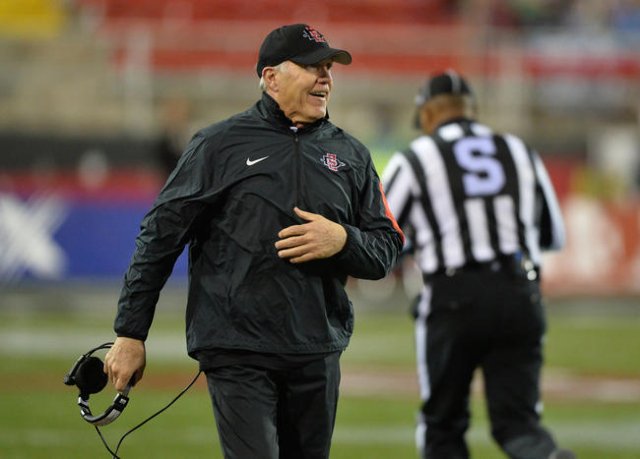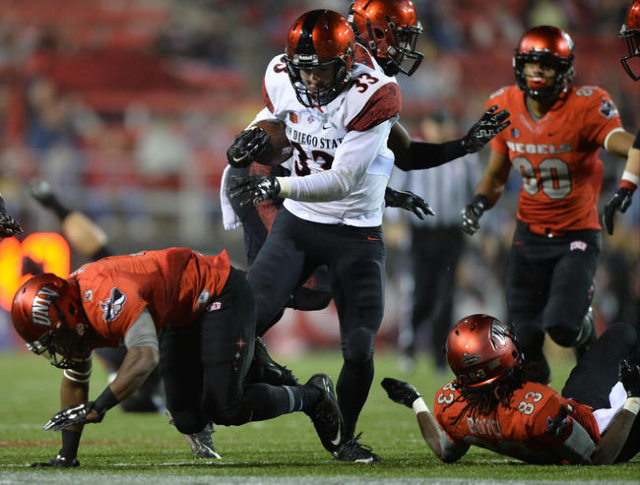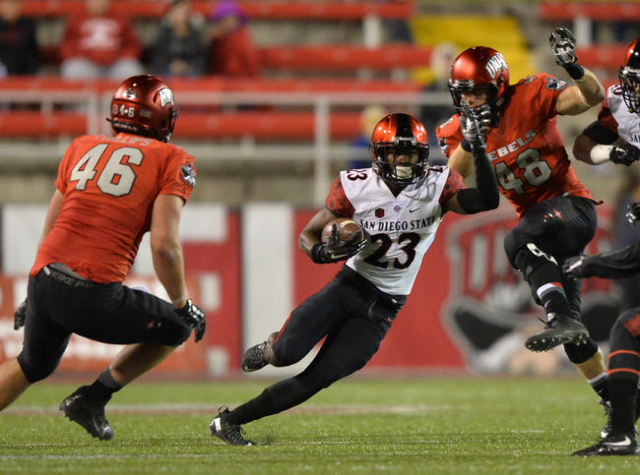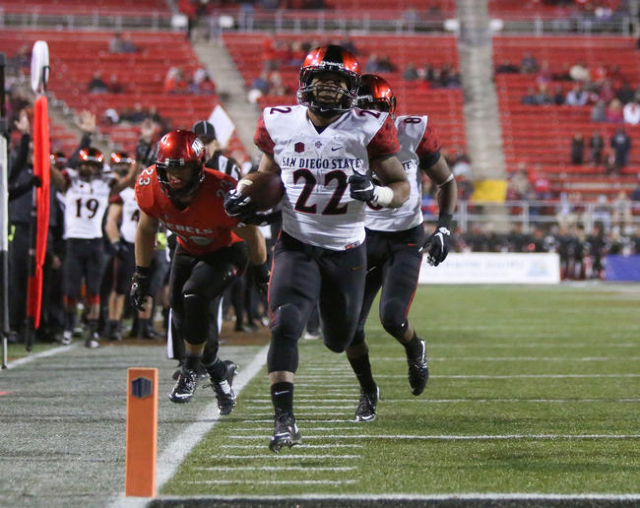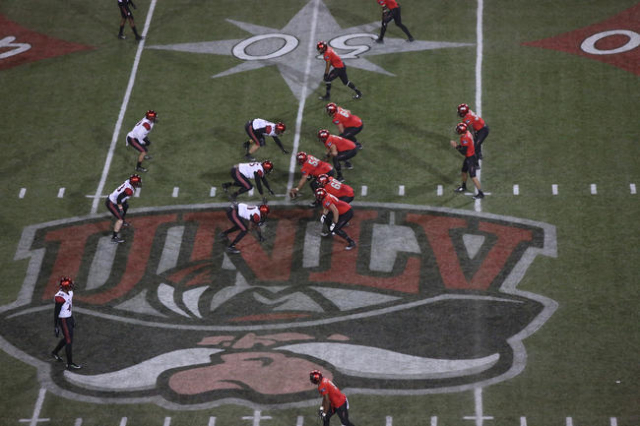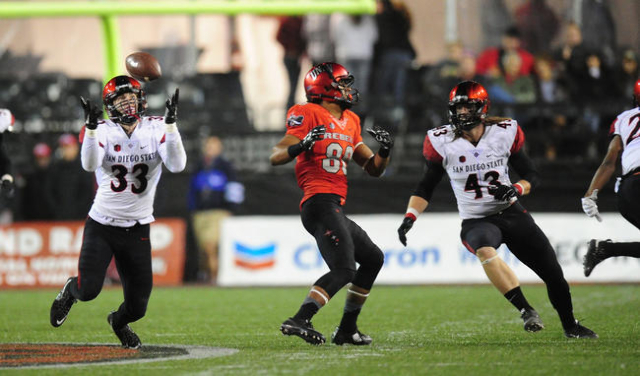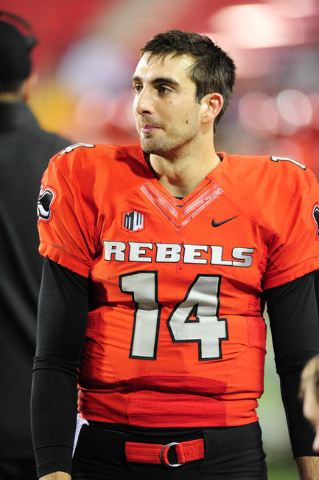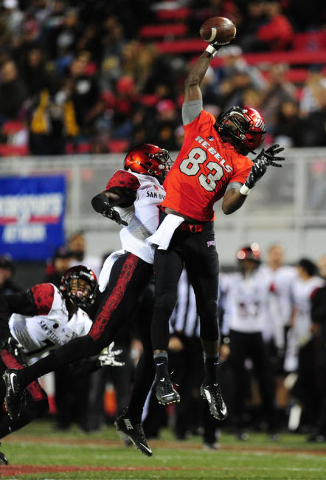 Bobby Hauck was finally on the winning sideline at Sam Boyd Stadium.
Which meant he was on the opposing side.
Hauck knows the difficulty and frustration of trying to turn around UNLV's football program, having coached the Rebels the past five seasons before the losing and frustration forced him out.
Now San Diego State's special teams coordinator, he spent Saturday night with as much stress as a day at Ocean Beach, the Aztecs rolling to a 52-14 victory and probably making Hauck thankful he no longer holds the position now occupied by Tony Sanchez.
"I'm on the outside looking in, so I don't know what's going on (at UNLV), but they seem to be doing some really good things in terms of helping the program out in terms of trying to help move it forward financially," Hauck said. "It's a big job. I told our guys in the locker room after the game I know every guy in that locker room over there, and I care about those guys. It was good to see them tonight. I'm glad our team won, obviously."
Maybe a lot more victories will come for Sanchez, who knew UNLV would be a heavy lift when he took the job. Games like this one show just how much of a load he is handling.
Just about everything was stacked against the Rebels (3-8, 2-5 Mountain West) from the start with quarterback Blake Decker (hip and ankle) and other key players out with assorted injuries. Linebacker Tau Lotulelei, who leads the Rebels with 11½ tackles for loss and three sacks, was a late scratch.
"We weren't even informed by our medical staff," Sanchez said. "We were informed by him 40 minutes before kickoff that he wasn't playing, so we didn't know that.
"So we had a lot of guys out. That lack of depth really showed."
It didn't help UNLV that the opponent was San Diego State (8-3, 7-0), the hottest team in the conference. The Aztecs, who clinched the West Division before the game even began, have won seven in a row.
If the Aztecs were ever going to hammer UNLV, this was the game to do it. And they didn't let the opportunity go to waste in taking a 31-0 lead by halftime.
San Diego State's Donnel Pumphrey, a Canyon Springs High School graduate, rushed for 139 yards and two touchdowns on 14 carries. He had 131 yards by halftime, extending his streak of 100-yard games to seven, so Pumphrey could've put up monster numbers if given the opportunity to play more in the second half.
But the Aztecs didn't need him by then.
They rushed for 286 yards and five touchdowns for the game, and quarterback Maxwell Smith completed 11 of 17 passes for 107 yards and a TD.
"We played against some good rushing teams throughout the course of the year, and I don't know if any of them beat us up the way they did," Sanchez said. "They were a lot more physical than we were, and it just shows how far we need to go and the things we need to improve on."
This was hardly the way UNLV wanted its 20 seniors to remember their final home, but at least for their sakes, they get another shot to end the season on a much more positive note. The Rebels play at Wyoming on Saturday in a game that will be much more of an even matchup than this one.
But UNLV needs the oft-injured Decker back in the lineup against the Cowboys to improve the chances of a strong ending.
Replacement Kurt Palandech is a good athlete and every so often puts together a promising stretch, but it's difficult to imagine he's the long-term solution for UNLV. He has completed less than half his passes this season, and against San Diego State, Palandech threw two interceptions and lost a fumble. He did, however, pass for 190 yards and two TDs.
"We were inconsistent as a unit, and I take a lot of blame as the quarterback," Palandech said. "I've got to direct the offense and lead them and put us in right plays, and I don't think I did a good job consistently all night doing that, and we struggled in the first half because of it."
Palandech couldn't rely on the running game against a San Diego State defense that entered the game allowing 102.5 yards on the ground. UNLV never could get a running game established, finishing with 80 yards.
"It was tough, especially playing from behind," Palandech said. "They know you have to throw it to come back. That's where I probably made some throws I shouldn't have. I forced them just trying to make a play."
At the end, Hauck went back to San Diego knowing he and the Aztecs have a Mountain West championship game and bowl appearance in their future.
"It was kind of heartwarming — everybody from the campus policemen to the ushers to the down-marker guys," Hauck said. "Everybody was so good, and obviously the (UNLV) players after the game, it was good for the old man's spirit.
"They're a good-looking team, and they've done some good things. They did some good things tonight. Our guys played well. It was different coming up here tonight. I've never been in the stadium where I was on the other sideline, so it was a little strange."
Sanchez's future is about building the program, and after the Wyoming trip, all his attention will turn to doing just that, particularly in recruiting.
He did a lot of good this season, making the Rebels more competitive than they have been over many seasons. But they still have a way to go, as the loss to San Diego State made clear.
"This is one of those nights where people have got to make decisions," Sanchez said. "We know where we're going and we have a plan, and we have a lot of guys on board with it, and the ones that aren't, we've got to push out of the way and keep moving on.
"We need to get a lot more physical in a hurry to be able to compete with teams like that."
Contact Mark Anderson at manderson@reviewjournal.com or 702-387-2914. Follow him on Twitter:@markanderson65
Check our GameDay page for full coverage of the UNLV-San Diego State game.