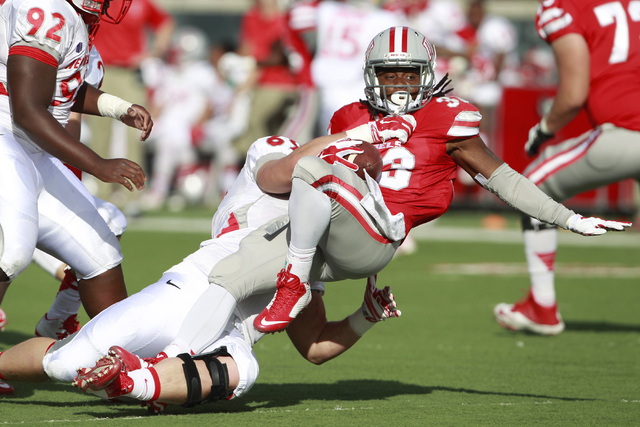 UNLV's season goals are gone, with last weekend's loss to New Mexico making official what had been obvious for weeks.
No winning season.
No bowl trip.
Even though those goals were more pipe dreams than anything rooted in reality, they were out there to give the Rebels something tangible to play for.
Now their hope is to finish strong, and that begins with today's 1 p.m. football game against Air Force at Sam Boyd Stadium.
"We've got a lot of guys that are disappointed with the outcome of this season," UNLV guard Brett Boyko said. "We all felt that we had a better team. Even looking at games, watching on film, there were games that we thought we should've won, and made a few mistakes too many.
"We want to compete. We've got a bunch of competitive guys in the locker room. We've got a lot to play for. We play for our pride. We play for the university. We play for each other. We want to go out there and win."
While UNLV (2-7, 1-4 Mountain West) is hoping to salvage something of its season, Air Force (6-2, 2-2) is bowl eligible and just captured the Commander-in-Chief's Trophy.
But oddsmakers expect a close game, making the Falcons 5½-point favorites. For the Rebels to have much of a chance to beat Air Force, they probably will need to win an offensive game.
Air Force averages 269.5 yards rushing, with Centennial High School graduate Jacobi Owens having rushed for 853 yards and four touchdowns. Quarterback Kale Pearson is next with 411 yards and four touchdowns rushing, and he has completed 58.8 percent of his passes for 1,098 yards and nine TDs.
The Falcons also field a greatly improved defense, one that allows 368.1 yards and 22.1 points per game. Linebacker Jordan Pierce (70 tackles, 12 for loss, four sacks) leads the unit.
UNLV needs to continue its more balanced attack from the game against New Mexico in which running back Shaquille Murray-Lawrence produced a 125-yard, two-touchdown effort. Until that game, the Rebels' running attack had been nearly invisible, and leading rusher Keith Whitely had just 412 yards.
Quarterback Blake Decker is on pace for one of the Rebels' top statistical seasons, but he has thrown 14 interceptions, including five in the past three games.
The Rebels will need to clean up mistakes because its defense gives up 501 yards per game — 267.9 rushing and 233.1 passing.
Even though the numbers don't add up for the Rebels, they usually play better at home. They also face an Air Force team that has won five of its games against teams with a combined record of 10-34, though the Falcons' 28-14 victory over Boise State showed they are capable of beating the Mountain West's best.
UNLV could have the confidence of having beaten the Falcons the past two years, and the Rebels got a taste of the triple option offense in the 31-28 loss to New Mexico. Because Air Force watched video of that game, UNLV coach Bobby Hauck knows today's strategy won't exactly match the Lobos game because each side will try to out-think the other.
"We'll have to have something a little different," Hauck said. "There's familiarity from year to year, too, so they have an idea of who we are a little bit. Some of our new guys getting some triple experience last weekend was probably good, but then the other side of it is they got a look at us. We won't be springing anything on them they haven't seen, for sure."
Their season goals are gone, but the Rebels have four games remaining to take something positive into the offseason. Or, in the case of the seniors, something positive on which to end their college careers.
"This is all we've got," said senior H-back Taylor Barnhill. "Just really lay it out on the line. Hopefully, the young guys follow, which I know they will. We still have a chance for a six-win season, and it's a season that we can be proud of."
■ NOTE — The game isn't being televised but will be broadcast on radio on KWWN (1100 AM, 100.9 FM) and will be streamed online at unlvrebels.com and campusinsiders.com.
Contact reporter Mark Anderson at manderson@reviewjournal.com or 702-387-2914. Follow him on Twitter: @markanderson65.
Check our GameDay page for all the news leading up to the UNLV-Air Force game.