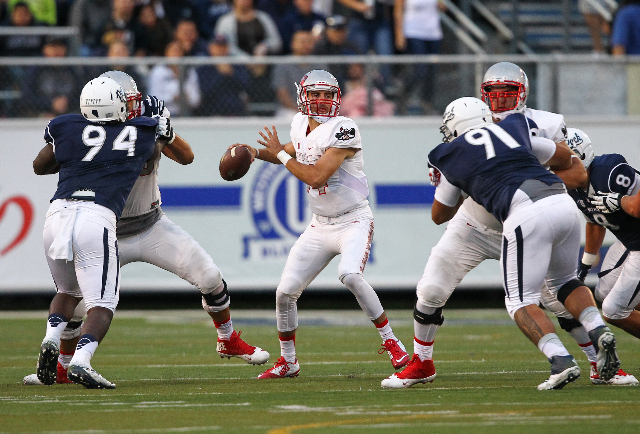 When a passing game struggles, the simple thing to do is look at the quarterback. In UNLV's case, that position is far from blameless.
But the Rebels' wide receivers, thought to be a strength entering the football season, haven't created enough space to give the quarterbacks adequate targets.
And the inexperienced and undersized offensive line hasn't always provided the best protection.
"It's everything," coach Tony Sanchez said Tuesday. "It's coaching. It's players performing. We've had dropped balls this year. We've had bad reads. We probably had some bad play calls. There are a lot of things that go into it."
Kurt Palandech will start for Blake Decker at quarterback when the Rebels play San Jose State at 6 p.m. Saturday at Sam Boyd Stadium. Decker separated his nonthrowing (left) shoulder in this past Saturday's 23-17 victory at UNR.
Sanchez said Decker would be used in an emergency situation, so there's a chance freshman Dalton Sneed will have his redshirt removed if Palandech gets hurt or struggles.
Palandech is athletic, and Sanchez said the offense would be tweaked to take advantage of his ability to run, but don't look for an overhaul. Also, don't look for the Rebels to be cautious.
"We're going to ask him to attack," Sanchez said. "We are not going to take the (view) of, 'Let's manage him and not allow him to make a mistake.' We've got confidence in Kurt, and I think our whole team does."
No matter who is taking snaps, the Rebels need to improve a passing game that between Decker and Palandech has completed 52.8 percent of its passes for an average of 154.2 yards per game. The Rebels are ninth in the Mountain West in passing offense and 114th nationally.
Since opening the season with 329 yards passing at Northern Illinois, the Rebels threw for 56 yards against UCLA, 143 at Michigan, 109 against Idaho State and 134 at UNR.
The total against Idaho State was misleading because the quarterbacks played well, but UNLV didn't need to put the ball in the air when it's ground game was piling up 517 yards.
"Let's face it, we've faced some tough defenses," Sanchez said.
Part of the struggles also are because of a receiving group that is having trouble getting open. Leading receiver Devonte Boyd, the Mountain West Freshman of the Year last season, has made some nice plays, but his 16 receptions for 270 yards is well behind last year's pace of 65 catches for 980 yards. It's not all his fault because only Kendal Keys has double-digit catches, so others haven't done enough to keep opposing defenses from going after Boyd.
Quarterbacks also aren't getting a lot of time to throw, getting sacked 10 times and being forced to rush passes. But that's to be expected when the both sophomore tackles weigh 270 pounds or less.
Sanchez, though, said any issues with the passing game are fixable.
"There's always a way to get things done," he said. "I could care less about stats. We want to win. That's the only stat that makes a difference."
Contact Mark Anderson at manderson@reviewjournal.com or 702-387-2914. Follow him on Twitter: @markanderson65
Check our GameDay page for all the news leading up to the UNLV-SJSU game.