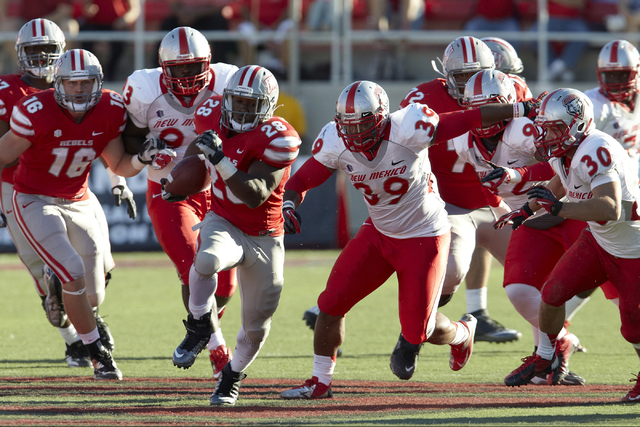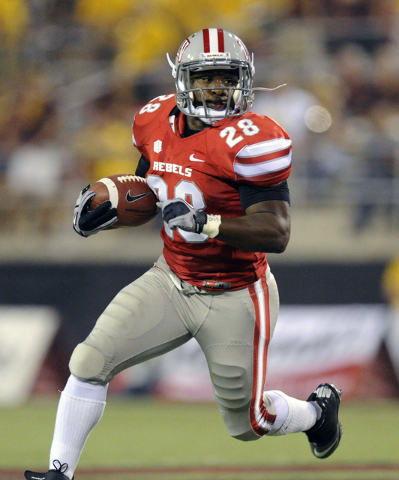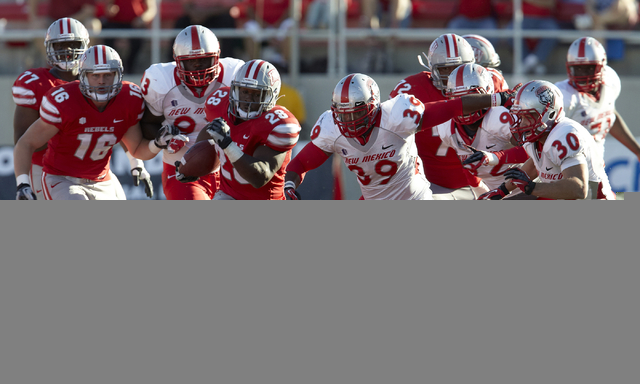 Three years after running a 4.38-second 40-yard dash on UNLV's Pro Day, former Rebels running back Bradley Randle will be back on campus today trying to repeat that feat and catch the eye of an NFL scout.
"If I crack a good 40, hopefully I'll be landing on an NFL team somewhere," said Randle, who was on the Minnesota Vikings' practice squad in 2013 and played sparingly in the Canadian Football League the past two seasons. "I know how to ooh and aah the scouts, and I know how to get their eyes to pop open. One thing the scouts definitely look for is the 40. God willing, (today) if I wake up and roll out of bed running a 4.4, everything will be peachy. I've just got to flash my speed."
Randle, whose father is former big league baseball player Lenny Randle — who had 156 career steals and was one of the best football return men in Arizona State history — is one of 12 former UNLV players expected to take part in the school's Pro Day today at the Lied Athletic Complex and Rebel Park.
Quarterback Blake Decker, safety Peni Vea and defensive lineman Sonny Sanitoa will lead a group of 10 participants from last year's team. The others are Nick Gstrein, Jake Phillips, Fred Wilson, Anthony Williams, Najee Johnson, Aaron Criswell and Kimble Jensen. Former Rebel Maika Mataele also is slated to work out, along with Southern Utah's Anthony Norris, a Liberty High School product.
Pro Day will start at 10 a.m. inside the Lied, where players will bench press 225 pounds as many times as possible — Randle recorded 15 reps in 2013 — and have their vertical leap and standing broad jump measured. They'll then head outside to Rebel Park, where they'll get timed in the 40 and do the shuttle drill and L drill.
"You just have to make sure you maximize your effort and you showcase your ability because it's a dream to be on a roster with an NFL team," Randle said. "I have to make sure I present that speed, acceleration, hands, that everything it is they want to see to be a professional, I have the attributes for it."
The second Rebel ever to leave early for the NFL Draft, Randle didn't get drafted in 2013 but signed with the Vikings as a free agent. While with Minnesota, he developed a good relationship with running backs coach Kevin Saxon, who now has the same position with the Pittsburgh Steelers. Randle said Saxon told him the Steelers would send a scout to UNLV's Pro Day to evaluate him.
"God willing, if everything goes well, I'll hopefully be in black and yellow," said Randle, 25.
The 5-foot-7-inch, 190-pound Randle was a reserve for the Rebels, rushing for 635 yards and eight touchdowns his junior year of 2012, when he backed up Tim Cornett.
Randle saw action in the 2013 preseason for the Vikings and finished the year on the practice squad before getting lost in the mix in 2014, when Mike Zimmer replaced Leslie Frazier as Minnesota's coach.
He appeared in one game for the BC Lions of the CFL in 2014, rushing for 35 yards on two carries, and played in a preseason game for the Winnipeg Blue Bombers of the CFL last season before getting cut after he pulled a lat muscle.
"The first cut was all the guys that got injured," Randle said. "It's 100 percent now."
The affable Randle said he's been training with former world champion sprinter Tyree Washington.
"He's been working with me on speed. I feel prepared and confident for it," he said. "I'm going to give it one more shot. God willing, I can run another 4.3."
Contact reporter Todd Dewey at tdewey@reviewjournal.com or 702-383-0354. Follow on Twitter: @tdewey33