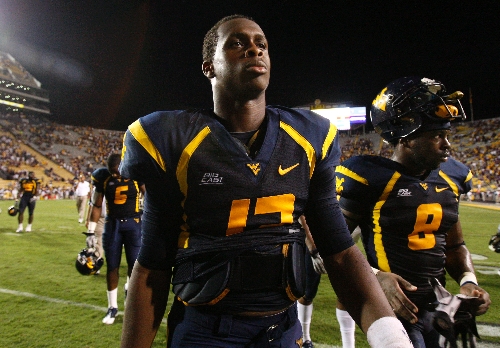 West Virginia looked done.
Marshall, one of the Mountaineers' fiercest rivals, had a 15-point lead in the fourth quarter and was on its way to a major upset Sept. 10.
But West Virginia quarterback Geno Smith insists he wasn't worried. The Mountaineers had moved the ball on Marshall, they just hadn't reached the end zone.
Smith believed — perhaps knew — he could take his team there and lead the comeback. He never lost his cool, guiding the Mountaineers on two breath-taking drives that will probably go down in school lore.
About a month later, Smith speaks about West Virginia's stunning 24-21 overtime victory with the calm of someone stepping outside to pick up the morning newspaper.
"I'm always confident in myself, the coaching and my teammates," said Smith, who completed 32 of 45 passes for 316 yards. "What it did was let us know whatever the score is, we can always come out with a victory."
That belief is one reason the Mountaineers (3-1), who host UNLV (1-4) at 12:30 p.m. PDT Saturday, have entrusted the position to a sophomore.
Smith played five games last season, including the Gator Bowl against Florida State when starter Jarrett Brown hurt his ankle in the second quarter. He completed 8 of 15 passes for 92 yards in a 33-21 loss.
Smith's best 2009 outing was against Marshall, coming off the bench when Brown suffered a concussion and hitting 15 of 21 passes for 147 yards and a touchdown in the 24-7 victory.
"I am a first-year starter, but it's not like this is my first time actually playing," Smith said. "I had a lot of confidence in myself and teammates, and I felt the guys had a lot of confidence in me having played already."
West Virginia had high expectations when it signed him.
The 6-foot-3-inch, 210-pound Smith was a Parade All-American at Miramar High School near Miami, and his choice came down to the Mountaineers, Alabama and Louisiana State. He chose West Virginia because of his relationship with recruiting coordinator Doc Holliday, who is now Marshall's first-year coach.
Smith said he understands Holliday's decision to take the job and seems to have put the move behind him. Operating West Virginia's spread offense, Smith has completed 65.4 percent of his passes for 919 yards and nine touchdowns with two interceptions.
Tavon Austin (24 catches, 314 yards, two touchdowns) and Jock Sanders (24-261-2) are the leading receivers. Running back Noel Devine averages 97.8 yards rushing and 26.5 receiving.
"Whoever's open on the play, Geno gets the ball to him and lets them do what they got a scholarship to do, and that's make people miss," UNLV linebacker Calvin Randleman said. "The best thing he does is make good decisions. He's not trying to force balls."
Smith nearly led the Mountaineers to an upset at Louisiana State two weeks ago, but they lost, 20-14. He completed 14 of 29 passes for 119 yards and a touchdown.
Having a substandard game and nearly beating one of the nation's top teams in perhaps college football's most intimidating atmosphere is something the Mountaineers can build upon. But if they put together a truly successful season, they might point to the victory at Marshall as the catalyst.
The Thundering Herd led 21-6 in the fourth quarter before Smith guided West Virginia on a nine-play, 96-yard drive and an 15-play, 98-yard series. Smith tied the game with 12 seconds remaining on a 5-yard touchdown pass to tight end Will Johnson and a 2-point conversion pass to Sanders.
West Virginia won on a 20-yard field goal in overtime.
"The entire game, you could see we moved the ball pretty well," Smith said. "We just weren't finishing drives."
Contact reporter Mark Anderson at manderson@reviewjournal.com or 702-387-2914.