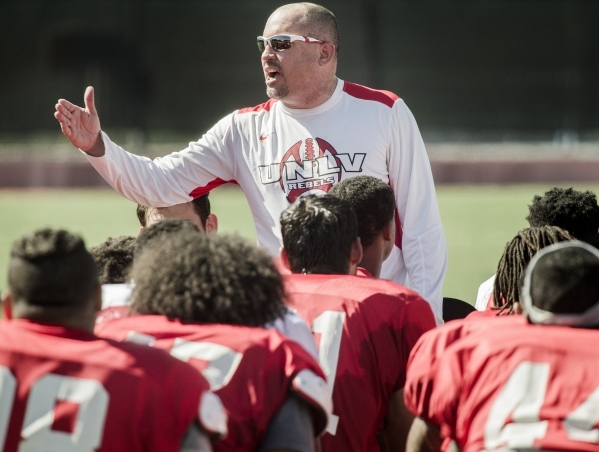 Quarterback Armani Rogers, a former Cal recruiting commit, headlines a group of 13 high school seniors who will make their official visit to UNLV this weekend.
In addition to his scholarship offer from the Rebels, the 6-foot-5-inch, 200-pound Rogers — a three-star recruit from Los Angeles' Hamilton High School and the son of former NFL linebacker Sam Rogers — also has offers from UCLA, Utah, Washington and Arizona State.
Rogers, who committed to Cal in February and decommitted in October, is rated by Rivals.com as the nation's No. 23 dual-threat quarterback.
Other recruits visiting UNLV this weekend who have yet to commit to a school include three-star defensive linemen Emmanuel Fesili (6-2, 280, Long Beach Poly HS) and Leveel Tatum (6-3, 270, Edison HS, Fresno, Calif.), nephew of late Oakland Raiders great Jack Tatum; three-star outside linebacker David Tate (6-3, 220, Edison HS, Fresno, Calif.); and two-star cornerback Tykenzie Daniels (5-11, 177, Foster HS, Richmond, Texas).
The players visiting UNLV who've already committed to the school are three-star offensive linemen Jaron Caldwell (6-3, 290, Bishop Gorman HS) and Julio Garcia (6-2, 290, Bishop Gorman HS); two-star offensive linemen Donovan Outlaw (6-4, 290, Coronado HS) and Matt Brayton (6-4, 295, Bishop Amat HS, La Puente, Calif.); three-star tight end Gio Fauolo (6-3, 235, Freedom HS, Oakey, Calif.); three-star running back Charles Williams (Bullard HS, Fresno, Calif.); two-star wide receiver C.J. Harris (6-1, 185, East Valley HS, Redlands, Calif.) and two-star defensive end Rodney Jones (6-4, 225, Lincoln HS, Stockton, Calif.).