Four Rebels, including Davis and Boyko, sign NFL free-agent deals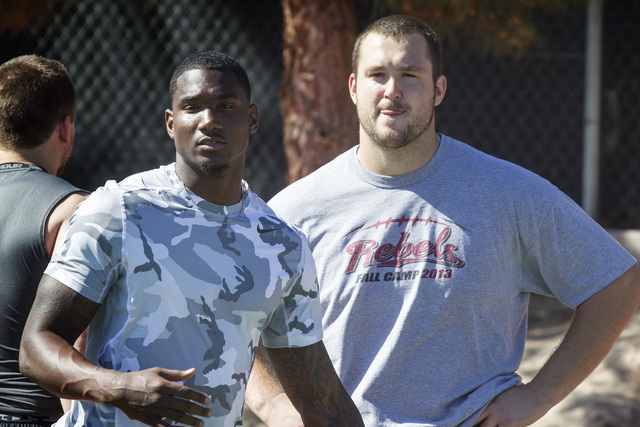 Wide receiver Devante Davis and offensive lineman Brett Boyko spent the past four years as integral parts of UNLV's football team.
Now they will try to make the same NFL team.
Both players went undrafted, then signed with the Philadelphia Eagles on Saturday. Also, cornerback Kenneth Penny signed with the Cleveland Browns and defensive end Josh Shirley with the Oakland Raiders.
Davis (6 feet 2 inches, 220 pounds) had been the most likely of the four to be drafted. Predraft projections had him going in the late rounds.
The advantage of signing as a free agent is players have a say in what kind of situation works best for them. Many undrafted free agents make rosters and become productive players.
Davis certainly was productive at UNLV, catching 186 career passes for 2,785 yards. But he missed five games last season with a broken right wrist, then injured his left hamstring during Senior Bowl practices in January.
Boyko (6-6, 300) also had his draft preparations interrupted by injury, hurting his left elbow in the Nov. 29 season finale against UNR. He was a three-year starter, though, showing his ability last season to adapt by switching from left tackle to left guard, and he may be needed to block at both spots in Philadelphia.
Attempts to reach Davis and Boyko were unsuccessful.
Penny (5-10, 185) is similarly trying to show he can play multiple positions and said he will try to make the Browns as a cornerback or nickelback.
"I'm pretty much a versatile player for them," said Penny, who broke up 32 career passes. "I'm pretty much going to come in and get in there and help them win football games."
Shirley (6-1, 235) will try to make the Raiders roster as an outside linebacker. He played at UNLV last season after transferring from Washington, making 4½ tackles for loss.
"I'm excited for the opportunity," Shirley said. "It's a blessing. It's a dream come true. It's everything I've worked for. I'm excited to be a Raider."
No UNLV player has been drafted since offensive lineman Joe Hawley was selected in the fourth round in 2010 by the Atlanta Falcons. Hawley played for coach Mike Sanford. No Bobby Hauck signees have been drafted.
Hauck, now the special teams coordinator at San Diego State, resigned after last season and was replaced by Tony Sanchez, formerly of Bishop Gorman High School.
Contact Mark Anderson at manderson@reviewjournal.com or 702-387-2914. Follow him on Twitter: @markanderson65.