Fresno State vs. UNLV: position-by-position breakdown
September 30, 2016 - 11:14 pm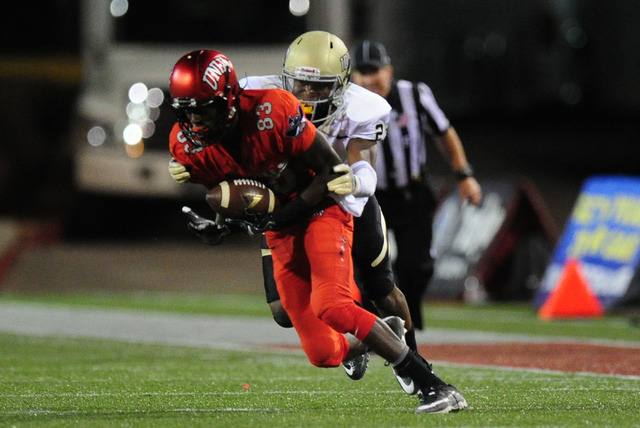 QUARTERBACK
This matchup was thrown for a loop when it was announced that UNLV starter Johnny Stanton was out with a knee injury. Redshirt freshman Dalton Sneed will start in his place, with only one career pass attempt to his name. Fresno State quarterback Chason Virgil has completed 51 percent of his passes this season with six touchdowns and three interceptions.
Edge: Fresno State
RUNNING BACK
The Bulldogs' top two running backs, Dontel James and Dejonte O'Neal, have combined for 303 net rushing yards this season with three touchdowns. Rebels back Lexington Thomas has 453 rushing yards and six touchdowns, and there's little indication the Fresno State front will be able to stop him.
Edge: UNLV
RECEIVERS
The Bulldogs have been able to spread the ball around, as three of their wideouts have more than 250 receiving yards. Devonte Boyd is the only UNLV receiver over that mark with 283 yards, with almost half of those (135) coming in the Rebels' first game against Jackson State.
Edge: Fresno State
OFFENSIVE LINE
Sneed at least has the luxury of knowing he should be well-protected in his first start. UNLV has surrendered two sacks this season, in part because of a powerful running game that's averaging 250 yards per game. Virgil isn't in the same boat, as Fresno State has allowed 13 sacks for minus-84 yards.
Edge: UNLV
DEFENSIVE LINE
The Rebels haven't had a distinct advantage on the defensive front all season, but that could change against the Bulldogs. Fresno State has seven sacks, but allows a gaudy 261 rushing yards per game. That's the seventh-worst average in the FBS.
Edge: UNLV
LINEBACKER
Both teams' leading tacklers are relatively even, as UNLV's Tau Lotulelei has 33 tackles and Jeff Camilli 32 for the Bulldogs. Fresno State's linebacker unit has more production, but it's difficult to tell whether that's because of skill or a defensive line that's letting opposing players through.
Edge: Push
SECONDARY
When teams throw against Fresno State, they usually succeed. The Bulldogs' opponents average 7.85 yards per pass attempt, which ranks 96th in the FBS. Fresno State also has allowed 10 passing touchdowns, tied for 118th in the country.
Edge: UNLV
SPECIAL TEAMS
Both teams are near the bottom of the FBS in net punting average and near the middle on kick returns. The Bulldogs have a distinct advantage in the punt return game, though, as UNLV is fourth-worst in the country in average return. Fresno State is 5-for-5 on field goals, and UNLV is 3-for-3.
Edge: Fresno State
INTANGIBLES
The Rebels have lost three straight and head on the road for their following two games. Even with a backup quarterback starting, UNLV should know it needs to win this game to show it's making progress.
Edge: UNLV
HANDICAPPER'S TAKE
Bruce Marshall (goldsheet.com): UNLV 29, Fresno State 27 — Mountain West sources report that UNLV plans to unveil Darth Vader-like all-black outfits this week, though the Rebels might be better advised to go for the Claude Rains' Invisible Man look after a humbling home loss to Idaho. Meanwhile, visiting Fresno backers might opt for Donny and Marie at the Flamingo instead of Sam Boyd Stadium after the Bulldogs blew a 31-0 lead against Tulsa. The injury to scatter-armed junior college quarterback Stanton might not be a major negative for UNLV, but it's tough to lay significant points with redshirt freshman quarterback Sneed making his first start.
Ben Gotz/Las Vegas Review-Journal. Gotz is a sports reporter at the Las Vegas Review Journal. Contact him at bgotz@reviewjournal.com or follow him on Twitter @BenSGotz
Visit our GameDay page for full coverage of the UNLV-Fresno State game.