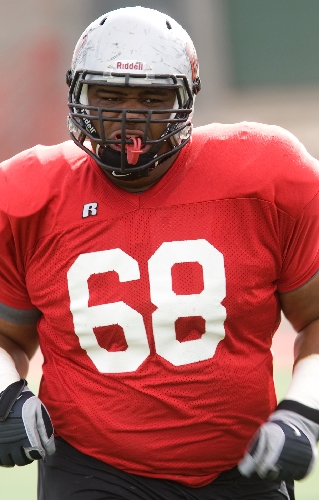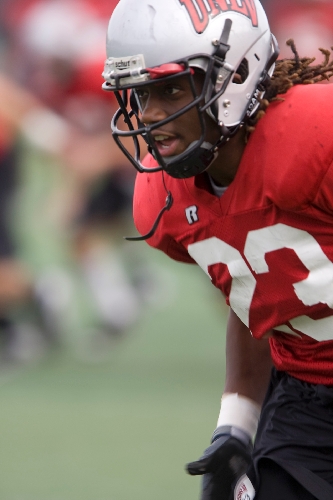 All three players are products of local high schools, all three were recruited by UNLV's previous coaching staff, all three grayshirted and didn't play last fall, and all three are making an impact this spring.
And all three — wide receiver Marcus Sullivan, defensive tackle Nate Holloway and cornerback Sidney Hodge — are showing they could make an impact next season as well.
"I think they're all hungry to be back out here," Rebels coach Bobby Hauck said. "I think when you get it taken away for fall, you really miss it. I think they've all given great effort. They look like freshmen; they've got a ways to go. But I think they all have the ability to make an impact here at some point."
Players who grayshirt don't enroll full time until January, and their NCAA eligibility clock doesn't begin until the following season, meaning they have five years to play four. They are allowed, however, to compete in spring practices.
Of the three, Sullivan was supposed to enroll last August, and he was expected to contribute immediately. But he didn't pass the state-mandated math proficiency exam, forcing him to sit out last season.
That could be fortuitous for UNLV's new coaching staff, who will have Sullivan for an extra year. Sullivan has shown glimpses of why the previous staff was excited to sign him.
In Friday's scrimmage, he fought off tight coverage by Hodge to catch a touchdown pass. Sullivan (5 feet 10 inches, 175 pounds) has been in the mix throughout spring drills.
At Cheyenne, Sullivan was named the 2008-09 male High School Athlete of the Year by the Review-Journal. He also earned Sunset Division Offensive Player of the Year honors after rushing for 1,626 yards and 22 touchdowns.
On the other side of the ball, Holloway was listed as the nation's No. 68 defensive tackle by Rivals.com, No. 73 by Scouts Inc. and No. 87 by Scout.com while playing at Spring Valley.
This spring has shown why those services rated him so highly. Meanwhile, Holloway (6-3, 370) is trying to get into better playing shape. He has dropped about 30 pounds and is attempting to lose 20 more.
He has worked with the first and second teams, splitting time with senior Ramsey Feagai (6-2, 340).
"I really didn't expect to come in and run with the first team, but I knew I was going to have high expectations," Holloway said. "Next season, I really want to start and be a real big impact player."
Hodge (5-9, 165) has been playing with the second team and has shown an ability to tightly defend receivers. Even Sullivan's touchdown catch in the scrimmage came despite Hodge's stick-to-the-jersey coverage.
He was a two-way standout at Palo Verde, and Scouts Inc. rated him the nation's No. 157 athlete.
Hodge said he entered spring with the goal of proving "to myself what I could do because I grayshirted. I had come in to show everybody that I could actually play."
Because all three players joined the Rebels this semester, all have a head start on arriving freshmen in August.
Even though the current coaches aren't the ones who recruited the three players, they could benefit from a fresh look given the entire roster.
Hauck said those players, in many ways, had an equal opportunity in picking up the new system "because everybody was new to it. They've done a nice job, they really have.
"It's a lot of two steps forward, one step back with the young guys. We get a little bit of that with them because they are young players, but I'm encouraged by what they've done."
Contact reporter Mark Anderson at manderson@reviewjournal.com or 702-387-2914.
UNLV FOOTBALL CAMP REPORT
NEWS AND NOTES: UNLV practiced in shorts Wednesday and will go in full pads today. The Rebels originally planned to not practice in pads today. … Junior quarterback Mike Clausen did not practice. He was injured Monday, but coach Bobby Hauck would not identify the injury, only saying it wasn't serious. … Senior defensive tackle Malo Taumua appeared to injure an ankle late in practice but was walking fine afterward.
COACH-SPEAK: "In back-to-back days, we decided it would be more productive." — Hauck, on switching to practicing in pads from Wednesday to today
WHAT'S NEXT: UNLV returns to Rebel Park at 4 p.m. today.
LAS VEGAS REVIEW-JOURNAL