Hail Mary comeback shows Cooper Rush has grown up since last playing UNLV
September 14, 2016 - 11:57 pm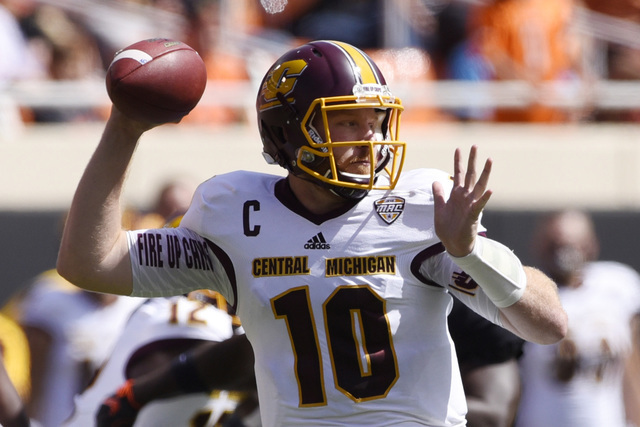 For the second consecutive game, UNLV will face one of the best quarterbacks in the country in Central Michigan's Cooper Rush.
A four-year starter for the Chippewas — who will host the Rebels at noon PDT on Saturday in Mount Pleasant, Michigan — Rush is rated the No. 5 senior quarterback in the 2017 NFL Draft by ESPN draft guru Mel Kiper.
The 6-foot-3-inch, 230-pound redhead leads all active Football Bowl Subdivision players in career passing yards, with 9,952, and has thrown for 72 touchdowns and 42 interceptions.
Rush completed 30 of 42 passes for 361 yards and four touchdowns in Central Michigan's thrilling 30-27 upset of then-No. 22 Oklahoma State on Saturday that was capped by a 51-yard Hail Mary-and-lateral TD pass with no time remaining. Rush lofted a 42-yard pass to Jesse Kroll, who lateraled to Corey Willis, who ran the final nine yards for the score.
"He did a great job of spreading the ball around and finding the open receivers and getting the ball out on time," Chippewas coach John Bonamego said. "He certainly made some excellent throws down the field. I think we had nine explosive gains, and seven of those were through the air.
"Cooper had a fine outing. It's kind of what we've grown to expect from him being a four-year starter."
Rush's first career start happened to take place against UNLV at Sam Boyd Stadium in 2013, the last year the Rebels went to a bowl game. UNLV rallied for 31 unanswered points to erase an early 21-0 deficit in a 31-21 triumph that matched the largest comeback in school history.
Quarterback Caleb Herring replaced Nick Sherry early and completed 24 of 28 passes for 266 yards and three touchdowns to receiver Devante Davis. Rush completed 23 of 46 passes for 265 yards, a TD and two interceptions in the loss.
"I remember them being fast and physical. They had good size back then, which they do now, too," Rush said. "We jumped out in the first half and played really well. We were running it well, but we got bogged down in the second half.
"It was a tough loss, going all the way out there for a night game and then having to come back here. It was a good experience for my first career start."
A native of Lansing, Michigan, who grew up a 20-minute drive from Michigan State, Rush holds the state high school record for touchdown passes in a season (48) and was Michigan's Gatorade football player of the year as a senior.
He wasn't recruited by the Spartans or most other FBS schools, but doesn't hold any grudges.
"I was never a huge Michigan State fan growing up. We were a Notre Dame family," he said. "Central Michigan was my first offer, and it's been the best decision of my life."
Rush threw for a school single-season record 3,848 yards last year for the Chippewas (2-0), who return four receivers who had at least 559 yards receiving last season in Kroll (61 catches, 866 yards, four TDs), Anthony Rice (57-595-4), Willis (37-564-5) and Mark Chapman (43-559-1).
The Rebels (1-1) allowed 267 passing yards and a touchdown to UCLA quarterback Josh Rosen on Saturday, sacking him only once in their 42-21 loss at the Rose Bowl in Pasadena, California.
"We've got to do a little bit better job at creating pressure on the quarterback," UNLV coach Tony Sanchez said.
Saturday's upset in Stillwater, Oklahoma, was just the latest wild comeback Rush has been part of at Central Michigan. He threw for a school-record 493 yards and a bowl-record seven touchdown passes in the Chippewas' 49-48 loss to Western Kentucky in the 2014 Bahamas Bowl.
Central Michigan had cut a 49-14 deficit to 49-42 with one second left, when it scored a 75-yard touchdown on a Hail Mary to Kroll and three laterals. The Chippewas went for a 2-point conversion and the win, but Rush's fade pass to Kroll fell incomplete.
Rush considers himself fortunate to be part of two of the most memorable comebacks in recent college football history.
"It's something that's pretty cool to be able to look back on and be part of," he said. "It takes a little bit of luck. It doesn't happen for everybody."
Contact reporter Todd Dewey at tdewey@reviewjournal.com or 702-383-0354. Follow on Twitter: @tdewey33.
Visit our GameDay page for full coverage of the UNLV-Central Michigan game.
UNLV at Central Michigan
WHEN: Noon Saturday.
WHERE: Kelly/Shorts Stadium, Mount Pleasant, Michigan.
TV/RADIO: ESPN3 (streaming); KWWN (1100 AM, 100.9 FM)
LINE: Central Michigan -13