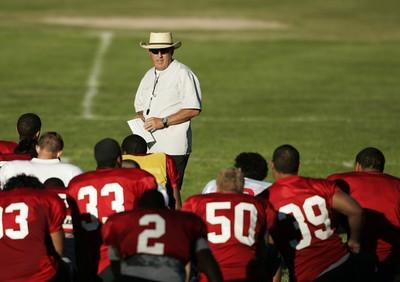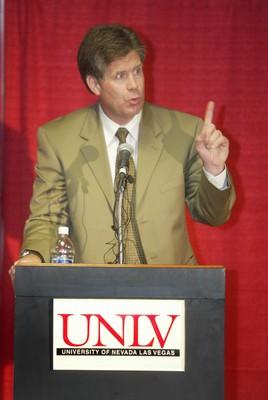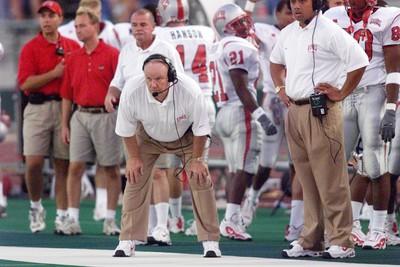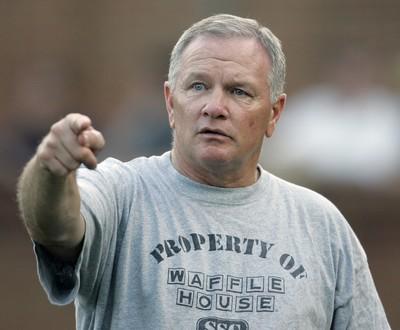 When Mike Hamrick started at linebacker for Marshall in 1979, Jim Grobe was his position coach — the beginning of a long friendship.
Hamrick's recommendation helped land Grobe the job at Wake Forest nearly seven years ago, leading to one of college football's more startling turnarounds.
The transformation took time, but after many years as a filler on an opponent's football schedule, the Demon Deacons finally put themselves in position last season to win the Atlantic Coast Conference title and play in the Orange Bowl.
Patience was the key.
Just as Hamrick believed Grobe was the right choice at Wake Forest, he has kept his faith in his hire at UNLV, Mike Sanford. Having watched Wake Forest give Grobe the time he needed, Hamrick said, he wants to do the same for Sanford, who has won only four games in his first two seasons.
"I see a lot of similarities between what they did with their football program and with what we're trying to do with ours," Hamrick said. "I talk to Jim a lot, and he says, 'It just takes time.' I know fans don't want to hear that, but that's why they were playing in the Orange Bowl this year. The athletic director stood firm, got behind the guy and, in his sixth year, finally got to where they wanted to be."
Wake Forest had suffered 10 losing seasons in 12 years when Grobe took over in December 2000. He coached the Deacons to winning records in his first two years (6-5 in 2001 and 7-6 in 2002) before three consecutive losing seasons.
Finally, last season, Wake Forest went 11-3, beating Georgia Tech 9-6 in the ACC Championship Game and appearing in the Orange Bowl, where the team was defeated 24-13 by Louisville.
Sanford bumped into Grobe while in Arizona in May for meetings, and they talked for an hour about building a successful program.
"Mike Sanford is the right guy, and he needs the time to do it," said Grobe, whose son, Matt, is the director of golf operations at DragonRidge Country Club in Henderson.
While trying to duplicate Grobe's success at Wake Forest, Sanford maintains the support of the administration. The city, though, will believe the program is on the right track only if the victories back up the coach's glass-is-overflowing optimism.
"It's an instant-gratification, fast-results town, and the thing that people have to understand is rebuilding a football program is a process," Sanford said. "You don't do it in one year."
Even so, he quickly said his lofty expectations of making the Rebels a Mountain West Conference and national power have not changed.
John Robinson had similar hopes when he took over the Rebels in December 1998.
He elevated the program, in his second season going 8-5 with a 31-14 rout of Arkansas in the Las Vegas Bowl. But Robinson never repeated that success, and he realized after six seasons how difficult the obstacles were to build UNLV into a successful program.
"UNLV struggles financially and is in a competitive league," Robinson said. "Each year I was there, we also played Wisconsin or Arkansas or Oregon State, where you have to go up above your level to help generate things, which again are difficult. There are haves and have-nots in college athletics, and the have-nots changing are rare."
He said improving UNLV's financial situation is not easy, and low attendance does not help matters.
"These aren't the traditional assets that a school would have — location, population around it in terms of talent wanting to go to that school, and the ability to fund raise from the alumni," Robinson said. "UNLV is unique in it is one of the youngest schools in America (50 years old). A big part of the university's history are part-time students. You don't have the type of students who join alumni organizations and the university is the main source for charitable gifts. There's a lot at work against UNLV."
Nevertheless, Sanford has stayed true to his belief the Rebels are on the right track.
He has upgraded the talent, which was almost nonexistent when he took over.
Sanford said he believes the team has become more physical and improvements have been made in "attitude and leadership."
"I think when you look at programs that have had a history of a lack of success, there's a whole process," Sanford said. "You've got to change the process. You've got to change the way people think. You've got to change the expectations.
"I think you've got to also change the whole mentality of expecting something bad to happen. I think our fans need to change. I think there's a mentality of people expecting something bad to happen."
Hamrick said this stage of Sanford's stint reminds him of men's basketball coach Lon Kruger at the same point a year ago.
In Kruger's third season, UNLV went 30-7 and made the NCAA Tournament's Sweet 16.
Of course, Hamrick said it's not an exact comparison because it's easier to quickly turn around a basketball program.
Plus, it's difficult to dispute that Sanford has overseen a much more dreadful situation than Kruger.
Regardless, Hamrick said he put the right person in the football coach's chair and is in no hurry to see someone else take that seat.
"We just can't keep turning over coaches," Hamrick said. "It does set you back. The wins and losses haven't shown yet, and they will. Maybe not this year, but they eventually will. But the program is getting better."
UNLV Football