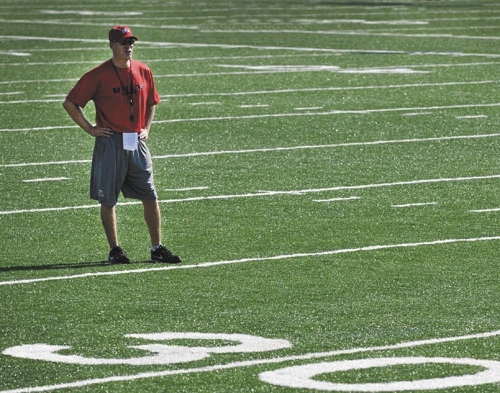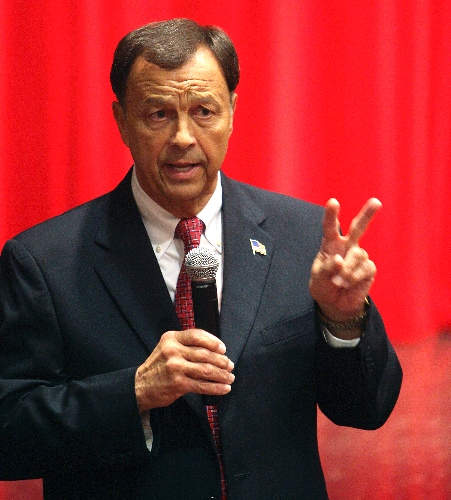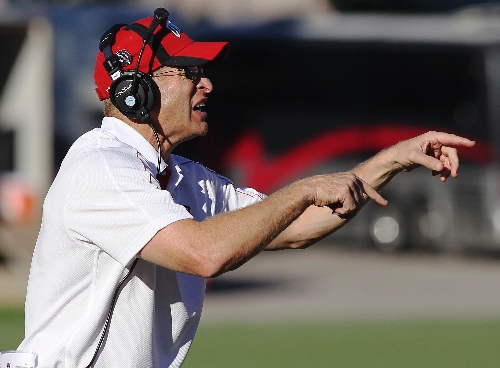 Until now, Bobby Hauck has been given time to gradually build UNLV's football program.
The building phase is officially over.
Hauck and athletic director Jim Livengood said Tuesday they expect the Rebels to win at least six games next season and become bowl eligible for the first time since 2000.
Falling short of that mark doesn't necessarily mean a coaching change – "I don't believe in going with a hard line," Livengood said – but Hauck hopes he doesn't have to find out.
"I would say in my mind, we probably need to be bowl eligible next year," Hauck said. "I think that's fair."
Getting to six victories won't be easy for a program that has ended with two wins in each of the past three seasons and seven of nine.
The Rebels showed improvement for most of this season, but they stumbled badly the final three games. They lost 33-11 at Colorado State, 28-23 to Wyoming and 48-10 at Hawaii – all considered winnable games – to finish 2-11.
"We've shown some growth, but we've not shown the success," Livengood said. "That isn't news. We're disappointed in how the season ended."
Livengood said he and Hauck talk daily about how to improve the program, comparing it to peeling an onion. It's an appropriate analogy for a team that has created many eye-watering moments for its supporters.
Hauck is 6-32 after three seasons, and many fans have reached out to the Review-Journal and to social media to call for his firing.
UNLV would be in the situation of having to buy out the final two years of his contract, which pays Hauck $350,000 annually. He also is due to receive a $450,000 completion bonus for finishing the terms of his original three-year deal, though Livengood said that payment could be delayed until near the end of the fiscal year on June 30.
Finance is always a hot topic with UNLV athletics, and Livengood said its football program lost about $500,000 in ticket revenue this season. The team drew an average home attendance of 15,208, its lowest since 1995.
But Livengood insisted saving money didn't factor into his decision to stick with Hauck rather than absorb the cost of a buyout as well as hiring a perhaps higher-paid replacement.
"If I didn't think Bobby Hauck was the right football coach right now going into Year Four and with the chance to turn it around, believe me, we would go in another direction," Livengood said. "A number of people don't believe that. But hiring is an inexact science, and firing is an inexact science."
So, probably, is hiring and firing assistant coaches.
Hauck said he was going through the evaluation process of his staff and didn't have any answers at this time.
He also said he and the staff are evaluating whether to go stronger after junior college recruits for what is expected to be a class of just 15 to 17 players. The Rebels have some scholarships that count against this group as well as an outgoing senior class of just 15 players.
Hauck has focused his recruiting on high school players and said the lack of success with the junior college athletes UNLV has signed gives him pause to pursue more at that level.
"For every (linebacker) John Lotulelei, there are six guys that don't work out the same way," Hauck said.
But the time for slow growth is gone.
Hauck knows it's time to produce and sell a program to recruits that might be hard to sell.
Hope is not lost, though. One junior college prospect, running back Elijhaa Penny, sent a text message to the Review-Journal wondering if Hauck had been fired. When told Hauck was coming back, Penny texted back, "Good!"
"I've been on the phone the last few days with a lot of kids," Hauck said. "Kids are receptive. If they're interested, they're going to hear the message that you're giving them.
"I've not had guys tell us, 'No. You didn't finish well. We're out.' We haven't had that."
■ NOTES – Junior defensive end James Boyd was dismissed because of academic reasons. … Sophomore offensive linemen Brett Boyko (leg) and Robert Waterman (upper arm) will miss spring practices after each underwent surgery.
Contact reporter Mark Anderson at manderson@reviewjournal.com or 702-387-2914. Follow him on Twitter: @markanderson65.