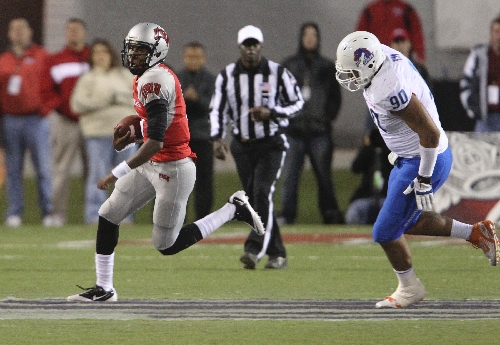 Who starts at quarterback when UNLV plays at Air Force is unknown — for either football team.
The Rebels are waiting to see how the week plays out before deciding to go with sophomore Caleb Herring, junior Sean Reilly or redshirt freshman Taylor Barnhill in Saturday's 3 p.m. PST Mountain West Conference game.
Herring, the usual starter, didn't play in Saturday's 21-14 loss at New Mexico after taking a hard shot the week before against Boise State. Rebels coach Bobby Hauck didn't specify the nature of Herring's injury.
"I thought Caleb would play last week, so I don't have a good answer (on his status)," Hauck said on Monday.
Reilly, who also had an undisclosed injury, didn't play until the final desperate drive after New Mexico took the lead with 1:15 left.
Barnhill made his first career start and ran what amounted to an option offense. He rushed for 77 yards on 17 carries, guiding a running game that totaled 268 yards. That included a season-high 152-yard effort by freshman Dionza Bradford, the third time in the past four games he has rushed for 100 yards.
Even if Herring returns, Hauck didn't rule out using Barnhill, a load at 6 feet 4 inches and 220 pounds, in special situations.
"It's probably a good thought to be able to do that," Hauck said. "Certainly, when we had to start our third guy last weekend, a guy that had been playing tight end for us for the last three weeks or a month, it wasn't the optimal situation. Taylor did a really nice job. We rushed for about 270 yards, and that's generally good enough to win."
Air Force has its own quarterback issues after senior Tim Jefferson suffered a concussion Saturday against Wyoming.
Jefferson has won a school-record 26 games and provides a dual threat in the Falcons' triple-option offense. He has completed 59.9 percent of his passes for 1,129 yards and eight touchdowns, and rushed for 373 yards and nine scores.
"Any time it's a concussion, there's protocol involved," Air Force coach Troy Calhoun told The Gazette in Colorado Springs, Colo. "You have to see how a guy responds, as far as being clear-headed for 48 hours, and that's just the start of it."
If Jefferson doesn't play, senior Connor Dietz will start. Dietz, who has played in six games this season, is more of a runner, having gained 252 yards on a 6.6-yard average. He has thrown just 15 passes, completing nine for 128 yards.
"(Jefferson's) the starter for a reason, but their backup's played a bunch and they're a lot alike," Hauck said. "In that offense, they always have a couple of guys ready, if not three."
This is a big game for Air Force (5-5, 1-4 MWC). Because the Falcons played two Football Championship Subdivision schools, they need to beat UNLV (2-7, 1-3) and Colorado State (3-6, 1-3) to become bowl eligible.
Contact reporter Mark Anderson at manderson@reviewjournal.com or 702-387-2914. Follow him on Twitter: @markanderson65.