Injuries hobble UNLV in preparation for Aztecs
November 17, 2015 - 9:00 pm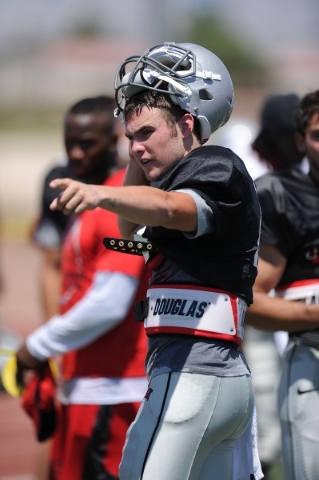 UNLV is far from a healthy football team as it prepares for Saturday's 7:30 p.m. game against San Diego State at Sam Boyd Stadium.
Quarterback Blake Decker (ankle, hip) and defensive end Jeremiah Valoaga (knee) are doubtful, and wide receiver Aaron Criswell (concussion), center Will Kreitler (hip pointer) and safety/holder Troy Hawthorne (concussion) are day to day.
The Rebels (3-7, 2-4 Mountain West) would be hard-pressed to beat San Diego State (7-3, 6-0) even if they were all ready to play. San Diego State, which has won six consecutive games and allowed just 62 points over that span, is a 12½-point favorite.
Here are the highlights of UNLV coach Tony Sanchez's news conference Tuesday:
On freshman quarterback Dalton Sneed, now second on the depth chart, taking snaps in practice this week:
"He took all of the (No.) 2 snaps today. Blake's day to day. It does not look likely he'll play in the game. (Projected starter) Kurt's (Palandech) played. Of the 40 quarters we've played, he's played 17 of them. So he's played really half the season. He'll be ready to go, and Dalton will be ready as the backup."
On whether the redshirt would be removed from Sneed if Palandech gets hurt, or if Sanchez would go with a running back operating out of the Wildcat:
"We play every game to win, so whatever gives us the best opportunity. If we have to take the redshirt off to go fight for a win, then that's exactly what we'll do. That's really what it's all about."
On the significance of the seniors playing their final home game:
"This is such a special game. There's no rec football league. When you're done with football, you're done. There are a lot of other sports where you can play it until you're old and gray. Football's a different sport. When you put away the pads, you put them away forever. It's significant for our guys."
On San Diego State standout running back Donnel Pumphrey, who went to Canyon Springs High School:
"It starts with their whole philosophy. They've got a big, physical offensive line. They do a great job. Probably have the best fullback in the league (Dakota Gordon). He gets downhill, and he does a great job. And then you have a dynamic back (Pumphrey) behind him. He's a burner, so if he gets into space, you've got some issues. When you're running the ball an average of 40 some-odd times a game and throwing it probably an average of 15, that tells you a little bit about what they're committed to."
On the Aztecs' defense:
"When you look at great defenses, they usually have offenses that run the football. If you're going to be a big, physical offense that's going to commit to running the football, you're going to have good time of possession, you're going to lessen offensive opportunities for the other team. And their defense is physical. They have a great secondary that runs around. They're physical tacklers. High pressure, by far the highest percentage of pressure that we've seen all year."
On UNLV's defensive problems in Saturday's 49-35 loss at Colorado State:
"The biggest thing is it comes back to what we said on Saturday night. It was really tackling. … We've had our breaks in the dam a little bit this year on defense, but for the most part, they've been pretty stout against the run. But that game was unfortunate. When you give up 300 and some-odd yards rushing, you've got to really look at yourself and do some soul-searching and talk about how physical you want to be and be committed to getting downhill and making tackles. We're going to talk about that all week, and they're going to go out and we're going to improve on it, and we're going to get better."
— Contact Mark Anderson at manderson@reviewjournal.com or 702-387-2914. Follow him on Twitter: @markanderson65
Check our GameDay page for full coverage of the UNLV-San Diego State game.