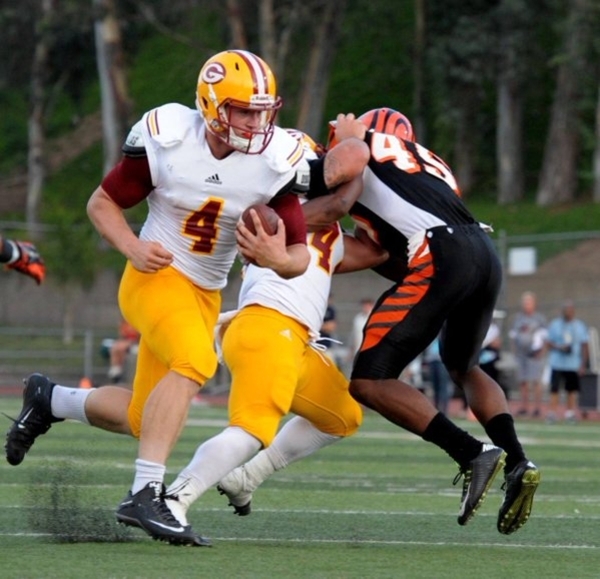 Johnny Stanton, come on down!
One of UNLV's record eight early junior college signings in December, Stanton went to a taping of "The Price is Right" TV game show in Hollywood on Wednesday before gearing up for his trip to Las Vegas, where the Southern California native will start classes Tuesday.
Rebels coach Tony Sanchez is banking on the former Nebraska quarterback and Saddleback College transfer to be the right player to help turn UNLV's football team into a winner next season after it finished 3-9 last year in its 18th losing season in 21 years.
"Myself and the rest of the guys coming in know we're going to be trying to turn around the program," Stanton said. "Coach Sanchez is confident, and we're confident we're going to be able to do that very quickly. The coaches are really stressing to me that there's not a whole lot of pieces needed.
"I'm excited for the experience and to be able to get back to the Division I level."
A solid 6-foot-2-inch, 235-pounder who can bench press 400 pounds, Stanton was a highly touted prep player, earning one of the Elite 11 spots in ESPN and Nike's quarterback camp and receiving 11 scholarship offers before choosing Nebraska over Oregon and Wisconsin. He led Santa Margarita Catholic to the California state title during his junior year and helped it to a No. 3 national ranking his senior year before suffering a season-ending torn anterior cruciate ligament in his left knee.
Stanton redshirted at Nebraska in 2013 and was the Huskers' third-string quarterback in 2014, when he appeared in two games but took only five snaps.
"They might've taken it easy on me because of my knee," Stanton said of his stint at Nebraska. "I played on the scout team my freshman year and didn't grow as much as I should've.
"I didn't get much of a chance to get on the field and play a little bit. I learn the most by getting on the field. That's what held me back a little bit."
After sliding to fifth on the depth chart under coach Mike Riley, who replaced Bo Pelini before last season, Stanton decided to leave Lincoln and regroup at Saddleback in Mission Viejo, Calif.
"I really think I needed to get some playing time to get back to where I used to be. I wasn't playing the way I knew I could," said Stanton, who was raised in Burbank, California, and resides in Coto de Caza, California. "This past season, I was able to get back to the way I know I can play."
Stanton completed 63 percent of his passes for 3,471 yards and 27 touchdowns, with 10 interceptions, and rushed for 752 yards and 12 TDs last season for the Gauchos (10-3) en route to earning state offensive player of the year and All-America honors. After an 0-2 start, Saddleback won 10 straight games before losing what was essentially the national title game at San Francisco.
"Johnny's a winner, and he's a big, physical, strong kid, and I've known him since he was a junior in high school," Sanchez said. "I'm really confident in his ability and his leadership skills, and I think he's going to add a lot to our team.
"He's a very competitive kid, a very mature kid, and we fully expect him to come in and compete for that starting job."
Saddleback coach Mark McElroy said UNLV fans can expect to see in Stanton "a highly competitive, talented, athletic, physical football player."
"He'll be a crowd favorite because he's got all the intangibles," McElroy said.
Coming out of high school, Stanton was rated by Rivals as the nation's No. 14 dual-threat quarterback.
"I don't like using the term 'dual threat.' It seems to put more emphasis on running," he said. "I'm more of a pocket passer, but I can get out of the pocket."
Because of his build and running ability, Stanton's nickname in high school was "Johnny Tebow."
"People don't really call me that anymore," he said. "I always like to say I had the claim to 'Johnny Football' before Johnny Manziel."
Sanchez, who went 85-5 and won six consecutive state titles at Bishop Gorman High before taking the UNLV job, made a lasting impression on Stanton when the Gaels scrimmaged Santa Margarita in Las Vegas.
"He seemed like an intense coach," Stanton said. "But a coach that a lot of the players liked."
Stanton also is familiar with UNLV offensive coordinator Barney Cotton and offensive line coach John Garrison, who were on Nebraska's coaching staff when he was there.
"I definitely had a relationship with them and liked them as coaches a lot, but I don't know if it was necessarily their connection that got me (to UNLV)," he said. "I just remember coming back from practice one day and seeing a whole bunch of messages from UNLV coaches. The next day they offered me."
Stanton said he received the Rebels' offer on Thanksgiving.
"There were a lot of prayers answered that day," he said.
Time will tell if Stanton can help answer some of the prayers of long-suffering Rebels football fans.
Contact reporter Todd Dewey at tdewey@reviewjournal.com or 702-383-0354. Follow him on Twitter: @tdewey33