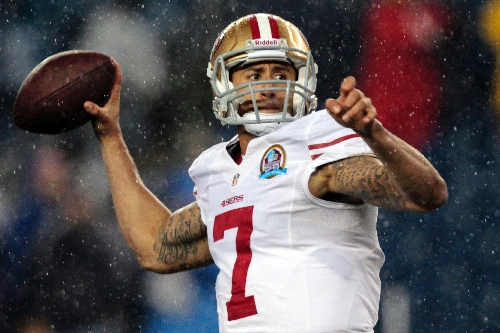 Bobby Hauck remembers the first time Colin Kaepernick caught his eye.
Hauck, Montana's football coach at the time, watched on TV as the UNR redshirt freshman nearly single-handedly led the Wolf Pack to a victory over Boise State.
The Broncos survived that 2007 game with a 69-67 four-overtime victory, but Kaepernick passed for 243 yards and three touchdowns and rushed for 177 yards and two TDs in his first start.
Now, Kaepernick is doing pretty much the same thing for the San Francisco 49ers, his ability to run and pass putting him on the cover of this week's Sports Illustrated and in today's NFC Championship Game at the Atlanta Falcons.
"As a young guy, he wasn't accurate," said Hauck, who recently completed his third season as UNLV's coach. "He's way more accurate. For him to be way more accurate, it's impossible."
Hauck faced Kaepernick just once, but he studied plenty of video leading up to that 2010 game and is more than familiar with his ability.
So when Kaepernick flashed the speed Hauck saw on video, he wasn't surprised. By Kaepernick's standards, he had a pedestrian game against the Rebels, passing for 124 yards and a touchdown and rushing for 97 yards and a score in the Wolf Pack's 44-26 victory.
Hauck said the key to defending Kaepernick is to decide which weapon to try to shut down and go all-in.
Kaepernick, Hauck noted, made Green Bay pay in last weekend's playoff game by picking up rushing yards when the Packers focused on coverage rather than attacking.
"That's one thing we felt going into that game is we better stop the run game and gang up on him," Hauck said. "You almost have to pick your poison. (The Packers) would rush four with six gaps. A lot of times, he was so fast, he would get around the end and get by them."
Kaepernick set an NFL rushing record for a quarterback with 181 yards in the 49ers' 45-31 victory over Green Bay. He also passed for 263 yards, and had four touchdowns running and throwing.
UNLV fans know all too well what Kaepernick is capable of doing.
In 2008, he rushed for 240 yards and three touchdowns and passed for 176 yards and two TDs to rally the Wolf Pack from an early 17-7 deficit. His electrifying 66-yard touchdown run on the first play of the second half was a crucial blow to the Rebels in UNR's 49-27 victory.
The following season, Kaepernick passed for 208 yards and a touchdown and rushed for 173 yards while running UNR's pistol offense to near perfection in a 63-28 smothering of UNLV.
The pistol, spread or any other kind of offense where the quarterback takes a pounding – while also making game-changing plays – is not unusual at the college level.
But NFL teams have been slow to embrace an offense where the franchise player routinely takes hits from 240-pound linebackers who run 4.4-second 40-yard dashes.
Kaepernick, though, is part of a new breed. Along with Washington's Robert Griffin III and Seattle's Russell Wilson, he is a young quarterback who took his team to the playoffs by beating opponents with his legs and arms.
Can they hold up over the long term?
That's the magic question, and Green Bay quarterback Aaron Rodgers said last week that while athletic quarterbacks are here to stay, the offenses that put them at risk will go the way of the wildcat.
Hauck noted Kaepernick did a good job of protecting himself in college, by sliding on the turf or running out of bounds.
"I think he'll hold up," Hauck said.
Contact reporter Mark Anderson at manderson@reviewjournal.com or 702-387-2914. Follow him on Twitter: @markanderson65.
UNLV REPRESENTED IN NFC TITLE GAME
Former UNLV offensive lineman Joe Hawley is a third-year pro for the Atlanta Falcons and the backup center. The Falcons host the San Francisco 49ers in today's NFC title game.
Hawley played in six games this season, but did not start and was suspended for four games for violating the NFL's substance-abuse policy. His agent said Hawley failed to file the proper paperwork for a medical exception. Hawley has 12 career starts, all in 2011.
LAS VEGAS REVIEW-JOURNAL