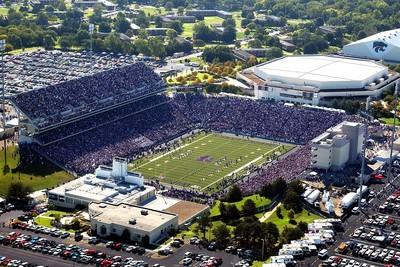 NLV football still is reeling from a shocking defeat in 2004.
Despite being in a free fall and losing its first three games of the season, the Rebels were a 13-point favorite against Utah State — a team considered much, much worse than UNLV.
UNLV dominated the Aggies in most of the statistical categories, except the final score: 31-21.
John Robinson, the legendary University of Southern California coach who had taken over the Rebels program five-plus seasons earlier announced the day after that embarrassing loss he would retire at season's end. UNLV won only two games that year.
Robinson's replacement, Mike Sanford, has yet to do any better. In his two years, the Rebels are 4-19, and the team has been outscored by more than 300 points in those 23 games. Included in those defeats are nine losses by 20 points or more, heartbreaking losses to Iowa State and New Mexico last year, injuries and many disappointments. Then there are those consecutive losses to UNR.
Many UNLV fans can't imagine the program getting much worse.
Ah, but they don't know the nightmare that was once Kansas State football.
In 1988, the Wildcats went 0-11 and had gone 27 straight games without a victory. Kansas State was the only Division I-A school at that point to lose 500 games. Its last winning season was in 1982 when it compiled a 6-5-1 mark.
When Kansas State lost, it lost big. A 40-point defeat was considered as much a part of Saturday as the crisp air that greeted autumn. In 1988, Oklahoma crushed the Wildcats 70-24, and Colorado romped to a 56-14 victory. In consecutive weeks in 1987, Kansas State was humiliated 59-10 by Oklahoma, 56-3 by Nebraska and 56-7 by Oklahoma State.
"People didn't think (Kansas State) could be turned around," said school President Jon Wefald, adding that the situation then at the school was 10 times worse than what UNLV is going through today.
The Big Eight conference, now the Big 12, didn't want the Wildcats, and expulsion would have meant a probable demotion from Division I-A.
Kansas State decided to go for broke to build a program that had showed few signs of a pulse.
In what became known as the "Miracle in Manhattan," the Wildcats pulled off one of the greatest turnarounds in college sports and became a national powerhouse.
It's an example that provides hope to programs similar to UNLV.
"It's not a secret formula," said Bill Snyder, the Kansas State coach who orchestrated the feat. "We don't have it hidden away some place in a vault. It's about people. It's about hard work. It's about persistence. It's about responsibility. It's about discipline. It's about finding a way to become a little bit better every single day."
THE BACKGROUND
Wefald, who is still president at Kansas State, was determined to run a successful academic and athletic institution when he took charge in 1986.
The Wildcats were known as a basketball school, but the black cloud that was the football program cast an ominous shadow over the entire institution.
First, Wefald improved academics, and within five years, enrollment increased from 16,000 to 22,000 and research funding went from $17 million to $112 million.
Since 1986, Kansas State leads all public universities and is seventh among all schools in its the number of Rhodes, Marshall, Truman, Goldwater and Udall scholarship recipients. The total of 113 surpasses runner-up Penn State's 82, among all public institutions.
"Academic success is never a front-page story, but the faculty never would've put up with a one-dimensional operation," Wefald said.
Even so, he admitted the football program's rise contributed to his efforts to improve Kansas State academically.
The decision to make a serious effort to improve the football program came early in the 1988 season when coach Stan Parrish resigned.
The Wildcats went 0-11 in 1988 to extend their slide to 27 straight games, the closest brush with victory being a 17-17 tie with Kansas in 1987.
Even as rotten as UNLV's football history has been lately, the Rebels have never experienced that kind of misery. Their longest losing streak was 16 games in 1997 and 1998; their last winning record, 8-5, and postseason game — a 31-14 victory over Arkansas in the Las Vegas Bowl — were in 2000.
And despite its recent poor performance, UNLV could break attendance records this year with home games against Wisconsin, Hawaii and Brigham Young.
Kansas State fans rarely found any reason to attend games.
"When I was there my senior year, I worked in the press box, and literally I would look out and count the students at football games," said John Vanier, a 1981 graduate and booster whose father, Jack, was key to the program's rise.
"It was pathetic," Vanier said.
The Wildcats were reporting attendance totals that met the minimum required paid average of 17,000 to maintain Division I-A status, but apparently no one at the NCAA did a thorough check.
"We weren't giving an accurate attendance figure," said Steve Miller, then the athletic director and most recently president and CEO of the Professional Bowlers Association. "We'd say 15,000 or 18,000 (fans) and had 6,000 or 8,000."
Word made it back to Kansas State that conference honchos couldn't wait to get rid of the Wildcats and replace them with Arkansas, a Southwest Conference power.
UNLV, because of its tradition-rich men's basketball program and location in a metropolitan area of nearly 2 million people, doesn't have to worry about being ousted by the Mountain West Conference. And though university system Chancellor Jim Rogers last year raised the possibility of dropping football, it's a concept few take seriously.
But for Kansas State, it was a reality. The Wildcats could look two hours south to Wichita State, which dropped football in 1986, just a year after beating Kansas State, 16-10.
"The prestige of the university would change overnight if you're out of the Big Eight conference," Senior Associate Athletics Director Jim Epps said.
Those in charge felt enormous pressure to make a serious effort at improving the football program or accept the consequences.
Miller needed a quality coach, but first he needed a wealthy benefactor.
He found that person in Jack Vanier, who pledged up to $32 million to improve the football program, but only as a matching amount to whatever the university raised.
That was the break Miller needed to move forward.
THE SEARCH
Knowing this coaching hire could make or break the program, Miller and Epps prepared to be as thorough as possible.
Their search included talking to 18 coaches nationwide. Four were brought to Manhattan, Kan., for interviews.
"There wasn't a 'wow' factor," Epps said.
Miller said, "I knew the stakes were potentially devastating."
Resuming his search, Epps picked up an Iowa media guide and read Snyder's biography. As the Hawkeyes' offensive coordinator, Snyder was a key figure, with coach Hayden Fry, in transforming the Hawkeyes from patsy to Big Ten power.
Kansas State had played Iowa in the second game of that 1988 season. The 17th-ranked Hawkeyes cruised to a 45-10 victory.
Epps contacted Snyder, and after talking for a couple of hours, Epps told Miller, "God Almighty, you've got to talk with this guy up at Iowa."
The thought of yet another interview exhausted Miller, but he followed Epps' advice and quickly realized he had found Kansas State's next coach.
At his introductory news conference in November 1988, Snyder said the Wildcats could win four to six games a year and go to an occasional bowl.
"That was only a projection because I was asked the question, and for lack of a better answer, that's what I gave," Snyder said. "But what I've tried to share with the people surrounding our program all the years is the most important goal … find a way to get a little bit better today."
Snyder's response was unlike Sanford's introductory news conference in December 2004 when he said his annual expectations were to win the conference title, appear in a bowl and make the top 20.
"People thought when I came here, I was nuts for saying those things, but I'm going to stick by them because I believe that's where you've got to set your standards," Sanford said.
THE COACH
San Diego State coach Chuck Long was a witness to Snyder's drive to be perfect. The former star quarterback at Iowa remembers a specific practice under Snyder's watchful eye. Long was completing pass after pass, but some wobbled, and others weren't quite as on target as Snyder preferred.
Snyder urged Long to become even more accurate, but Fry went to his assistant and said to lay off because the passes weren't hitting the ground. Snyder's face turned bright red and the veins in his temples bulged.
Fry never interfered with Snyder's on-field coaching again.
"Hayden cared if you were completing passes and was a bottom-line guy, and Bill wanted to get you to the bottom line," Long said.
Kansas State players soon discovered that as well.
Snyder instituted rules that appeared silly but were designed to bring discipline to the program and show the players the importance of focusing on details.
During meetings, both feet had to be on the floor and both eyes on the instructor. One clap opened the session and two ended it.
When the team dined together, players used the right fork first.
"If your eye's always on the goal, you lose sight of those things that allow you to get there," Snyder said.
Oklahoma coach Bob Stoops, a Wildcats assistant from 1989 through 1995, said taking care of the details was essential.
"He had the unique ability to dissect every facet of the program from recruiting to academics to player development to game preparation," Stoops said via e-mail. "It would be impossible to overstate how meticulous he was in coaching that team. He also made it clear that his expectations would not be compromised."
Building confidence was part of the equation. After practices, Snyder asked each player whether he became better that day and how.
UNLV's Sanford also stresses attention to detail, and his rules regarding meetings are remarkably similar to Snyder's. A typical practice includes Sanford yelling at a player for not running on or off the field, which the coach calls "a pet peeve," and forcing all of the players to enter or exit again.
While saying he would never equate football with war, Sanford said the reason why the comparison often is made is because everyone must be disciplined to do the job properly, or everything falls apart.
"Football is the most interdependent game there is," Sanford said. "You can't have 10 guys or nine guys doing it right and two guys doing it wrong."
THE PLAN
At Kansas State, there would be many changes: scheduling, the facilities, the recruiting process, the practices.
On the schedule, Snyder sought I-AA opponents to boost confidence. Eleven of 19 nonconference opponents scheduled between 1990 and 1994 were removed. "Playing teams that were 50 and 60 and 70 points better doesn't make you better," Snyder said.
UNLV has tried to lighten some of its schedules, but contracts have made cutting ties difficult. Future name opponents are Arizona State in 2008; Iowa State in 2008; Oregon State in 2009; Hawaii, 2009-12; and Wisconsin, 2010-11.
"I think what Bill Snyder did in his situation was to experience success and experience confidence early, which is big," Sanford said. "I think on the other side of that is playing good opponents is going to make you better."
UNLV already is far ahead in facilities compared with the Kansas State of the late 1980s. John Robinson oversaw general stadium improvements in 1999 at a cost of $18 million, synthetic turf being placed on the practice fields in 2002 for $1 million and a similar turf placed on the playing field at Sam Boyd Stadium in 2003 for $877,000.
Kansas State needed significant upgrades to have any hope of becoming competitive, and Snyder suggested that Miller and Epps visit Iowa.
They made the trip and realized their facilities were as modern as the wing-T offense.
"Our press box was a double-wide on stilts," Epps said. "They called it the Tin Can. It was just ludicrous that a Big Eight conference school would have facilities like that. … We went several million dollars in debt almost overnight, but that was the game plan."
The athletic department already was $4 million in the red. At times during Snyder's first three years, officials worried whether they could cut paychecks.
Twice during building phases, Snyder offered to put up his own money, $100,000 one time and $500,000 the other, to help finish the projects. The money was refused each time.
Meanwhile, no financial request from Snyder was turned down.
"I always maintained that I really didn't want to build a Taj Mahal," Snyder said. "I wanted nice facilities for young people to feel comfortable in, but no more than that."
Without quality recruits, though, no program has any hope of succeeding.
Except for in-state recruits, Snyder refused to go head-to-head with Nebraska, Oklahoma and other major programs in hopes of persuading players to come to Manhattan, which lies off the beaten path west of Topeka.
Snyder and his coaches looked for players whom they thought had potential, but were overlooked by other schools, a tactic also used by Sanford.
"We could go out and compete for the quote, unquote blue-chip guys," Snyder said of his efforts during his first couple of years. "If we do a really fantastic job, we might get in the door and we might get an audience. We might get in the top five. But the bottom line is at the end of the day, we ain't going to be first."
As the Wildcats began to experience success, they were able to go for more high-profile recruits. Even then, they were judicious about their targets.
Michael Bishop chose the Wildcats because the school, unlike others, promised he could play quarterback. It was a smart decision because Bishop took the school to back-to-back Top 10 rankings. Other future NFL players who were mostly overlooked in recruiting — Terence Newman, Jon McGraw, Mark Simoneau and Jarrod Cooper — found success at Kansas State.
UNLV hopes a similar approach provides results.
Wide receiver Ryan Wolfe, last season's Mountain West Freshman of the Year, was not highly recruited. Fellow receiver Casey Flair, whose 67 receptions last season led the conference, was a secret outside of Alaska.
And though defensive end Jeremy Geathers comes with strong NFL ties, few noticed him coming out of a Kansas junior college. Last season, Geathers was second-team all-conference after recording 5 1/2 sacks.
"What we're trying to do is a great job of evaluating," Sanford said. "And when you evaluate, that means you've got to look under rocks and find guys that maybe other people may not find."
Snyder understood that top-notch assistants were crucial in the evaluation process.
Stoops was one of his first hires, and later staffs included future head coaches Bret Bielema, now at Wisconsin; Jim Leavitt, now at South Florida; Mark Mangino, now at Kansas; and Mike Stoops — the younger brother of Bob Stoops — now at Arizona.
"Get the right people at any cost," Epps said.
THE TURNAROUND
In Snyder's first season, the Wildcats went 1-10 with their only victory against North Texas State, 20-17. But at least they broke a 16-game losing streak and 30-game nonwinning slide.
After that season, Snyder saw hope, despite the record.
"I realized we had done exactly what we set out to do," Snyder said. "We had gotten better day in and day out. Our players recognized exactly the same thing."
Next season, the Wildcats finished 5-6, their highest victory total in eight years.
The turnaround really took shape in 1991 when Kansas State went 7-4, its best record since 1954.
After a 5-6 hiccup in 1992, the Wildcats in 1993 made the first of 11 consecutive bowls. They went to the Copper Bowl in Tuscon, Ariz., routed Wyoming 52-17 and became the first team in school history to be ranked: No. 20 by The Associated Press and No. 18 by CNN/USA Today.
Snyder, a workaholic even by football coaches' baggy-eyed standards, spent countless hours bringing Kansas State to that point.
"When you get a coach like that, they don't worry about their families," said cornerback Kenny McEntyre, the defensive Most Valuable Player in the Copper Bowl who went on to be a star in the Arena Football League. "When it's football season, it's football. And that's it. And that's how he was. All he did was think football."
Sanford and his assistants put in 90- to 100-hour weeks during the season, but they do not go to the extremes that existed under Snyder.
Instead, Sanford follows more in the mode of the Super Bowl-winning Indianapolis Colts coach, Tony Dungy. Sanford insists his assistants leave work at a reasonable time each night — unless there is pressing work to complete — to spend time with their families.
"I think in turning a program around, there's got to be a passion, a commitment and a dedication and work ethic by the entire staff, not just the head coach," Sanford said. "I do believe that you need to have balance. I think that's important for the sanity of everybody involved."
At his retirement news conference two years ago, Snyder said he regretted the many hours he missed with his family and the sacrifices made by his wife and five children. But executing the greatest turnaround in college football history was no 9-to-5 job.
The school's determination to make sure it had the right coach and its willingness to shower the program with money more than succeeded.
By Snyder's fourth season, Wildcats football was a hot ticket, and the athletic department no longer worried about meeting payroll. The deficit would become a surplus.
Those who risked the future of the program, the athletic department and the university as well as their own careers reaped the rewards.
Kansas State's remarkable rise provides hope to athletic directors who oversee struggling programs, such as UNLV. The Wildcats showed just about anything is possible when those from the president on down make a commitment. But what worked at Kansas State might not be successful at UNLV.
"You and I can go to the downtown library in Las Vegas and find a blueprint to building a bridge," said Miller, Kansas State's former athletic director. "It doesn't mean you and I have any ability to build a bridge. I can tell you everything we did, but it doesn't mean somebody's going to be able to do it."
UNLV Football
WILDCAT TURNAROUND Starting in 1993, the Wildcats won at least nine games in 10 of 11 years and totaled 11 victories in six of seven seasons. Kansas State finished in the Top 10 in 1995, 1997, 1998, 1999, 2000 and 2002. The Wildcats claimed at least a share of the Big 12 North Division title in 1998, 1999 and 2000 and the outright conference championship in 2003 for the first time since taking the Big Six in 1934. The coach behind the turnaround, Bill Snyder, was named national Coach of the Year three times. KSU RENOVATIONS The first renovation project of football facilities at Kansas State, from 1989 to 1992, was a $2 million undertaking that included an upgraded locker room and 6,500-square-foot weight room. A $3.3 million, five-level press box and $2.2 million indoor facility were built in 1993. A $12.8 million expansion, which included 8,000 more seats, took place in 1999. Synthetic grass, at $850,000, was installed in 2002. In 2006, video and message boards at a cost of $1.7 million were placed overlooking each end zone.