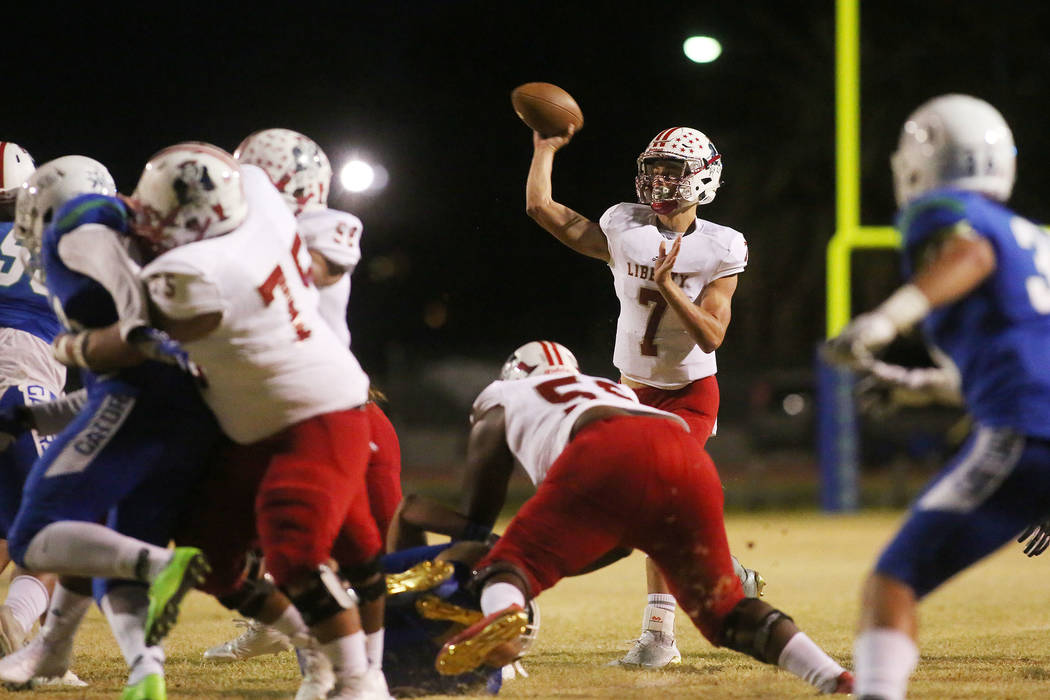 Liberty senior quarterback Kenyon Oblad is staying home.
The state's leader in career passing yards announced his commitment to UNLV on Sunday morning during his official visit with the program.
He will graduate from Liberty in December and enroll at UNLV in January so he can get a jump start on his course load and participate in spring football practice.
"I think the biggest thing was the coaches," Oblad said. "Also how close it is to home, being close to my family. They can come to all my home games and even most of the away games because they'll all be close to where they are."
Oblad is a three-star recruit, according to ESPN, who finished his career with 11,829 yards and 116 touchdowns. He emerged as Liberty's starting quarterback during his freshman season and led the Patriots to four consecutive Class 4A state tournament berths.
He finished his senior season with 2,699 passing yards, 28 touchdowns and six interceptions. He also had offers from BYU, Colorado State, San Diego State, Nevada and Western Kentucky, which he visited in October.
Oblad said he's impressed with the progress UNLV coach Tony Sanchez and his staff have made in their tenure with the Rebels. They've improved their record each of the last two years and finished 5-7 this season, falling short of the six-win requirement for bowl eligibility.
He said he thinks the offense is conducive to his skillset, and is already familiar with several of its key concepts.
"The coaching staff knows what they're talking about," Oblad said. "I was watching film with them this weekend. The offense that they run is really good. They rack up a lot of yards passing and rushing so they're always going to be in games."
Oblad is the third local senior to commit to the Rebels, joining Green Valley offensive lineman Eric Brown and Centennial tight end Jonah Laulu. The former Patriots star said he plans to try and persuade other local star football players to join the trio.
"(The Rebels) are making it a focal point to keep Vegas kids home," Oblad said. "Why not stay home and try and finally make this program change and flip it around?"
More preps: Follow all of our Nevada Preps coverage online at nevadapreps.com and @NevadaPreps on Twitter.
Contact reporter Sam Gordon at sgordon@reviewjournal.com. Follow @BySamGordon on Twitter.