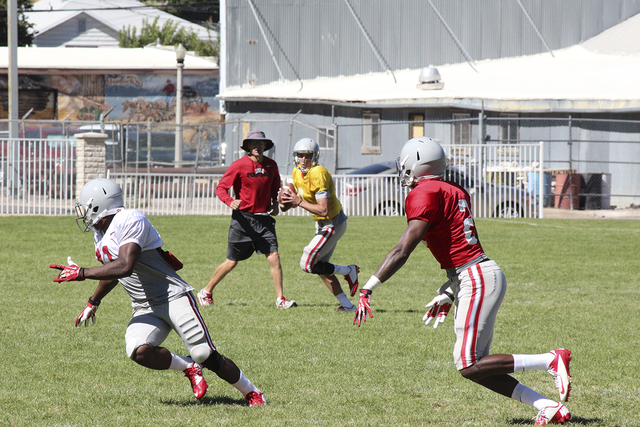 ELY — Blake Richmond stepped in front of the pass at his 2-yard line, intercepted the football and knew he was going all the way.
And he did.
Richmond, a second-team safety, dashed 98 yards for the surprisingly easy touchdown to put the exclamation on a dominating Saturday afternoon from him and his longtime friend, defensive end Najee Johnson.
The two juniors played together at Rodriguez High School in Fairfield, Calif., then were teammates at Santa Rosa (Calif.) College.
And now they're at UNLV, first-year Rebels and second-teamers who are having the kind of training camp that suggests they will be impact players this season.
"Both of them are going to help us this season, for sure," coach Bobby Hauck said. "Defensive end's a little simpler than safety. It's easier to pick up. There's less recognition and responsibility. Safety's kind of like playing quarterback. There's a lot going on, so Blake's got to catch up to it. But he will. He's a very, very bright guy.
"For Najee, things have been coming clearer the last few days. The more we walk through, the more we practice, the more automatic it becomes for him in terms of assignments. He's probably a little ahead in terms of being able to contribute."
This was a scrimmage for the backups.
The top two quarterbacks, juniors Blake Decker and Nick Sherry, never made it onto the field. Neither did many other top players on both sides of the ball, including senior wide receiver Devante Davis.
So Richmond and Johnson had an opportunity to stand out, and they took advantage of it. The pick-six was Richmond's second interception of the scrimmage, and Johnson finished with three tackles, including two for loss and a sack, and one pass breakup.
Being on the same team, again, made the transition to college ball easier.
"It helps a lot, because coming from California I didn't know anybody up here," Richmond said. "I got to move in with Najee, so it was good."
Richmond (6 feet 3 inches, 190 pounds) was quite a pickup for the Rebels. He chose UNLV over Texas Christian and Utah State after making the All-NorCal Conference team last season at Santa Rosa.
He hasn't disappointed in camp, playing well even before the scrimmage.
During the scrimmage, he was responsible for both of freshman quarterback Kevin Thomson's interceptions. On the second pick, Richmond took the interception nearly the length of the field for the day's only score in a scrimmage ruled by the defense.
"I knew all the receivers were behind me," Richmond said. "Once I saw nothing but linemen, I knew I could take it."
The entire defense ran out to celebrate with Richmond after he reached the end zone.
His performance was tough to top, but Johnson (6-4, 220) came close.
Johnson's play in the scrimmage underscored what he has accomplished in camp. He was brought in from Santa Rosa to help provide a boost to a defensive line that badly needed it.
The Rebels hope Johnson plays as well beginning Aug. 29 at Arizona as he did Saturday. For one day, at least, two longtime friends starred together.
"It feels good," Johnson said. "I see him, and he's inspiring me to go further and play to the best of my ability. So I definitely think it's a positive for both of us."
Contact reporter Mark Anderson at manderson@reviewjournal.com or 702-387-2914. Follow him on Twitter: @markanderson65.