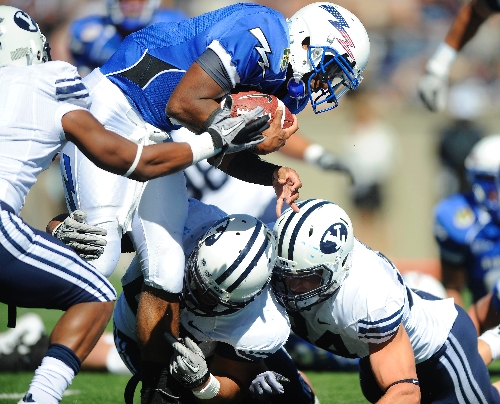 When the Western Athletic Conference tried to take Brigham Young in the middle of the night last month, the Mountain West Conference's response was swift and aggressive.
But now that the WAC has sued the Mountain West as well as UNR and Fresno State — the schools the MWC grabbed in retaliation for the potential BYU move — a different response is needed.
The Mountain West's best strategy is to delay, delay, delay because time is not on the WAC's side.
There was a sense of desperation in WAC commissioner Karl Benson's voice Tuesday in explaining the lawsuit, which seeks to keep UNR and Fresno State in his league through the 2011-12 academic year. Benson knows if those schools leave next year, as they plan to, the WAC will be down to six members and probably will be done.
That Cal Poly and UC Davis recently chose to join the lower-level Big Sky Conference rather than the WAC is a troubling sign.
"The damages that the WAC would incur if Fresno State and Nevada left are very significant," Benson said.
It's too late to add members for next year, as Benson noted, so an early departure by those schools gravely affects everything from football schedules to bowl agreements to an NCAA basketball tournament automatic bid to TV contracts.
"There's a reason there are notification dates, to allow a conference adequate time and a reasonable time to prepare for their departure," Benson said.
Benson said the WAC bylaws state schools that leave must give notice by June 30 or wait an extra year.
He said the $5 million exit payments the WAC expects from UNR and Fresno State are not part of the lawsuit.
Should the WAC prevail in keeping both schools, it might only delay the inevitable. Its choice of expansion candidates is not impressive — Texas-San Antonio, really?
There also are rumblings Louisiana Tech could join Conference USA and Hawaii football may go independent.
So the Mountain West — ­which has 30 days to respond to the lawsuit from when it was filed Thursday — will be happy to drag this out for as long as it can.
Delay, delay, delay.
PERFECT PREGAME SPEECH — Air Force coach Troy Calhoun denied the Falcons were extra motivated Saturday to play a BYU team leaving the Mountain West next year to become independent in football.
Calhoun also wouldn't buy that every conference coach facing the Cougars has the ideal pregame topic. Still, it isn't hard to imagine a coach telling his players, "They think they're too good for you."
Even if Calhoun wouldn't play along, there's no doubt the Falcons sent a message with their 35-14 don't-let-the-door-hit-you-on-the-way-out romp over the Cougars. Air Force had been trying to break into the Mountain West's big three, and now it could happen.
But Calhoun offered a variation on the typical football coach's response to a big early-season victory: "It's a quality win, yet our guys know it's a single one."
Maybe, but it's still a nice parting shot to the Cougars.
HARD TO PLEASE — San Diego State is 2-0 for the first time since 1994, but second-year coach Brady Hoke has been critical of his team's play.
He said getting two takeaways through the first two games wasn't good enough.
"We've done a pathetic job of forcing turnovers," Hoke said. "We've had opportunities with balls in the air and balls on the ground. We're a long way from being where we want to be."
Hoke is right not to become too elated. The Aztecs' two victories were against Nicholls State and New Mexico State.
First-year UNLV coach Bobby Hauck probably wishes he had those two opening opponents rather than the Wisconsin and Utah games he was handed.
But, like Hoke, Hauck is tough to please, saying, "It comes down to wins and losses."
UNLV, not surprisingly, is 0-2. The Rebels play a more winnable game Saturday at Idaho (1-1), though the Vandals are coming off an 8-5 season and Humanitarian Bowl victory.
Contact reporter Mark Anderson at manderson@reviewjournal.com or 702-387-2914.