Mountain West future on the line as TV deals near end
Updated July 24, 2018 - 7:14 pm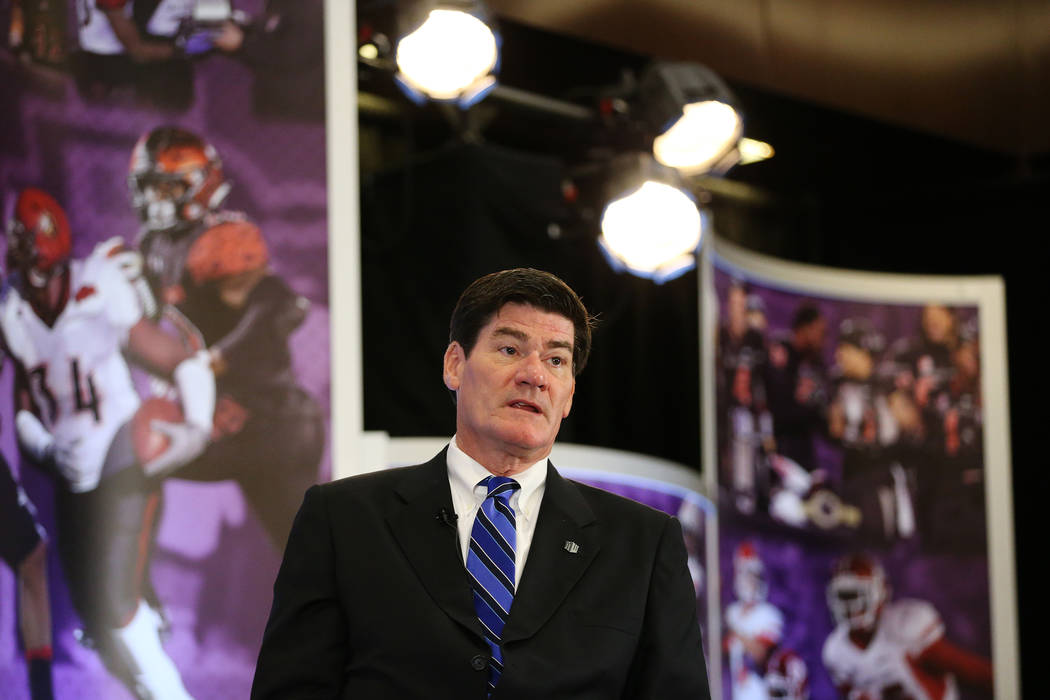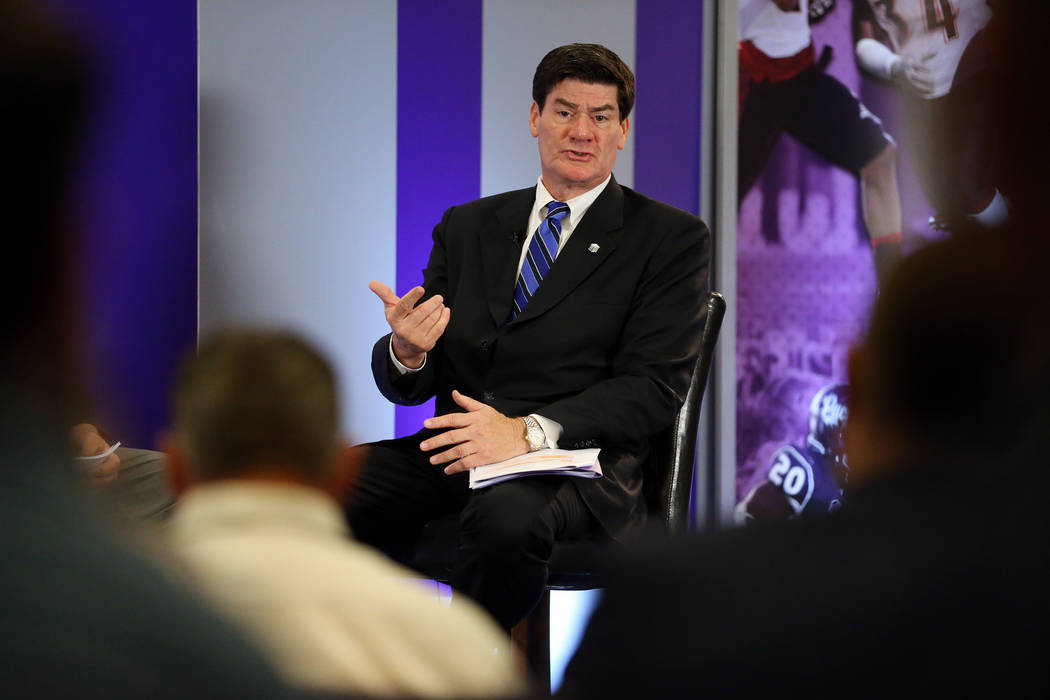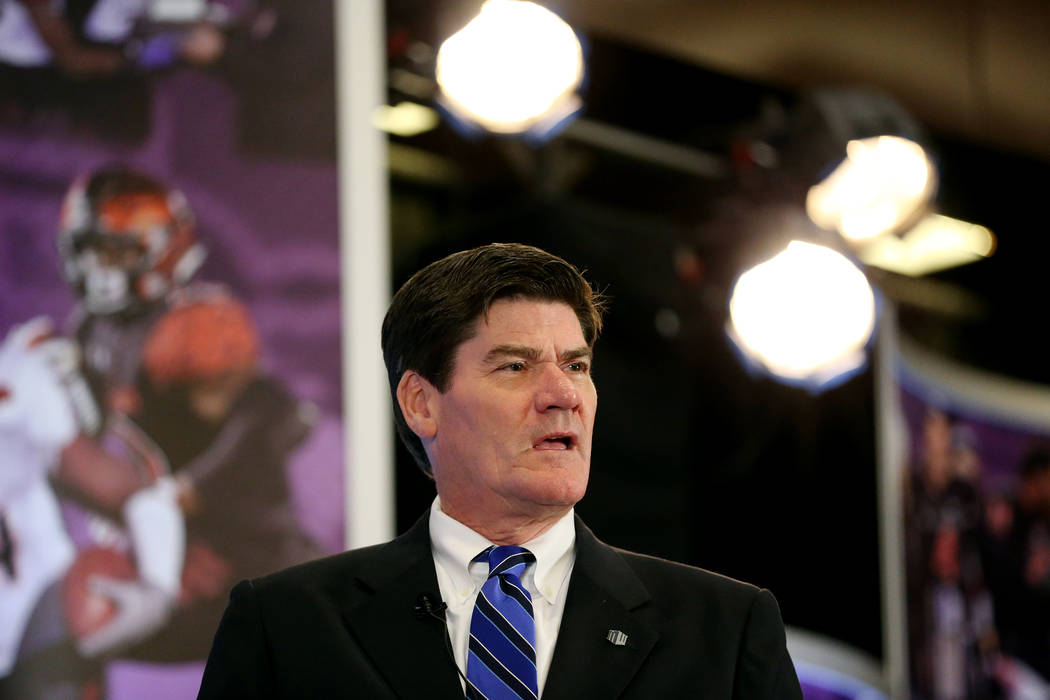 Two years remain on the Mountain West's TV contracts, but there is a flurry of activity within the conference as it contemplates its long-term future.
As a Group of Five conference, the Mountain West from a TV contractual standpoint already is in the slums compared to the Fifth Avenue penthouses where the Power Fives reside.
It's a divide that could even worsen.
Mountain West commissioner Craig Thompson addressed the TV situation and other issues at a roundtable Tuesday during conference football media days at The Cosmopolitan of Las Vegas.
CBS Sports will have an exclusive negotiating window with the Mountain West beginning in April on whether to renew. After a decision is made on whether to continue the relationship, the conference can enter potential renewal discussions with ESPN and AT&T SportsNet.
The conference can look warily at what Conference USA experienced two years ago when its members went from making $1.1 million per year off TV rights to $200,000. Mountain West members currently make $1.1 million.
If the number comes in low, the Mountain West can decide to go heavy on digital coverage rather than a traditional TV contract and gain greater control of kickoff and tipoff times.
"That very well could be an outcome," Thompson said.
Thompson said revenue and adequate start times were the two most important factors to conference membership when it came to negotiating TV deals.
"Most interesting to me, the least important was the outlet, was the medium, whether that was linear television, whether that was digital, whether that was this network or that network," Thompson said. "You can find (a game broadcast), and it's hard to have someone really devoted to 3½ hours to stay with either (traditional TV or digital) in this day and age."
He said a five-person subcommittee is devoted to working on the next set of TV contracts, and they are updated three or four times per week.
"It's so fluid," Thompson said. "It's not quite daily, but it's close. So what we're waiting to see is how some of these things develop."
Thompson also talked about the bowl situation, saying he was optimistic that deals would be renewed for the Famous Idaho Potato Bowl in Boise, the New Mexico Bowl in Albuquerque and the Hawaii Bowl in Honolulu beginning in 2020. He also said an agreement was with the Arizona Bowl in Tucson, leaving two allowable open slots.
The Las Vegas Bowl has the first choice of the Mountain West, but that game is considering having two Power Five conferences play beginning in 2020 when it moves to the new Raiders' stadium.
"Who plays in that game, whether it involves the Mountain West, is still to be determined," Thompson said. "I know there have been a number of meetings. We do have some time. We will be in the Las Vegas Bowl for the next two years. I'm not going to put a timeline on as to when that determination will be made, but there are several options available about what will happen in the new stadium with a bowl game."
More Rebels: Follow all of our UNLV coverage online at reviewjournal.com/Rebels and @RJRebels on Twitter.
Contact Mark Anderson at manderson@reviewjournal.com. Follow @markanderson65 on Twitter.
Mountain West preseason poll
Predicted order of finish
West Division
1. Fresno State (16) 126
2. San Diego State (6) 116
3. UNLV 78
4. UNR 72
5. Hawaii 45
6. San Jose State 25
Mountain Division
1. Boise State (22) 132
2. Wyoming 95
3. Colorado State 82
4. Utah State 78
5. Air Force 52
6. New Mexico 23
Note: First-place votes are in parenthesis.
Preseason team
Offense
QB Brett Rypien, Sr., Boise State
WR KeeSean Johnson, Sr., Fresno State
WR McLane Mannix, So., UNR
RB Alexander Mattison, Jr., Boise State
RB Lexington Thomas, Sr., UNLV
OL Ezra Cleveland, So., Boise State
OL John Molchon, Jr., Boise State
OL Aaron Jenkins, Sr., New Mexico
OL Keith Ismael, So., San Diego State
OL Tyler Roemer, So., San Diego State
TE Dax Raymond, Jr., Utah State
Defense
DL David Moa, Sr., Boise State
DL Curtis Weaver, So., Boise State
DL Youhanna Ghaifan, Jr., Wyoming
DL Carl Granderson, Sr., Wyoming
LB Jeffrey Allison, Jr., Fresno State
LB Jahlani Tavai, Sr., Hawaii
LB Malik Reed, Sr., UNR
DB Tyler Horton, Sr., Boise State
DB Dameon Baber, Sr., UNR
DB Tariq Thompson, So., San Diego State
DB Andrew Wingard, Sr., Wyoming
Specialists
P Ryan Stonehouse, So., Colorado State
PK Dominik Eberle, Jr., Utah State
KR/PR Avery Williams, So., Boise State
Offensive Player of the Year: Brett Rypien, Sr., QB, Boise State
Defensive Player of the Year: Andrew Wingard, Sr., DB, Wyoming
Special Teams Player of the Year: Avery Williams, So., KR/PR, Boise State