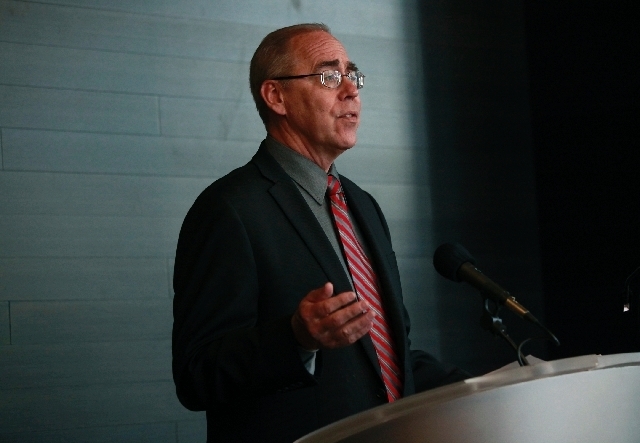 UNLV president Neal Smatresk always is busy but seldom late.
He rushes back from a meeting across campus to spend almost two hours discussing the future of Rebels athletics with a reporter. Then it's off to a dinner with a potential donor.
Even for Smatresk, this is an especially hectic period.
And an important one.
In the next few months, Smatresk will introduce the school's 12th full-time athletic director — who will take over a troubled department with shaky finances, a struggling football program and a poor relationship with the Thomas & Mack Center.
The three relationships are intertwined. An improved football program and even more profitable Thomas & Mack greatly would help the department's bottom line.
How the next athletic director — man or woman, local or outsider, background in athletics or in business — manages those issues will define the future of UNLV athletics.
FUNDING ATHLETICS
UNLV athletic programs have struggled with their bottom line for years, even though fundraising tripled under previous athletic director Jim Livengood, who retired June 30. He also oversaw the opening of the state-of-the-art Mendenhall Center basketball training facility and the Engelstad family's rescue of the men's soccer program.
Those developments didn't change the reality of a department living paycheck to paycheck, relying on money from the state, university and Thomas & Mack to balance its $30 million budget. UNLV athletics has run at a deficit of more than $5 million in three of the past four fiscal years, even with state support of roughly $7 million each year included.
Smatresk has noted that athletics is the one department that has had its budget grow in recent years.
But it is unsustainable.
Board of Regents chairman Kevin Page said UNLV will have to live within its means in the shrinking local economy.
"I think spending from the state is going to continue to go down across the board," Page said. "So I think if UNLV has not become more self-supporting, then it'll get left behind."
UNLV can maintain the status quo and try to eke by each year, the university could decide to pour money into athletics, or the next AD could coax big-money boosters to buy into a vision of a department that competes rather than survives.
Don't count on the university to spend more than it already does.
"I don't think it's fair to turn to the university to say, 'Fund more,' " Smatresk said. "I've heard boosters say that: 'Neal, you're not supporting athletics.' The first answer to that is: 'Nonsense, we have.' We've grown our contribution because we've kind of had to during some bad times."
The university should be spending its money educating students, he said.
"So would I like to see athletics become a self-sustaining and self-funding enterprise ultimately? You bet. But I'm not unrealistic," Smatresk said. "It's going to take awhile. It's going to take great leadership. It's going to take better fundraising. It's going to take more entrepreneurial approaches. It's going to take winning football, no matter how you slice it."
UNLV could raise money for athletics through a student fee increase. A $1 increase went through in 2009, accounting for a nearly $300,000 gain for athletics, but according to an internal document, UNLV ranks ninth in the Mountain West in student fees.
Smatresk is reluctant to ask for another increase, saying that when tuition is raised "a nickel, students take a nickel fewer classes. That hurts graduation success."
He likes the idea of creating a board of boosters that would have a say in how athletics operates.
A similar board exists for academics. Its members have been key supporters and advocates for change, Smatresk said. "They've really helped me. It's important. They've given me key introductions, they've opened doors for us, they've offered advice."
Rich Abajian, general manager and co-owner of Findlay Toyota and a longtime booster, likes the idea of an athletic board but remains skeptical.
"A lot of times, universities' thought process is they want the millions the boosters are going to give them, they don't want their two cents," Abajian said. "I think it's very hard sometimes for universities to take any kind of direction from outside."
Even if no such board is created, Smatresk said athletics needs to better reach out to donors, including those who are young and might not be on the traditional radar. The president noted those potential donors are "dying to help," and he would like to see overall giving to athletics reach $10 million to $20 million.
Livengood said coaxing money out of even those who have it isn't easy.
"There's nobody … that can come in and by snapping some fingers and all of the sudden, huge financial things are going to happen," Livengood said.
Abajian said boosters want to know that the money they contribute is properly used. Donors will listen, he said, if they believe the plan can succeed.
TOUGH CALL ON FOOTBALL
UNLV's next athletic director won't have to wait long to make a key decision about football coach Bobby Hauck's fate.
Another two-win season probably would seal his fate. What would it take to guarantee a fifth season for Hauck: Four wins? The first bowl bid since 2000?
Smatresk said made clear it would be the new athletic director's call.
If Hauck isn't retained, what kind of coach does the athletic director bring in?
Turning around football, which has cycled through coach after coach, is key to helping the department move forward. A winning football program will bring in money and give other sports a chance to flourish. It might even make UNLV attractive to a power conference looking to expand.
UNLV invested $5.24 million in football last fiscal year and lost $3.5 million. But if the Rebels don't put money into the sport, they have little chance of succeeding.
Boise State, the gold standard for Mountain West football, spent $8.54 million in the 2011-12 fiscal year and made $15.35 million.
The spending gap can be seen as a lack of commitment to winning.
It hasn't helped Hauck as he has tried to build the program. The process has been has been too slow for many fans, but few outside the department realize the poor shape of the program that former coach Mike Sanford left behind.
Sanford blamed the Rebels' ills on everything from a poor locker room to a lack of institutional support. His poorly timed remarks came across as sour grapes, but he had a point.
UNLV has spent years shuffling coaches and hoping for the best, usually without giving them adequate resources. One notable exception: After hiring John Robinson in 1998, the school renovated Sam Boyd Stadium at a cost of $18.5 million and the Rebel Park practice facility after a $1 million gift and donations from other supporters. Robinson took the Rebels to the Las Vegas Bowl in his second season.
Smatresk and UNLV's next athletic director might have to decide whether to go all in with football or cut the sport altogether if it doesn't turn around.
Dropping football probably means dropping out of the Mountain West and joining a basketball conference, such as the Big West.
"It's not the same university if you don't have a football program," Livengood said.
But there also is a question of how long UNLV will continue to spend $5 million on a program that doesn't offer much of a return.
"I need an AD who can tell me that," Smatresk said. "I don't want to do it. I want winning football. I don't call that shot. I also don't expect an AD who will call it without talking to me.
"Can we maintain losing football forever? No, certainly not."
THOMAS & MACK RELATIONS
UNLV athletics has viewed the Thomas & Mack Center as a vehicle to help balance its budget for more than 20 years.
But the relationship between athletics and the T&M staff has frayed.
Smatresk felt so concerned that he met with the staffs in early April and told them, in so many words, to grow up and work together as a team.
"We're willing to help heal it as much as possible," Smatresk said, "and hope that we can all recognize that we're all working together to achieve the same goals."
Negative feelings between the entities have existed since the early 1990s when then-athletic director Jim Weaver realized what a cash cow the Thomas & Mack could be for athletics.
"I think this is where it all went wrong," said Pat Christenson, the president of Las Vegas Events and former director of the T&M. "What happened over those next seven or eight years, while we were generating $1 million to $2 million per year in the beginning, we were putting that in the reserves and capital improvements. That ended. All of that money went to keeping athletics afloat."
Those on the Thomas & Mack side became frustrated, believing athletic directors relied too heavily on the flow of income from that building as well as Sam Boyd Stadium and Cox Pavilion and didn't raise enough funds on their own.
According to university figures, those transfers are part of the $6 million to $8 million the Thomas & Mack annually provides to athletics in different forms of support.
Those in athletics argue the transfers are money owed for holding sporting events in Thomas & Mack facilities as well as part of the $3.2 million contract with IMG College, which handles marketing.
The issue became even thornier when the Thomas & Mack's once-flush reserves dwindled to zero in 2011 after the economic recession hit it hard.
The Thomas & Mack then was taken from Livengood's control and placed under Gerry Bomotti, senior vice president for finance and business.
Livengood's supporters blamed a petition signed by 35 T&M employees for a vote of no confidence in him as being the impetus from removing control of the building from the athletic director to the university. Smatresk didn't speak specifically about the petition but has made clear he thought it was an important step to take the Thomas & Mack back to profitability.
Whether it was Bomotti's handling of the T&M, an improving economy or some combination, its reserves increased to $3.86 million at the end of last fiscal year.
Smatresk said he will return control of the building to the new athletic director because he wants oversight of both to be more centralized.
The new athletic director will have to show the Thomas & Mack will be used as more than an easy financial resource if relations between the sides are to be mended.
"I'm not overly optimistic," Christenson said.
But Smatresk is looking for more than good relations. He wants the Thomas & Mack to continue to grow but with athletics doing its part as well.
"You can't just view it as something you can drain money from," Smatresk said. "You have to view it as a stand-alone enterprise that can be grown to support athletics."
WIDE-OPEN SEARCH
Smatresk listed six requirements for a new athletic director:
■ Possess a vision to build athletic programs, especially football.
■ Put UNLV in a good position for conference realignment.
■\u2007Manage resources, including the Thomas & Mack.
■ Create new streams of revenue and increase fundraising.
■ Continue to comply with NCAA rules.
■ Must be "good with people" and command respect throughout the department.
The president would consider a local or an outsider for the position.
He said he's intrigued by the idea of bringing in someone from the business world, a trend in college athletics and one that was followed last year when the Las Vegas Bowl hired Dan Hanneke from Anheuser-Busch as its executive director. But he was careful to say he just as easily could offer the job to someone who has spent a career in athletics.
"This is a genuinely a wide-open search," he said. "Some very impressive people have been in contact with us, so I feel pretty good about it. Believe it or not, this is a sought-after position, and I think there are a lot of people who might scoff at that. This is an opportunity."
It's an opportunity to shape the future of UNLV athletics.
"I don't know of any entity that basically cuts its way to greatness," Livengood said. "That doesn't mean that you don't have to go through some tightening of the belt and those type of things. But you also have to determine who you want to be, what you want to be and when you want to do that.
"We know where things are right now, but what lies ahead in the next three to five years?"
Contact reporter Mark Anderson at manderson@reviewjournal.com or 702-387-2914. Follow him on Twitter: @markanderson65.