Player safety a top priority for UNLV football staff
Updated August 23, 2018 - 2:47 pm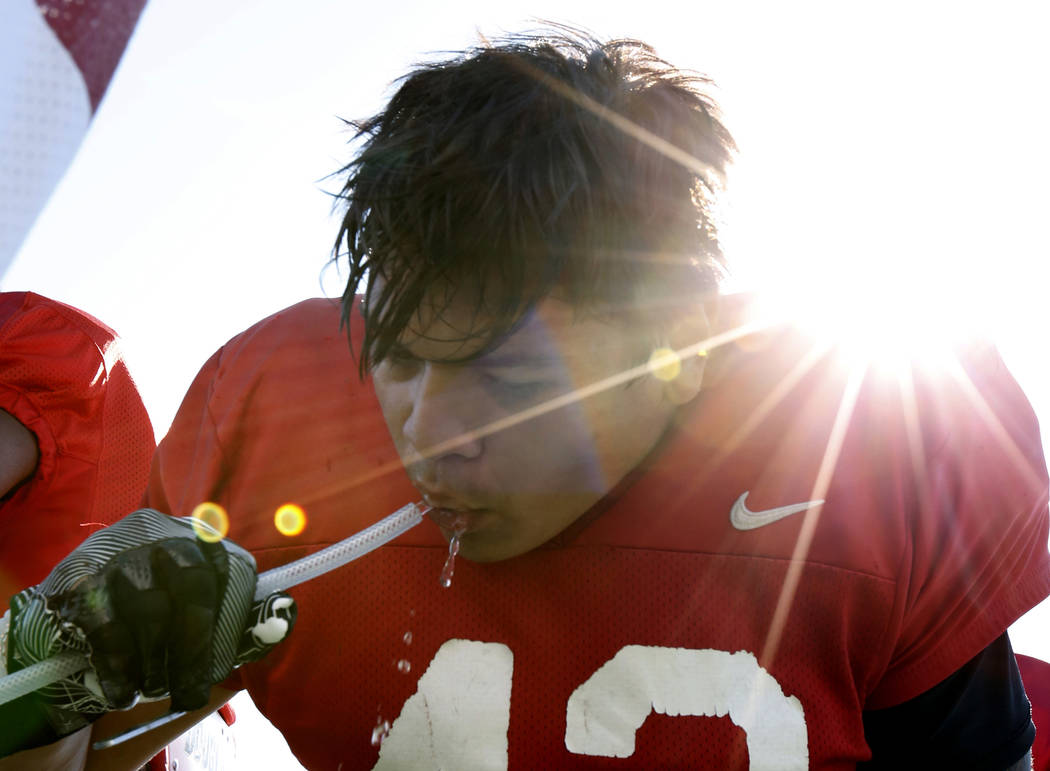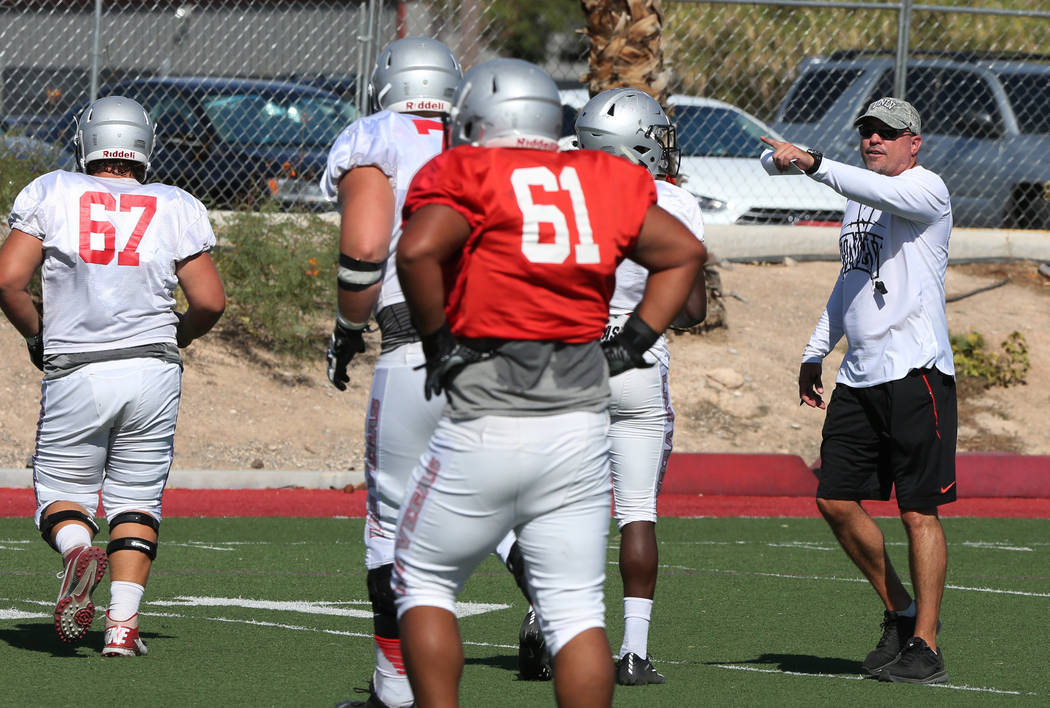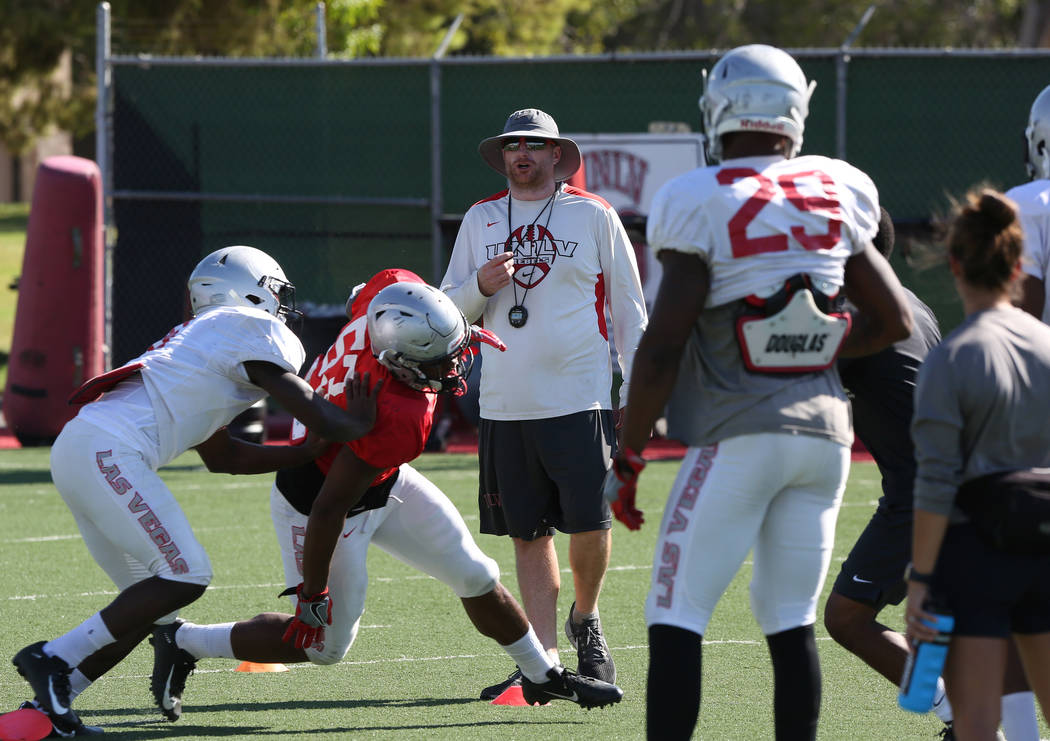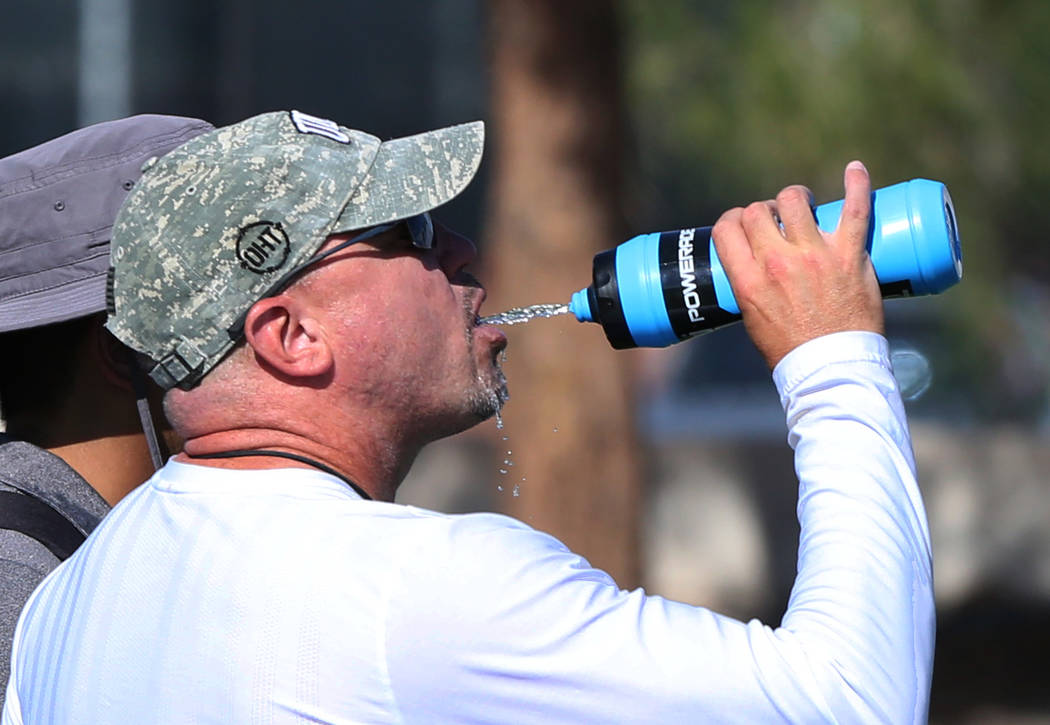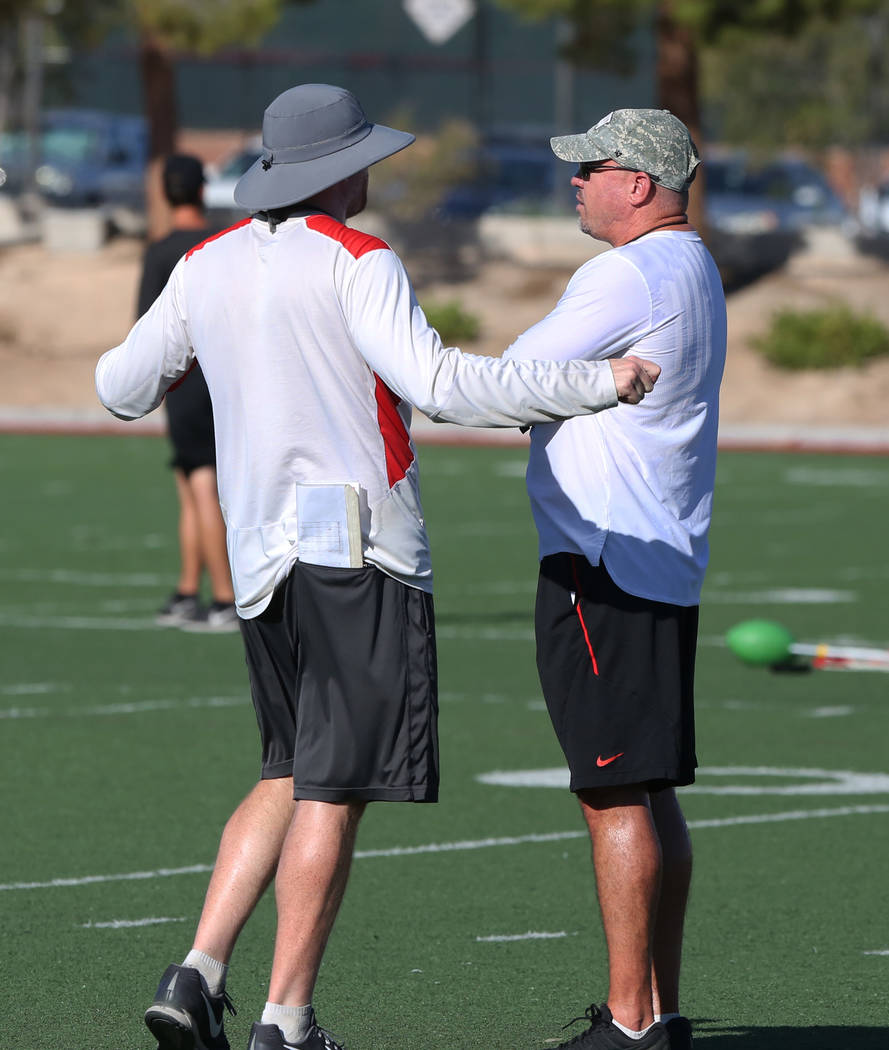 When UNLV's football training camp opened Aug. 3, players took the fields at Rebel Park under a scorching midsummer sun, and it didn't take long for some to feel the effects.
Three players in the first two days were removed from practice after they began to experience some form of heat exhaustion, and they were not allowed to return until cleared by the training staff.
"We talk about culture and the way we treat our guys," coach Tony Sanchez said. "We always want to push them to a point that's going to help them get better, but we also never want to put them in jeopardy.
"We have a training staff that's out there at the same time, so there are a lot of checks and balances."
Kyle Wilson, the Rebels' assistant athletic director for sports medicine, said UNLV reviewed its policies and protocols after Maryland football player Jordan McNair died of heatstroke from an offseason workout this summer.
"Anytime you have a tragedy like that, we try to look at what we're doing and try to see as best you can what they might've been doing and see if there is something we can add to our protocols," said Wilson, in his 35th year at UNLV. "But every year, our team doctor and our staff, we review our policies that we have.
"We have not really made any adjustments. We've have some really good policies in place."
UNLV athletic director Desiree Reed-Francois, citing her family history, said player safety is something she takes seriously. Her brother, Roman Reed, broke his neck in a 1994 football game for Chabot College in Oakland, California, and is a quadriplegic.
"Student-athlete safety and welfare is the most important responsibility that we have," Reed-Francois said. "That is just not my professional view from over 20 years in athletics administration. From a personal perspective, our family suffered through my brother's injury and its devastating consequences, and no family should ever have to experience that trauma. While life does not offer guarantees, we will continue to do all that we can at UNLV to ensure the health and well-being of our student-athletes."
Sean Manuel, the Rebels' second-year strength and conditioning coach, oversees offseason conditioning five days each week and for a total of eight hours. Each day is a little different between how running and weightlifting drills are divided, but the players begin at 7 a.m. when the temperatures are near their lowest. Three trainers are present, as are six water stations.
Recovery times are built into the schedule, and players are taken to a shaded area where they hydrate and use roller sticks and foam balls to reduce soft-tissue injuries, such as hamstring pulls.
Not only does this protocol increase player safety, Manuel said it also achieves the overall objective of improving athletic performance.
"The guys can maintain peak power output for a longer period of time when they get these recovery breaks," Manuel said. "So the quality of our training went up, especially in our power department.
"One of the things we really stressed this year is we're going to push the guys, but as long as we can give them an adequate amount of recovery, we'll get a great performance adaptation. There was an objective, and on different days if they were pushed, we wanted to make sure there was an adequate recovery time for their bodies to come back to a reasonable state."
Though the coaches run training camp, Manuel still has been on the field monitoring the players. He insists they also drink 4 to 6 ounces of water or Powerade every 15 minutes. Manuel has been such a constant with the players that they even keep him in check by making sure he gets properly hydrated as well.
Ensuring players keep up on their fluid intake isn't limited to the two-plus hours of practice. Players, each issued refillable bottles, are weighed after each practice to see how much fluid was lost. They must return to their prepractice weight before they can take the field again.
"They're hearing, 'Hydrate, hydrate,' from everybody they see from the football staff," Wilson said. "I think that finally soaks in for them."
More Rebels: Follow all of our UNLV coverage online at reviewjournal.com/Rebels and @RJRebels on Twitter.
Contact Mark Anderson at manderson@reviewjournal.com. Follow @markanderson65 on Twitter.
UNLV single-game tickets on sale
UNLV single-game football tickets are on sale only through unlvtickets.com until 10 a.m. Thursday. After that time, fans also can visit the Thomas & Mack Center box office or call 702-739-3267.
UNLV opens its season Sept. 1 at Southern California.
The Rebels play six games at Sam Boyd Stadium, beginning Sept. 8 against Texas-El Paso.
Mark Anderson Review-Journal