Position breakdown of Saturday's UNLV-Colorado State game
November 13, 2015 - 3:25 pm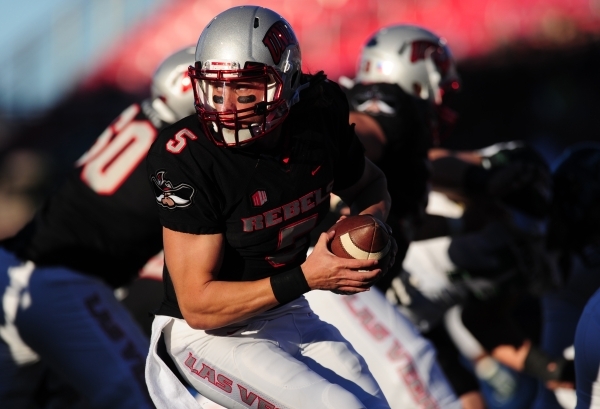 QUARTERBACK
UNLV's Blake Decker showed his importance against Hawaii, completing touchdown passes of 85 and 75 yards. This is a good matchup with Colorado State's Nick Stevens, who has thrown for 1,811 yards and 15 touchdowns, but has 10 interceptions.
Edge: Colorado State
RUNNING BACK
The Rebels' Keith Whitely, Xzaviar Campbell and Lexington Thomas each average at least 5 yards per carry. Colorado State is emphasizing the run and rushed for a season-high 228 yards on Saturday at Wyoming.
Edge: UNLV
WIDE RECEIVER
UNLV's receivers are beginning to play as well as expected before the season, but the Rams' Rashard Higgins will be the best one on the field.
Edge: Colorado State
OFFENSIVE LINE
Colorado State's line has helped pave the way for a run game that averages 4.3 yards per rush and has allowed 12 tackles. UNLV's line is improving, having allowed no sacks in the past two games, but the Rebels have given up 19 for the season.
Edge: Colorado State
DEFENSIVE LINE
Look for the Rebels to try to establish the run and take advantage of a Colorado State defense that allows 204.6 yards rushing per game.
Edge: UNLV
LINEBACKER
Tau Lotulelei has 10½ tackles for loss for the Rebels, but Kevin Davis and Cory James have a combined 17½.
Edge: Colorado State
SECONDARY
UNLV has had its difficulties defending the pass, giving up 257 yards per game, though the Rebels have intercepted 11 passes. Colorado State has picked off just five passes, but allows 72 yards fewer per game.
Edge: Colorado State
SPECIAL TEAMS
Nicolai Bornand has been money for UNLV, making 12 of 14 field goals, and Logan Yunker has averaged 42.4 yards per punt and placed 15 inside the 20-yard line. For Colorado State, Bryan Wyatt has made 11 of 15 field goals, and Hayden Hunt has averaged 46.3 yards per punt with 19 inside the 20.
Edge: Colorado State
INTANGIBLES
Colorado State has turned over the ball 23 times while creating 12 takeaways. UNLV has a plus-6 turnover margin.
Edge: UNLV
HANDICAPPER'S TAKE
Bruce Marshall (goldsheet.com): Colorado State 29, UNLV 26 — Those in Vegas not anticipating UNLV hoops and keeping an eye on the football Rebs note scrappy efforts versus foes better than Colorado State for coach Tony Sanchez, whose offense has regained its sharper edge with the return of gunslinger Decker to active duty. Mike Bobo's SEC-style offense in Fort Collins is a big departure from Jim McElwain's more progressive attacks of the past few years and has not proven an especially good fit for the Rams' personnel, particularly for Higgins, whose stats are w-a-a-y-y down from last season. Most UNLV efforts this season have been good enough to stay within this price.
Check our GameDay page for full coverage of the UNLV-Colorado State game.