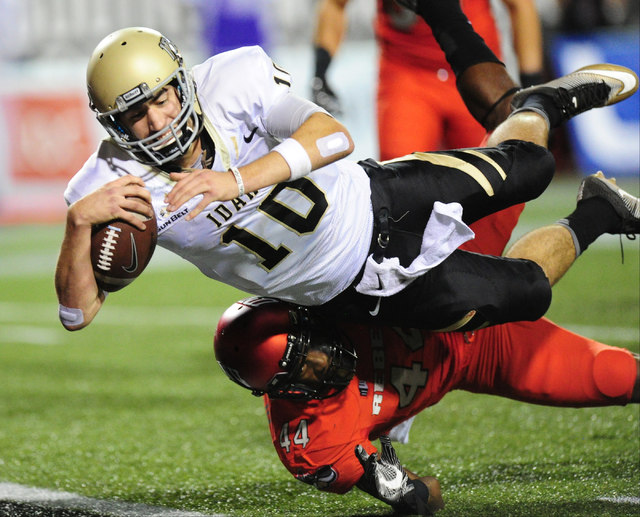 A look at who has the advantage at each position when UNLV visits Idaho for a 4 p.m. game Saturday at Moscow, Idaho.
Quarterbacks
UNLV freshman quarterback Armani Rogers did a lot of good things in his first college start, completing 11 of 19 passes for 220 yards. Idaho QB Matt Linehan is more experienced however, and Mel Kiper of ESPN ranked him third among senior quarterbacks before the season in terms of pro potential.
Advantage: Idaho
Running backs
The Vandals have two capable runners in senior Aaron Duckworth and junior Isaiah Saunders, as the pair averaged a combined 4.63 yards per carry last year. The Rebels may be shorthanded with last year's top rusher Charles Williams doubtful with an ankle injury, but junior Lexington Thomas has proved capable of carrying the load. Thomas ran 21 times for 151 yards in the opener.
Advantage: UNLV
Receivers
While UNLV may be down a body at running back, the team gets back to full strength at wide receiver with Kendal Keys returning to the starting lineup. With Keys joining star senior Devonte Boyd and sophomore Darren Woods Jr., the Rebels should have more weapons in their passing game than Idaho does.
Advantage: UNLV
Offensive line
UNLV's offensive line, which didn't allow a sack in its first game against Howard, is seven pounds heavier on average than the Vandals. The Rebels big unit up front also paved the way for a rushing average of 7.5 yards per carry in its first game, showing its strong play from last year should carry over into this season.
Advantage: UNLV
Defensive line
UNLV outweighs Idaho on the line but the team certainly failed to take advantage of its size advantage against Howard last week. The Rebels allowed 309 rushing yards to the Bison and didn't record a sack. The Vandals allowed Sacramento State to gain only 95 yards on 35 rushing attempts last week and end Aikeem Coleman was a preseason All-Sun Belt Second Team selection.
Advantage: Idaho
Linebackers
Idaho junior middle linebacker Tony Lashley was named to the preseason All-Sun Belt Second Team and the Wuerffel Trophy watch list for outstanding community service. UNLV's three new starters need to play much better than they did a week ago if the Rebels are to have any hope of slowing down the Vandals.
Advantage: Idaho
Secondary
Neither team was tested much in the back end against FCS competition last week, so it's tough to tell how this matchup will shake out. If UNLV can't stop the run though it's going to make the jobs of starters Jericho Flowers, Chauncey Scissum, Dalton Baker and Tim Hough extremely difficult.
Advantage: Push
Special teams
Freshman Cade Coffey is Idaho's do-it-all special teams weapon, kicking off, punting and attempting extra points in the team's first game of the season. So far, he's done it all well, hitting all four of his extra point tries and pinning four of his six punts inside the 20-yard line. Rebels kicker Evan Pantels missed two of his six field goal tries in the opener.
Advantage: Idaho
Intangibles
It's tough to tell where UNLV's confidence level is at after suffering what is believed to be the biggest point-spread upset in college football history against Howard. It's also tough to erase the image of all the Rebels' unforced errors from last week, like an illegal substitution penalty on first down and an offsides call on the opening kickoff.
Advantage: Idaho
Handicapper's take
Bruce Marshall (goldsheet.com): Idaho 40, UNLV 27 — A la Floyd Patterson when donning sunglasses and a fake beard in the early 60s after getting KO'd by Sonny Liston, UNLV might want to go similarly incognito to escape town after a historic humiliation vs. 45-point underdog Howard. The Kibbie Dome is a proper venue in which to hide, but unfortunately Rebels must bring their roadkill "D" that allowed the FCS Bison to gain 309 rushing yards. Capable QB Linehan led undervalued Idaho to eight straight covers and a bowl romp past Mountain West team Colorado State to end 2016.
Contact Ben Gotz at bgotz@reviewjournal.com. Follow@BenSGotz on Twitter.