Rain aside, Sanchez forecasts a storm — 'It's called Rebels'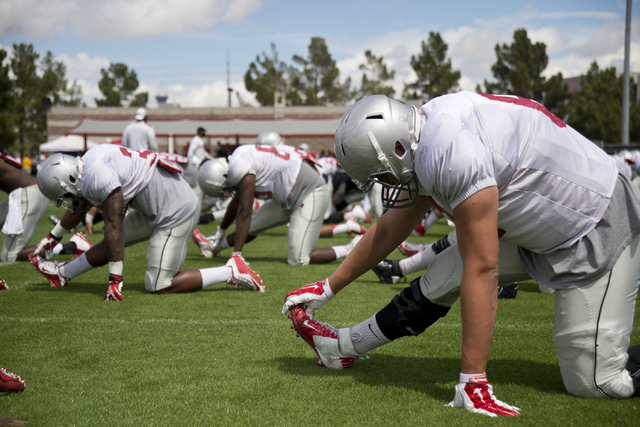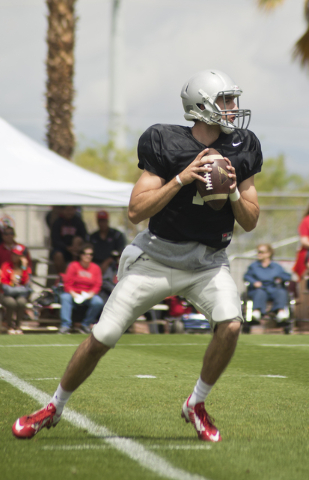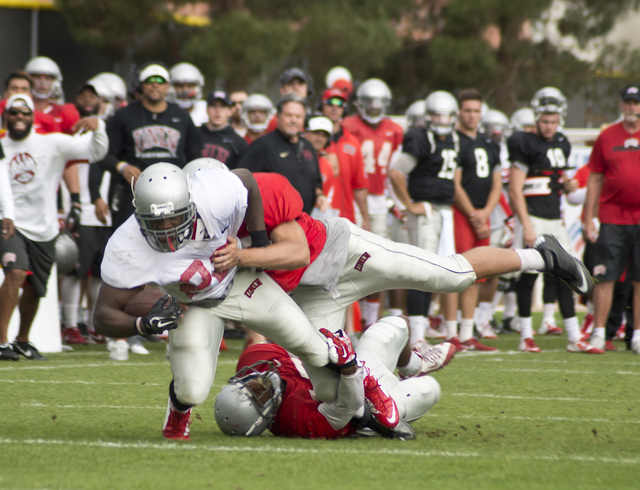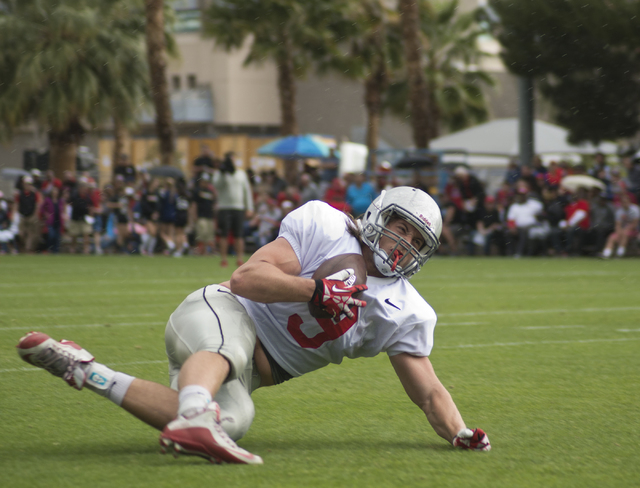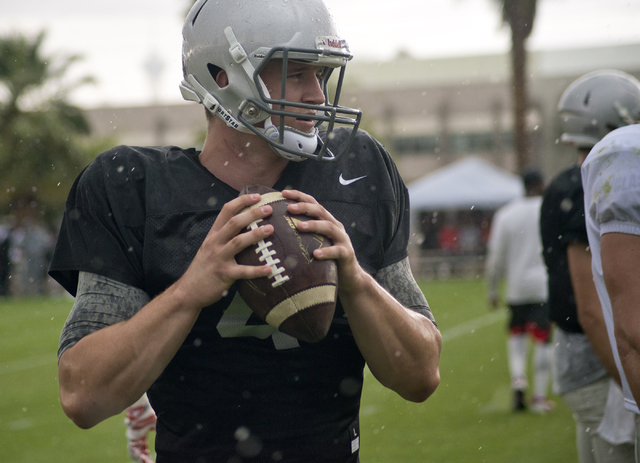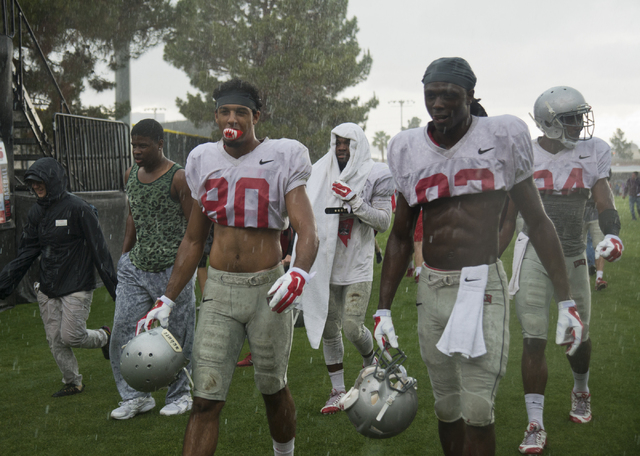 UNLV scored the only touchdown of its spring game and, as if on cue, the skies opened up Saturday afternoon at Johann Memorial Field. The heavy downpour sent the announced crowd of 2,800 scurrying for cover and the Rebels players and coaches back to their locker room at UNLV's Lied Athletic Complex.
The scrimmage, which was scheduled for 50 minutes, was called at halftime because of lightning shortly after Kurt Palandech fired a 9-yard touchdown strike to tight end Trevor Kanteman.
"It's funny. I tell everyone all the time, 'There's a storm coming. It's called Rebels,' " UNLV coach Tony Sanchez said. "The storm sure came today. It never rains out here but as long as it all landed in Lake Mead, we're all doing good, right?
"The thing that's bad is this day is really for the fans, but they saw a lot of good things in a short amount of time. People are excited. It's going to be a good year coming up."
Palandech, a junior who was more adept at running than passing last season for UNLV, also completed passes to wide receivers Brandon Presley and Devonte Boyd before hitting Kanteman across the middle of the end zone to cap a scoring drive. The team only drove in one direction on the 80-yard soccer field.
"(Tight end) Andrew Price did a great job of opening me up. I cut on the safety and Kurt delivered a great ball where only I could catch it," said Kanteman, a junior college midyear transfer who started his college career at Illinois.
Palandech, who completed less than half his throws last season, completed 3 of 6 passes Saturday for 42 yards and a score.
"This spring, I feel like I've progressed as a passer," he said. "I can definitely be more accurate at times but it's definitely a lot better than I was last year.
"I think having competition around makes you a better person and better player overall."
Palandech is competing for the starting quarterback job with Johnny Stanton, a junior college midyear transfer who spent his first two college seasons at Nebraska. Stanton started the spring game but Sanchez said that doesn't mean he'll start the Rebels' Sept. 1 season opener against Jackson State.
"I'm going to probably wait until the fall (to name a starter)," Sanchez said. "You saw Johnny started today. It doesn't mean it's a done deal. Even if you're 95 percent sure, why not just wait? We definitely have two guys that can play."
Stanton, who completed 3 of 7 passes for 54 yards, drove the offense to the 6-yard line before the drive stalled. He hit Presley on a slant route and the sophomore broke loose for a 36-yard gain.
"I changed the play to a short pass and Brandon came open on that slant route and broke a couple tackles. It was a great play," Stanton said. "The offense was looking pretty good. We got it going. We have a lot to work on in the summer but I think we've come a long way in the spring."
Sophomore running back Lexington Thomas had five carries for 20 yards, breaking a couple tackles on one run as he fought for a first down.
"When you're standing back there (watching), he always makes the first guy miss," Sanchez said. "He pass-protects his tail off and a couple times he was dead to rights and worked his way out of it. He's unbelievable."
Redshirt freshman defensive lineman Gabe McCoy delivered the hit of the day on Tim Holt after the tight end caught a 5-yard pass from Dalton Sneed.
Iggy Porchia was credited with a sack and Torry McTyer, Robert Jackson and Jeremiah Valoaga each broke up a pass on a defense bolstered by the addition of several redshirt freshmen and junior college midyear transfers.
"It was a good spring. We got a lot done. You saw a lot more competitive depth, which was an issue last year that we addressed," Sanchez said. "When you look around, you go, 'We've got a shot.' "
Contact reporter Todd Dewey at tdewey@reviewjournal.com or 702-383-0354. Follow him on Twitter: @tdewey33