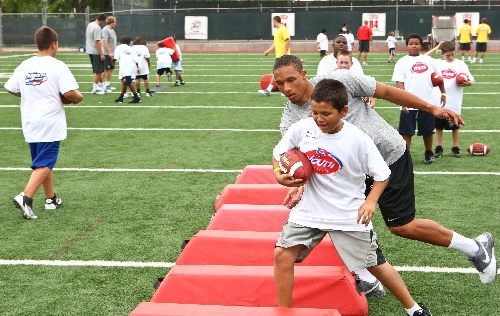 Tim Cornett placed notes with his phone number at the entrances to the Lied Athletic Complex, the football locker room and the weight room.
Any UNLV player who couldn't make a summer workout was urged to call Cornett, who would pick up teammates needing a ride.
"As a team leader, I felt like I needed to know if you can't make it, let me know, don't just not show up," Cornett said Monday during a youth clinic at UNLV. "You wouldn't not show up to practice."
As UNLV begins training camp at 8 a.m. today at Rebel Park – all practices are open to the public – Cornett is making sure his voice is heard.
The junior running back didn't speak up last season, deferring to the senior wide receivers and defensive backs as UNLV won two games for the sixth time in eight seasons.
"I'll never make that mistake … again," Cornett said. "This season, (leadership has) got to happen. I feel like that's what was lacking in the past. We have a lot of coaches that lead the team, which they do a very good job, but I felt like we never had players … to rally around."
Cornett is doing his part through actions as well as words as the Rebels begin preparations for their Aug. 30 season opener against Minnesota at Sam Boyd Stadium.
He always has been fast – Cornett said he was timed this summer at 4.31 seconds in the 40-yard dash – but he more consistently showed his outstanding burst during spring practices, even running away from defensive backs.
Cornett also is bigger and stronger, with 214 pounds on his 6-foot frame, 11 pounds more than last season. He increased his bench press from 330 pounds to 365 and his squat from 345 to 390.
If spring was any indication, Cornett showed the potential to become UNLV's first 1,000-yard rusher since Dominique Dorsey in 2004. He figures to receive the great majority of carries after Dionza Bradford's unexpected departure in the spring for personal reasons.
Cornett's goals are lofty – to rush for 1,600 yards and total 2,000 all-purpose yards, while averaging 5 to 7 yards per carry. He rushed for 671 yards and seven touchdowns last year, averaging 5.6 yards while sharing handoffs with Bradford.
"Not being overconfident or anything like that, I just feel with the work I've put in, it's got to happen," Cornett said.
He's also determined not to go silent again, waiting for the seniors to lead.
"Leadership's an evolution, and one of the key things is consistency," coach Bobby Hauck said. "For him to be a consistent effort guy, to be a consistent worker, to be consistently bringing others along with him is part of that process for him personally. It's the same thing on the team.
"Just because they put senior next to your name doesn't make you a natural leader. Those people are more or less born and then developed."
That could describe Cornett, who did more than make sure teammates attended summer drills. He became a de facto coach for the workouts where coaches were not allowed.
"It's real easy to see who's trying to set the example whenever we get out there," senior guard Doug Zismann said. "He really tried to take charge and tried to direct summer workouts."
Contact reporter Mark Anderson at manderson@reviewjournal.com or 702-387-2914. Follow him on Twitter: @markanderson65.