Rebels don't want to pad Houston's takeaway total
September 17, 2014 - 10:26 pm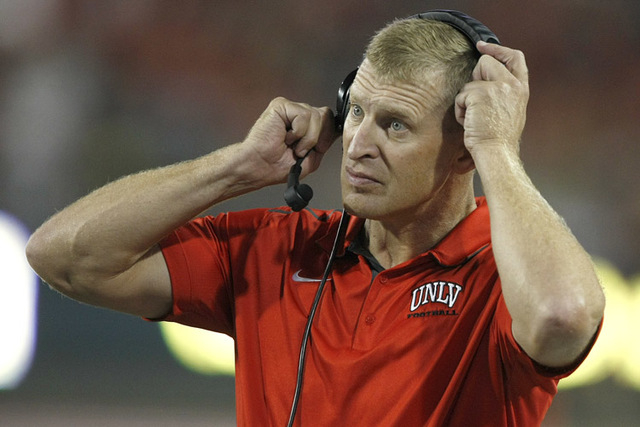 Coaches, such as UNLV's Bobby Hauck, often preach the importance of ball security, and avoiding fumbles and interceptions is something that can be worked on in practice.
Creating takeaways is another matter because a football's crazy bounces introduces luck into the equation. And sometimes a defender happens to be standing right in front of an errant pass.
But it can't be luck if a team keeps getting takeaways, as Houston has done for 26 games in a row. The Cougars have created multiple takeaways in 22 of their past 24 games.
Last season, they led the nation with a plus-25 turnover margin and with 43 takeaways. This season, the Cougars are second in the country with 10 takeaways through three games.
It will be quite a challenge for UNLV's offense when the teams meet in Houston at 5 p.m. PDT Saturday.
"They play a lot of man coverage and fight for the ball," Hauck said. "I don't think (ball security) is something you turn on and off. It's something you work on all year long, and they certainly do, and so do we. Generally speaking, we've been pretty good in that area."
UNLV was plus-5 in turnover margin in 2013. The Rebels are minus-4 this season.
Quarterback Blake Decker, who has thrown five interceptions, said the onus is on him to not give the Cougars opportunities to add to their takeaways streak.
"I think they can expose somebody who's not quick and decisive with the ball," Decker said. "That's something I've got to work on this week to be prepared for. But I think if a quarterback is decisive against their defense, then they stand a good chance of moving the ball down the field."
THREE-STEP DROP
■ Two UNLV players who didn't play in the first two games finally were on the field Saturday against Northern Illinois. Running back Shaquille Murray-Lawrence started, rushing for 60 yards and two touchdowns on 17 carries. He is listed as the starter again this week. Guard Ron Scoggins, a starter the past two seasons, entered the game late in the third quarter.
■ Decker easily won the starting quarterback job in training camp, and he's off to a mostly solid start, having thrown for 770 yards and four touchdowns. How solid? If Decker continues to average 256.7 yards passing, he will become the first UNLV quarterback to pass for at least 3,000 yards since Jon Denton in 1996.
■ Houston signed Jacolby Rogers on Aug. 1, a 15-year-old who is awaiting a kidney transplant. He was diagnosed with renal disease in 1999 and underwent a kidney transplant that ultimately was rejected. He has been on dialysis since then. Team IMPACT, a nonprofit organization, arranges similar signings throughout the country to allow children to attend practices and other team functions.
FOR THE RECORD
■ UNLV senior receiver Devante Davis moved into second place with nine career 100-yard receiving games, three behind Ryan Wolfe, who played from 2006 to 2009. Davis also moved up on other career lists, into a tie for fourth with 20 touchdown receptions, alone in fifth with 2,454 yards receiving and sixth with 168 receptions.
■ The Rebels' safety against Northern Illinois was their first since 2003 against Wyoming. Neither safety was the typical sack or tackle in the end zone. Against Northern Illinois, it was a chop block in the end zone. Against Wyoming, it was an illegally batted pass out of the end zone.
■ If UNLV had completed its comeback from a 23-point deficit against Northern Illinois, it would have been the largest rally in school history. The Rebels turned the 28-5 deficit into a 34-34 tie with 9:18 left before losing 48-34. Their largest rally was 21 points last season against Central Michigan and in 1976 against Nebraska-Omaha.
Contact reporter Mark Anderson at manderson@reviewjournal.com or 702-387-2914. Follow him on Twitter:@markanderson65.
Check our GameDay page for all the news leading up to the UNLV-Houston game.