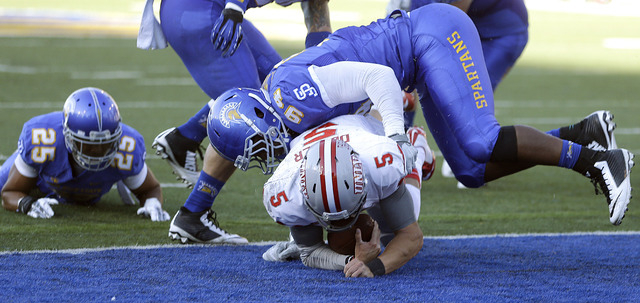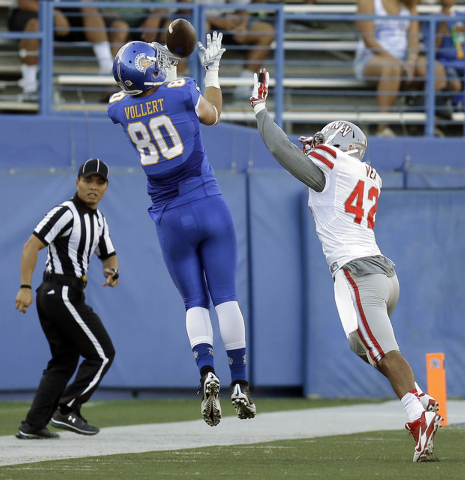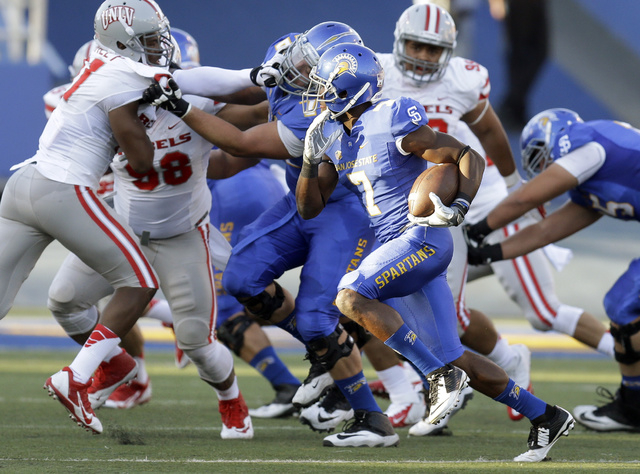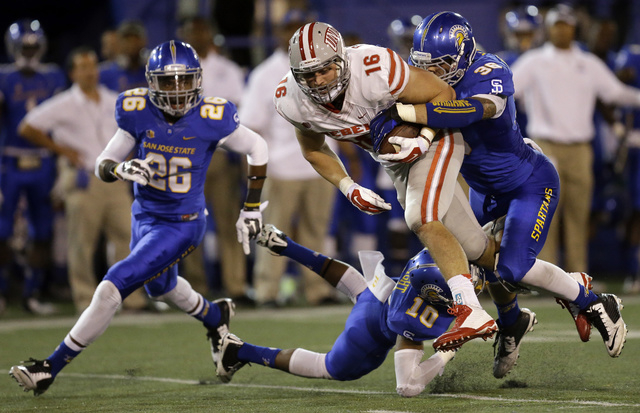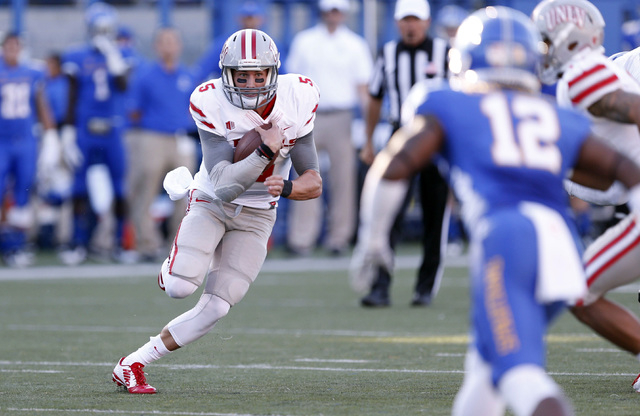 SAN JOSE, Calif. — UNLV looked sharp on its first offensive series Saturday, going 60 yards and scoring a touchdown to take the early lead.
Which meant the Rebels were in trouble.
They know how to start football games — the Rebels have scored three touchdowns and two field goals on opening drives this season. It's the other 50 to 55 minutes that's the problem.
As was mostly the case at San Jose State, which dominated after the first quarter in beating the Rebels 33-10 at Spartan Stadium.
"We're successful at the beginning of games, and then we kind of stall out," said UNLV running back Keith Whitely, who rushed for 79 yards on 13 carries, but had ice on his left knee afterward. "We can do this. Defensively, they're playing their butt off for us. Offensively, we score, what, 17 points a game? We can't win like that.
"It's easy to blame people, but that's not the route we're taking. We've got to find something. We've got to figure it out as one, as a team."
UNLV coach Bobby Hauck, in fact, defended offensive coordinator Timm Rosenbach's play-calling, saying San Jose State's defense didn't change and no adjustments were needed.
He also noted Rosenbach, defensive coordinator Tim Hauck and the head coach himself were the same ones in charge last season when the Rebels played their way into a berth in the Heart of Dallas Bowl.
"I don't see any coaching changes," Hauck said. "Hopefully not with me, and certainly not with anybody who works for me."
How poorly UNLV (1-5, 0-2 Mountain West) is playing is startling. The Rebels have lost by double digits in every game but one, and that was a one-point victory over a Northern Colorado team that is one of the worst teams in the Football Championship Subdivision.
"It's a little frustrating because I know we're a good team," Rebels safety Mike Horsey said. "The whole's team competitive. We continue to fight."
That frustration Horsey referred to was clear when Hauck stormed out of the post-game news conference. He quickly returned and apologized, and later was genuinely remorseful over losing his cool.
He has plenty of reasons to be frustrated. Hauck talked up this team in the preseason, and it hasn't played closed to his expectations.
Hauck has two years remaining on his contract after this season, so all indications were he would return in 2015. But if the losing continues and athletic director Tina Kunzer-Murphy feels compelled to make a move after this season, UNLV would be on the hook for a $700,000 buyout.
Kunzer-Murphy would not discuss Hauck's contract, saying she won't talk about any coach in any sport until after the respective season.
"Everybody's got to do better, starting with me," Hauck said.
With UNLV next playing Fresno State on Friday at Sam Boyd Stadium, the challenges don't get easier for the Rebels, who made San Jose State (2-3, 1-1) look like a Mountain West contender rather than a school that is barely holding on to postseason hopes.
But, hey, UNLV sure knows how to open a game.
The Rebels marched those 60 yards to take a 7-0 lead, and then had 71 yards the rest of the first half. They went about 20 minutes between the second and third quarters without a first down, and went three-and-out five times for the game, finishing with a season-low 221 yards.
Considering UNLV's defense was on the field for 38:41, that unit actually held up well for much of the game. At least until Tyler Ervin's 83-yard touchdown run with 6:46 left in the third quarter to hand San Jose State a 26-7 lead and end what few doubts remained.
The Spartans 542 yards, including 277 rushing. Ervin rushed for 133 yards on 11 carries.
UNLV quarterback Blake Decker's interception streak finally ended. He had thrown at least one pick in each of the first five games, but played only the first half against the Spartans and left with an apparent right arm injury, finishing 6 of 10 for 71 yards. He wore a sleeve on his throwing arm.
Former starter Nick Sherry quarterbacked the second half, completing 5 of 18 passes for 45 yards, with an interception. Hauck said it was too soon to evaluate the quarterback situation.
"We've got to see where Blake's at," Hauck said. "I will talk to our medical staff."
NOTE — UNLV guard Ron Scoggins was taken to a San Jose-area hospital shortly after arriving at the stadium. He was not feeling well, but later was deemed to be OK. Eric Noone started in his place.
Contact reporter Mark Anderson at manderson@reviewjournal.com or 702-387-2914. Follow him on Twitter:@markanderson65.