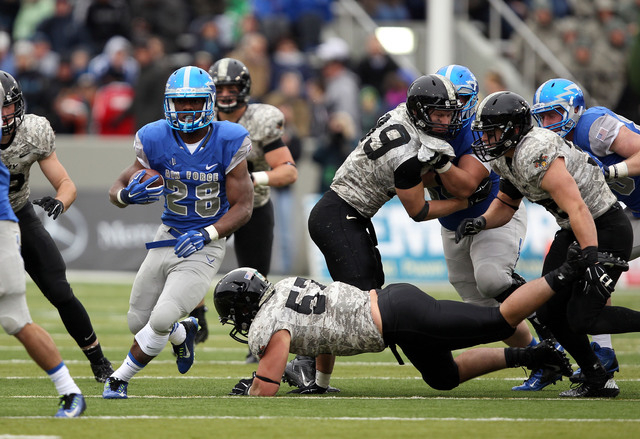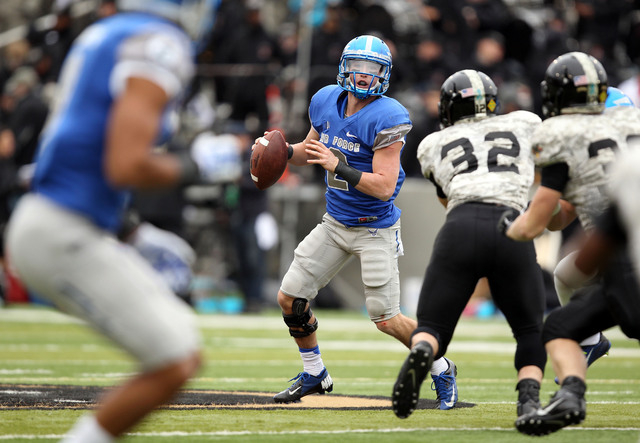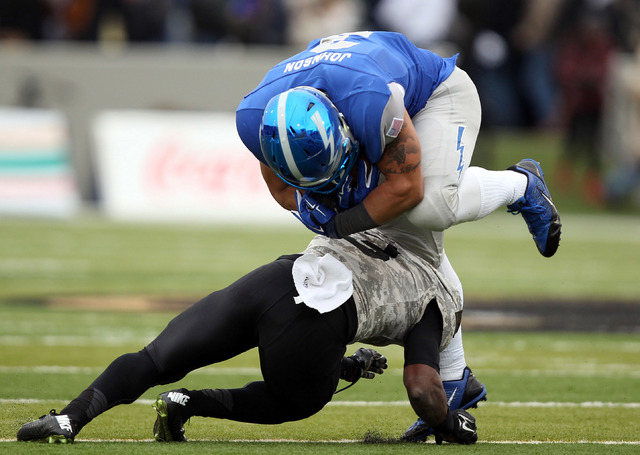 Football teams that compete in the Mountain West become accustomed to playing in high altitude and against the triple option offense.
UNLV, in fact, is preparing to face the triple option for the second game in a row.
The Rebels lost to New Mexico's version 31-28 last Saturday, and they will go against Air Force's more diverse attack at 1 p.m. Saturday at Sam Boyd Stadium.
Whereas New Mexico passes as often as the San Diego Chargers win a meaningful game, the Falcons are more willing to put the football in the air. Quarterback Kale Pearson, in fact, has completed 70 of 119 passes for 1,098 yards, and the Falcons still average 269.5 yards rushing per game.
But that figure is down 316.2 average just a year prior, which ranked second nationally. Air Force is 11th in the country this season.
"Historically with Air Force, they've been doing it for so long, they know how people defend them," Rebels coach Bobby Hauck said Monday. "They prod you with their triple stuff, and then they know how to attack you with their bl0cking scheme, and they know which counters and throwing game are best off it. So when you look at their throwing game, year in, year out, their average yards per completion is huge because they get you.
"You've got to keep track of everybody, and they've got the ability to hurt you in a lot of ways."
The Falcons average 15.7 yards per completion, and leading receiver Jalen Robinette is especially dangerous at 18.8. Teammates Garrett Brown and Garrett Griffin each average more than 15 yards.
UNLV has had recent success against Air Force, winning 38-35 two years ago in Las Vegas and clinching bowl eligibility with a 42-21 victory last season in the snow at the academy.
"Some familiarity is good, certainly," Hauck said. "If you were to play these option-based teams and had never seen that stuff before, it would be difficult, really difficult."
Until last weekend against the Lobos, however, not every UNLV defensive player has faced an option-based offensive similar to what Air Force runs. Senior transfers Brandon Willis and Josh Shirley are two such players. Willis played at UCLA last season, and Shirley was at Washington.
Now they have to build on the New Mexico experience and defense what remains a run-based offense, even if the Falcons throw it a little more.
Sophomore Jacobi Owens leads the Falcons with 853 yards rushing, and he has run for four touchdowns.
UNLV offered Owens, who went to Centennial High School, the chance to walk on. Air Force provided him the only scholarship offer he received, and Hauck referred to him as "a late bloomer."
"He was kind of a late take at Air Force," Hauck said. "He really fits their system. Academy guys are a little different niche at times. Like I would say about those guys who go to Army, Navy or Air Force, we really respect what they do and who they are and what they stand for.
"I hope one of the ones that lives under my roof winds up going to one of those places. I'm down to two."
NOTES — Renovations are being considered for Sam Boyd Stadium, including possibly widening the field to better accommodate soccer and rugby events. No decisions have been made, and no such changes would occur before 2016. … UNLV's game at Brigham Young on Nov. 15 will be at 4 p.m. PDT and televised by ESPNU.
Contact reporter Mark Anderson at manderson@reviewjournal.com or 702-387-2914. Follow him on Twitter:@markanderson65.