Rebels getting ready for some football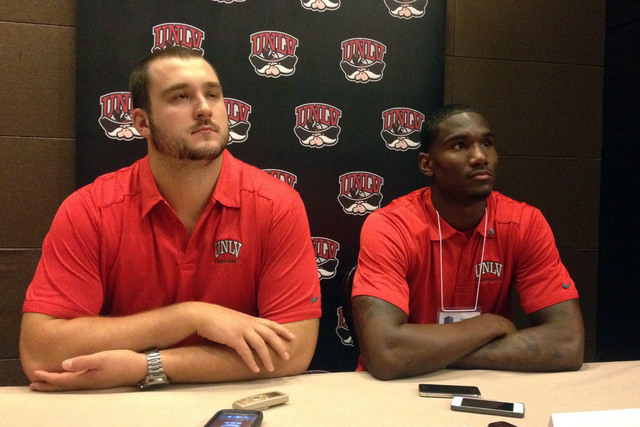 It seems like just last week I was telling you to have a great summer. Now, summer is almost over (I know with this Las Vegas weather, it doesn't seem like it), and football season is right around the corner.
The Mountain West conference held their annual football media days at the Cosmopolitan Hotel on Tuesday and Wednesday. The Mountain division teams had their time on Tuesday while the West division teams did their thing on Wednesday.
I attended Wednesday and learned so much. It was my first (and hopefully not my last) media day event.
I arrived just after 8 a.m. and they were serving breakfast. I was already winning! The interview session with UNLV head coach, Bobby Hauck, didn't start until 9:15 so I had time to visit with some of the media guys and find out more about how the day was going to go.
There are three coaches at a time in the Coach's interview area and anyone can come in and ask questions to any of the coaches at the individual tables. Some reporters went from coach to coach, but I just stayed with Coach Hauck to absorb as much as possible.
Some of the things I took from the interviews:
* On the running back position: Coach Hauck He said that Keith Whitley and David Greene were good possibilities to fill Tim Cornett's shoes this year.
* Coach Hauck says he's most looking forward to the opening game against Arizona and the Fremont Cannon game against Nevada-Reno this season. Speaking of the rivalry game, Coach believes a good rivalry is when both teams win the trophy once in a while and "it's about damn time we won". This year the rivalry game will be held during traditional college football rivalry week the last week of November and is the Rebels' last game of the regular season. The Wolf Pack have a countdown clock in their locker room leading up to this game. It seems somebody wants to get the cannon back. But this year the game is here, so we are keeping it!
* The ban on social media during the season will remain the same for his team.
* The offseason roller coaster ride of being banned from postseason play, and then having that ban lifted was real. But the team never quit working out and the coaches never quit coaching. They knew either way, they wanted to have another successful season.
* On his staff: This is the first time in a very long time that the entire staff came back intact.
*On the starting QB: As usual, this could be up in the air (no pun intended) until right before the first game of the season. And it could change throughout the season if the starting QB gets into a funk or gets injured. The two leading candidates are Nick Sherry, who has the leadership and experience edge from playing here in previous seasons, and Blake Decker who transferred in this year from Scottsdale Community College.
* Coach Hauck's best memories of last season were winning at Air Force in sub-zero temperatures, winning the cannon game in Reno and winning at New Mexico. He added, also winning at San Diego State was a nice finish to the regular season.
* The Rebels have not had back-to-back winning seasons since 1983 and 1984. Coach Hauck wants to change that this year. UNLV has never made it to a bowl game in back-to-back seasons.
* This senior class is all his. Most of the guys he recruited as red shirt freshman are now seniors ready to graduate, ready to lead. He brought them in telling them they were going to build this program from the ground up. The first three seasons were disappointing with only winning two games each year. But last year was different, it was special. They got over the hump in those games that they would usually fall apart in. The Rebels ended the season 7-6.
* When asked to assess the West division and which team he was most worried about, he said Nevada-Reno because they were returning with their starting quarterbacks. Everyone else is starting over.
After the coach's interviews, we had some lunch and I took the time to chat with reporters and friends, Mark Anderson (Review-Journal) and Steve Guiremand (mylvsports.com). Steve first recruited me to write this blog about 7 years ago for an old site called rebelnation.net. So, you can thank him for all this!
At 1:30 it was time to interview the two Rebel football players at the event, Brett Boyko and Devante Davis.
Both of them are very pumped up about the season. They said when they put their pads on for an earlier photo shoot they were ready to hit the field. They also joked they could have had a scrimmage there at the Cosmopolitan with the players from all the other teams! That would have been fun to watch!
Boyko, a senior offensive lineman from Saskatchewan, is one of three Canadians on the team. He is very close with the entire coaching staff and will often consult with defensive coordinator Tim Hauck. He would like it if each player could take the Fremont Cannon home for a night, like the hockey players do with the Stanley Cup. He's probably one of the few players who can carry that thing. It is very heavy!
Boyko played through a couple of losing seasons at UNLV, but said the team always stayed very focused on winning and trying harder & harder. They pushed themselves and each other and finally got over the hump andstarted to make the plays necessary to get the wins last year.
He mentioned that the two quarterbacks competing for the starting jobs are best friends on and off the field. They compete and push each other harder than anyone else could. But at the end of the day, they walk off the field and respect each other.
When asked why he didn't bolt to another team when the bowl ban was instituted, Boyko mentioned that besides UNLV being the only school interested in him, he felt like Las Vegas was home, his teammates are his family here and he wasn't about to walk away now.
The other player attending was Devante Davis. When asked why he didn't go pro or leave for another school during the bowl ban, Devante noted that there are things, such as teammates and loyalty, that are bigger than football. Davis will be the first member of his family to graduate from college when he does so in December … and he's doing it in 3 1/2 years.
I asked Devante if he had any game day rituals and he said he will typically watch other college games on that day, particularly Texas A&M if they are on. If there are no good live games on to watch, he'll watch plays on YouTube. The big plays helps get him pumped up for the game. In the Mountain West conference, he likes to watch the Fresno State Bulldog receivers and see what kinds of plays they are making on Saturdays.
Boyko and Davis agreed, now that the restrictions have been lifted, their goal is to win the conference championship and win a bowl game.
Boyko and Davis were named to the Preseason All-Mountain West football team, along with center Robert Waterman. Davis, who is one of the the nation's top returning TD scorers after hauling in 14 last season, is on multiple preseason watch lists, including for the Maxwell Award, which is given to college football's top player. For the third straight year, Waterman is on the watch list for the Rimington Award, which goes to the country's best center.
Rebel fans, I had a wonderful time at the Mountain West football media day, and I hope you enjoyed the information I gathered. I've included some photos also. Don't forget, the Rebels first home game is September 6 against Northern Colorado. You can still buy season tickets for as low as $90 per seat! Check out unlvtickets.com for more information.
GO REBELS!