Rebels grab a Payne reliever
September 21, 2008 - 9:00 pm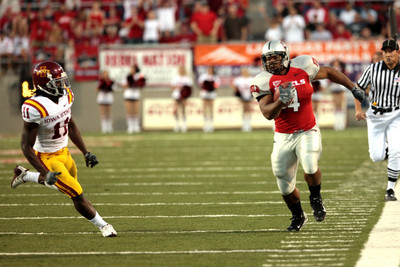 This was the type of game previous UNLV football teams would have lost.
A blown lead, a boatload of second-half mistakes (dropped pass, lost fumble, failure to wrap up on tackles), horrendous clock management, and a tired defense.
Just another Saturday night at Sam Boyd Stadium.
Except this appears to be a different type of team. After giving back a three-touchdown lead, the Rebels responded in overtime, with quarterback Omar Clayton's 25-yard touchdown pass to wide receiver Phillip Payne giving them a 34-31 victory over Iowa State and creating a mob scene of UNLV players storming the end zone.
"There are all the things you can analyze about it and all the things you can say about the things we didn't do," UNLV coach Mike Sanford said. "We showed great poise, great character and great belief in overtime, and made plays that we needed to win."
UNLV (3-1), which hosts UNR on Saturday, finally broke past the two-victory mark in a season for the first time since going 6-6 in 2003.
"I think if people before the season would have said that we would be 3-1, I think they probably would have thought you were nuts," Sanford said.
This also was the first time the Rebels have beaten two Bowl Championship Series teams in the same season. UNLV shocked then-No. 15 Arizona State last weekend in Tempe.
UNLV players were determined to show that victory wasn't a fluke, and they spent the first half against Iowa State (2-2) making that point.
In taking a 21-0 lead, the Rebels dominated the Cyclones, holding them to 38 total yards and one first down. UNLV's offense racked up 288 yards and 14 first downs.
It seemed over.
"Great teams put people away," said UNLV tailback Frank Summers, who rushed for 109 yards and had a touchdown rushing and receiving. "We weren't able to do that tonight."
UNLV's second-half mistakes began on its first drive, when usually sure-handed wide receiver Casey Flair dropped what should have been a first down in Cyclones territory. Iowa State scored on its next possession.
On UNLV's next drive, wide receiver Ryan Wolfe fumbled, and Iowa State linebacker Jesse Smith returned the loose ball 41 yards to the Rebels' 10-yard line. Two plays later, Iowa State was within 21-14.
UNLV led 28-21 with less than five minutes remaining in regulation when it planned to run the clock and force Iowa State to use its last timeout. But Clayton repeatedly snapped the ball with 12 to 15 seconds left on the play clock.
"We've got to improve on our four-minute offense putting people away," Sanford said. "We practice it a lot, believe it or not. It may not have looked like it in that game. I think (Clayton) just got excited. We've got to do a better job of completely using the clock up."
Sanford, though, said the ultimate blame was with the coaches for not drilling it enough. Clayton offered the bizarre comment that snapping the ball so quickly was "intentional."
Maybe, but when Iowa State forced overtime on quarterback Austen Arnaud's 28-yard touchdown pass to wide receiver R.J. Sumrall with three seconds left, the early snaps put the Cyclones in position to even get off such a play.
But even though momentum was with Iowa State, the game was not over. UNLV's defense made sure of it, forcing a 37-yard field goal by kicker Grant Mahoney to open the extra session.
The Rebels' offense then took the field, and put Payne out wide to the left.
"I can rely on him," said Clayton, who completed 15 of 21 passes for 235 yards and three touchdowns. "On that play, he had position on his man."
Clayton pump faked and hit Payne in the end zone on a fade.
"I just jumped," Payne said. "Omar put the ball in a great spot."
For the Rebels, it couldn't have been better.
Contact reporter Mark Anderson at manderson@reviewjournal.com or 702-387-2914.
ON THE WEB
View the slideshow
UNLV — 34
IOWA STATE — 31
• KEY: Phillip Payne caught a 25-yard touchdown pass from Omar Clayton in overtime to give the Rebels the win.
• NEXT: Rebels vs. UNR, 7 p.m. Saturday, Sam Boyd Stadium