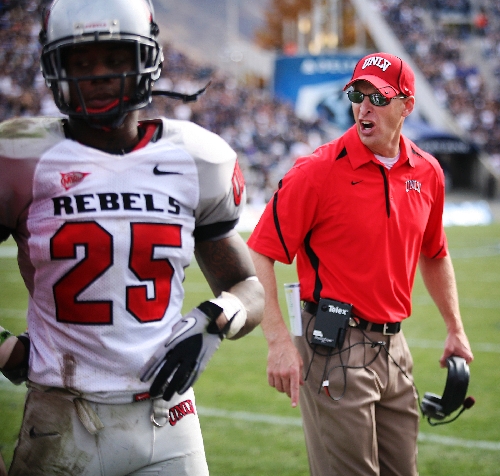 UNLV coach Bobby Hauck prefers to concentrate on signing high school football players and using junior colleges to fill a hole or two.
But the Rebels are expected to have only eight to 10 juniors next season, so they might sign seven to 10 junior college transfers in the next recruiting class.
"I think the smart thing to do when those guys go out in two years is to balance that class out a little bit," Hauck said. "We're going to have a couple of lost years in there, which we don't want.
"We're not huge on the JCs, but we will take some this year."
The struggling Rebels (1-8, 1-4 Mountain West Conference) could use fresh blood. They play perhaps their last winnable game when Wyoming (2-8, 0-6) visits Sam Boyd Stadium at 7 p.m. Saturday.
Brandon Huffman, Scout.com's West recruiting manager, said UNLV is active in recruiting junior colleges.
"I'm hearing from a lot of elite guys," he said.
Huffman said the most notable players mentioning the Rebels are defensive back Byron Moore (6 feet 1 inch, 200 pounds) and running back John White (5-9, 195) of Los Angeles Harbor College; quarterback Antavius Sims (6-2, 200), linebacker Brenden Daley (6-4, 255) and defensive lineman Jon Lattimore (6-3, 250) of Ventura College in San Buenaventura, Calif.; wide receiver Anthony Denham (6-6, 215) of East Los Angeles College; and cornerback Tyrone Taylor (6-0, 180) of Cerritos College in Norwalk, Calif.
Moore and Denham are big-time recruits, so UNLV's chances of signing those players aren't great. But Huffman said the Rebels could win out with Sims if they offer him the chance to play quarterback and other schools recruit him as a safety.
Huffman said UNLV could be in the mix for other players as well.
"The problem with UNLV and other schools is they don't get to go out and visit," Huffman said. The junior colleges "play on Saturday. When the season ends, the BCS schools start sniffing around more."
UNLV expects to have two scholarship spots to sign players in December, which would allow the signees to go through spring practices.
"We don't want to take a lesser player just to get him in here in December," Hauck said. "We have to really like him, and obviously they have to like us."
Hauck said he is still working his recruiting lists.
One list targets players the Rebels think they have a good chance to land. The other is for players who could become available close to the Feb. 2 signing day if overlooked by higher-level teams.
"Those lists will evolve right up to signing day, I would anticipate," Hauck said.
He also plans to sign two quarterbacks, preferably one each from a junior college and high school.
Redshirt freshman Caleb Herring and freshman Taylor Barnhill are the only returning quarterbacks. Junior Mike Clausen was a quarterback before switching to safety early this season.
Contact reporter Mark Anderson at manderson@reviewjournal.com or 702-387-2914.