Rebels rally to upset Wyoming in triple OT, 69-66
November 12, 2016 - 11:35 pm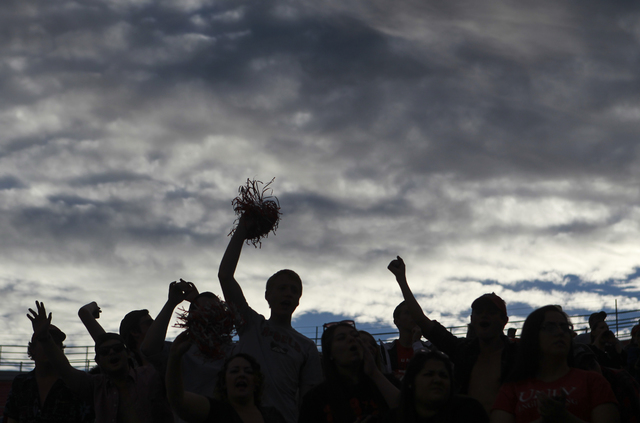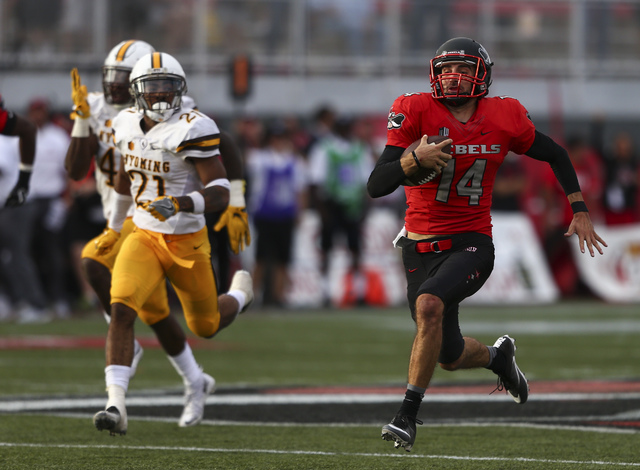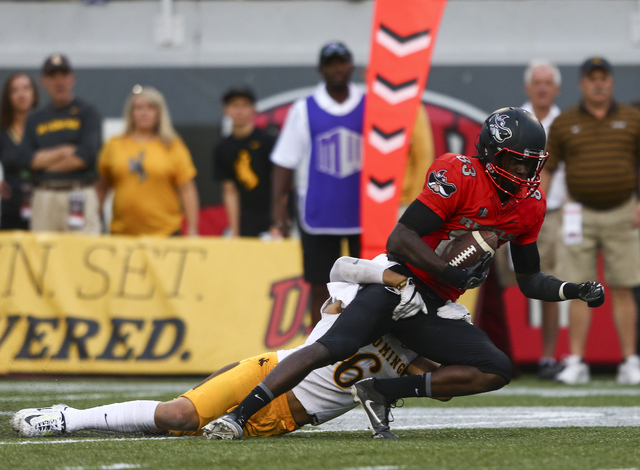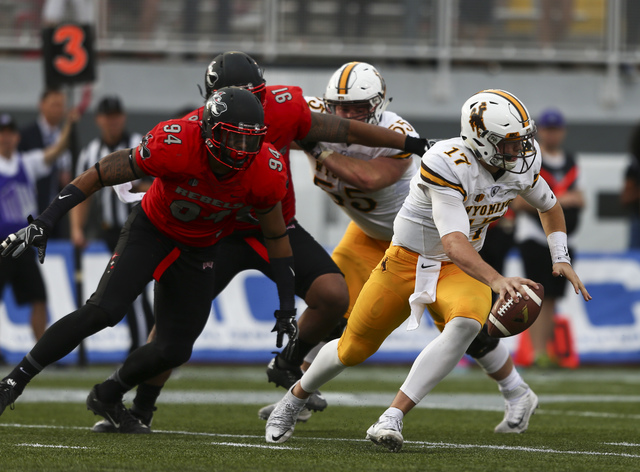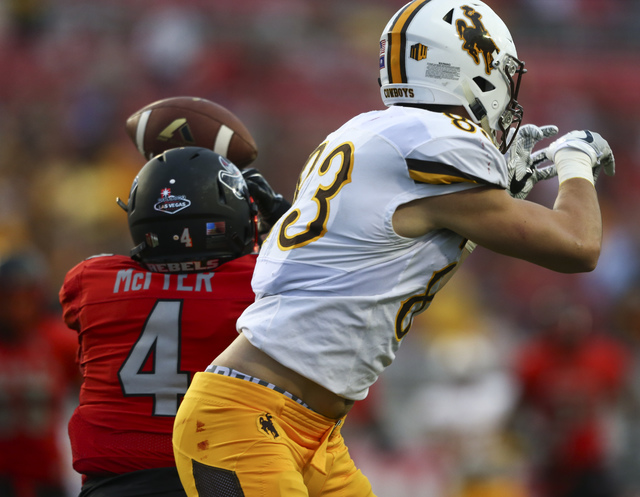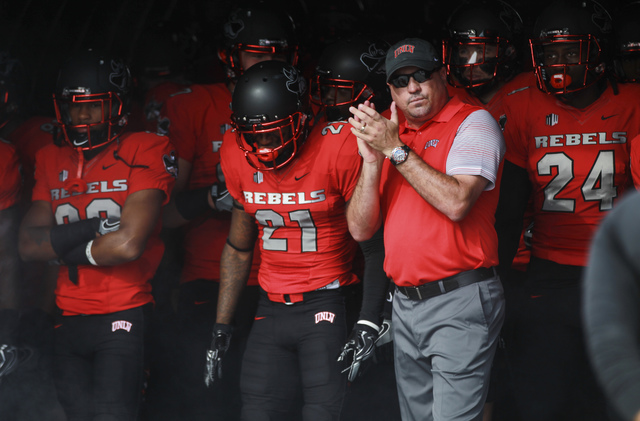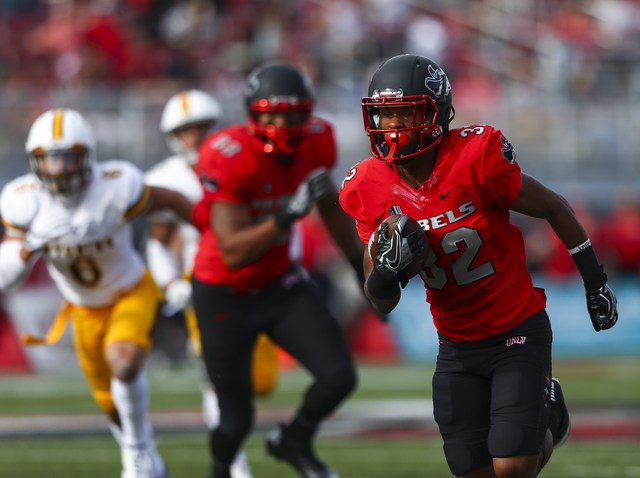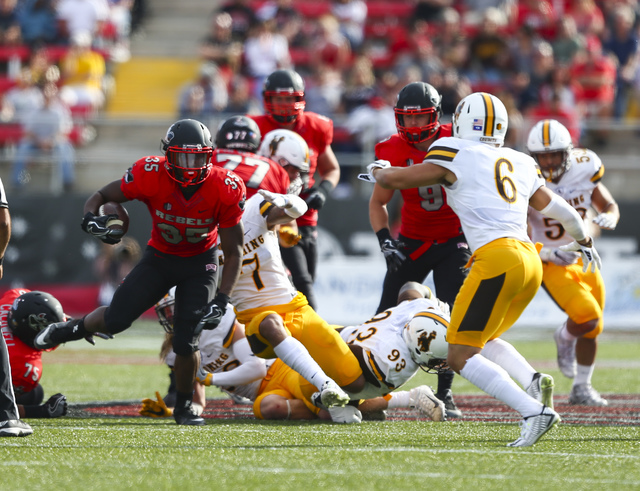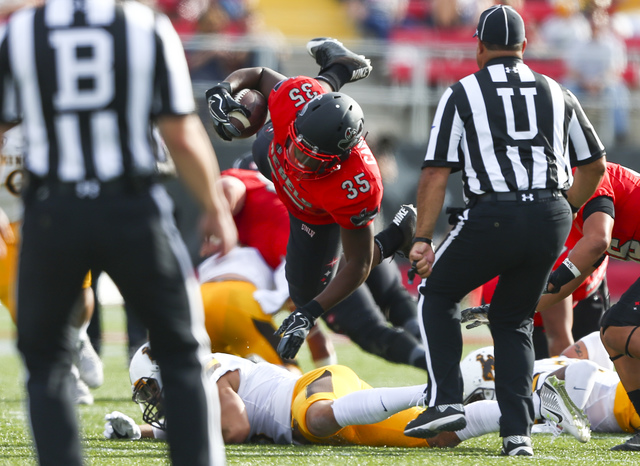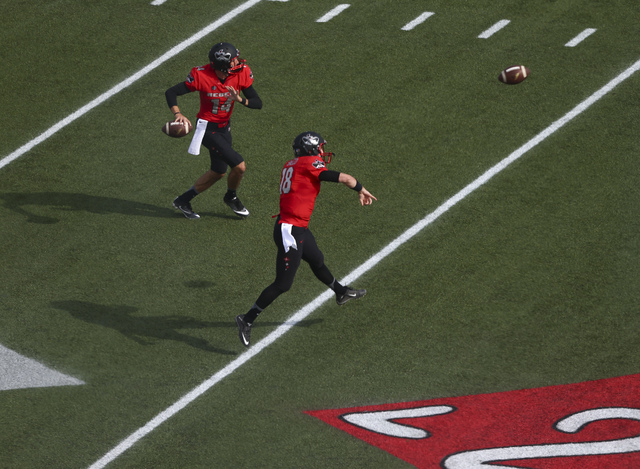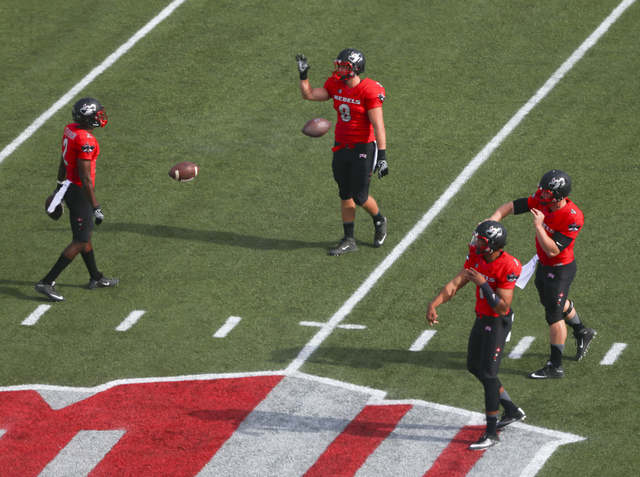 UNLV football coach Tony Sanchez joked that his back started to seize up, and starting kicker Evan Pantels left the game with a full body cramp.
But quarterback Kurt Palandech and backup kicker Nicolai Bornand were cool under pressure in leading the Rebels to a wild 69-66 triple-overtime win over Wyoming on Saturday before an announced crowd of 14,790 at Sam Boyd Stadium.
Palandech, making his first start of the season, was 20-for-32 for a career-high 252 yards and three touchdowns, including two in overtime, and ran for a career-high 157 yards and a 76-yard score.
Bornand, who replaced Pantels early in the fourth quarter, kicked a game-winning 40-yard field goal on his first attempt of the season, as UNLV (4-6, 3-3 Mountain West) surpassed last season's win total and broke Wyoming's five-game winning streak.
The Rebels rushed for 401 yards, the sixth most in school history, and their 653 yards of total offense ranked second in school history, trailing the 671 they compiled at Idaho in 1977.
The teams combined for 67 points in the fourth quarter and overtime in the second-highest scoring game in Football Bowl Subdivision history. The 135 total points were one shy of the record (136) set by Boise State (69) and UNR (67) in four overtimes Oct. 14, 2007.
"That was an absolutely exhausting game," Sanchez said. "It was an emotional roller coaster. It was one of those deals where you just try to make one more play than they do."
The Rebels led by 13 twice in the second half before falling behind 45-44 on Austin Conway's 60-yard punt return with 10:58 left. But UNLV scored on its next play from scrimmage when Palandech sprinted untouched 76 yards to the end zone and added a two-point conversion pass to Elijah Trosclair for a 52-45 lead.
"That was one of the biggest plays in the game," Sanchez said. "That was huge to get the lead right back."
It was still 52-45 with 1:06 left, when Wyoming took over at its 3-yard line and marched 97 yards for the tying score with no time remaining. Josh Allen (14-for-21, 334 yards, four TDs) threw a 19-yard touchdown pass to Tanner Gentry (five catches, 184 yards, three TDs) as time expired to send the game into overtime.
Gentry stepped out of bounds before coming back in to make his second one-handed touchdown catch of the game.
"(The officials) say we forced him out, and you can't review that," Sanchez said. "I'm like, 'Yeah, OK, here we go.' Adversity hits again. For us to keep fighting and making plays, it's a testament to our guys."
After Wyoming (7-3, 5-1) took the lead in overtime on Brian Hill's 15-yard touchdown run, UNLV tied it on Palandech 22-yard touchdown pass to Jericho Flowers and went ahead 66-59 on his 4-yard pass to Andrew Price in double overtime. The Cowboys tied the score on Allen's 19-yard touchdown pass to Jacob Hollister before Torry McTyer made his second interception of the game in triple overtime to set the stage for Bornand.
"We knew coming into this game we had to step up and make plays, and that's what we did," McTyer said.
Sanchez had high praise for Palandech, the team's third starting quarterback this season who lost a close offseason competition with Johnny Stanton and then backed up Dalton Sneed.
"That could easily get a guy down, but I tell you what, he's what America and what football's all about," Sanchez said. "Guys that don't get down, guys that go to work. They don't make excuses. They don't point fingers. They show up every day, punch in their time card and they get paid at the end. And he got a big payday today."
The win marked only the second time in seven seasons the Rebels have won more than three games (7-6 in 2013) and the third time since 2002 they've won more than two conference games in a season.
The Cowboys, who received votes in last week's Associated Press poll, are the best team UNLV has defeated under Sanchez.
"To be able to get this one against a really good team, it's a big deal for us," Sanchez said. "It's another brick in the building process."
Contact reporter Todd Dewey at tdewey@reviewjournal.com or 702-383-0354. Follow @tdewey33 on Twitter.
Visit our GameDay page for full coverage of the UNLV-Wyoming game