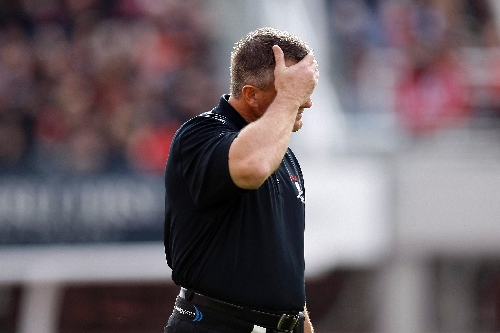 Utah coach Kyle Whittingham didn't want to make a big deal about the importance of the final three football games, including a bowl trip, the Utes will play as Mountain West Conference members.
He said the emphasis should be on viewing an entire season's "body of work" before making assessments.
That could be true, but there is little doubt the Utes have some catching up to do. They are coming off embarrassing losses to Texas Christian and Notre Dame, and if the two major recruiting services are to be believed, the Utes are behind their soon-to-be Pac-12 Conference brethren in luring top prospects.
Utah has had an excellent history in the Mountain West, registering two perfect seasons that included statement-making Bowl Championship Series victories. The Utes also are 9-0 in bowls as Mountain West members.
But they haven't been consistently great, and it's arguable TCU and Brigham Young have been stronger in recent seasons. Utah faces tougher competition beginning next season, so the Utes will need even better talent than they've been suiting up.
Rivals.com and Scout.com agree the Utes are a middle of the Pac-12 team in recruiting so far. Such ratings, of course, aren't always accurate, and Whittingham wouldn't have 17 commitments if he didn't think those players would help move the program forward.
"We've got a good recruiting class we've put together, and all the recruits are holding solid," he said. "There's been no wavering or anything of the sort."
A strong end to the season should help ensure that loyalty.
n POLL DANCING — If TCU is going to get grief for a 40-35 victory over an improved San Diego State team, coach Gary Patterson wonders why the same critiques don't apply to others.
"I don't think our win was any different than the 15-13 win Oregon had over Cal," Patterson said of the top-ranked Ducks' narrow escape.
California pushed Oregon throughout the night, but TCU dominated for most of its game before allowing two fourth-quarter touchdowns. The Horned Frogs went through one 40-minute stretch in which the high-powered Aztecs failed to move the first-down chains.
But TCU was jumped by Boise State in both BCS polls, and barely remained No. 3 in the BCS standings.
Patterson said those who "watched the ballgame and not just the score" would know the Frogs played well.
"I told my kids what the perception is going to be, but I thought they fought and got the win," Patterson said. "I think that's pretty cool."
n MOVING ON UP — After a horrendous start, BYU has won four of five to even its record at 5-5. The Cougars beat UNLV and Colorado State by a combined 104-17 the past two weeks.
"I think a lot of players came in thinking it would be another 11-2 or 10-3 year regardless of preparation," BYU coach Bronco Mendenhall said. "I think the baseline has been re-established.
"It's as gratifying as, if not more than, any season since I've been here because of where we came from."
n NOT A GOOD SIGN — Colorado State heads to Wyoming on Saturday for the "Border War," and the game usually provides drama on its own.
But Wyoming coach Dave Christensen added some Tuesday by referring to the Rams as the "team down South."
UNLV fans know something about that kind of moniker. Previous Rebels coach Mike Sanford used to refer to UNR as the "team up North," and he was shut out in five attempts to defeat the state rival.
Just a word of caution to Christensen.
Contact reporter Mark Anderson at manderson@reviewjournal.com or 702-387-2914.