San Jose State holds off Rebels, 30-24
October 30, 2016 - 2:55 pm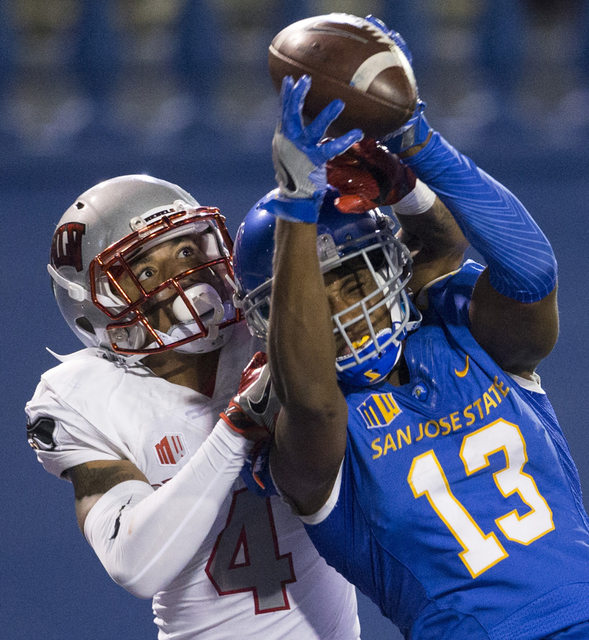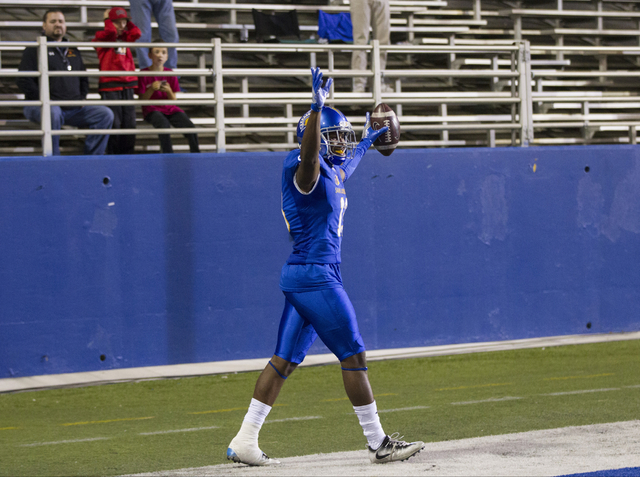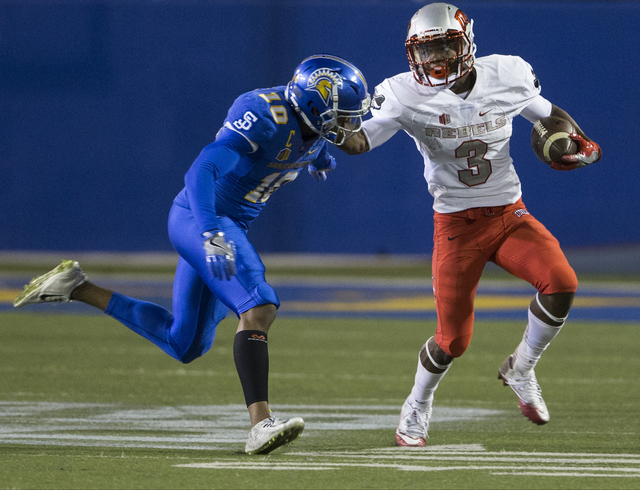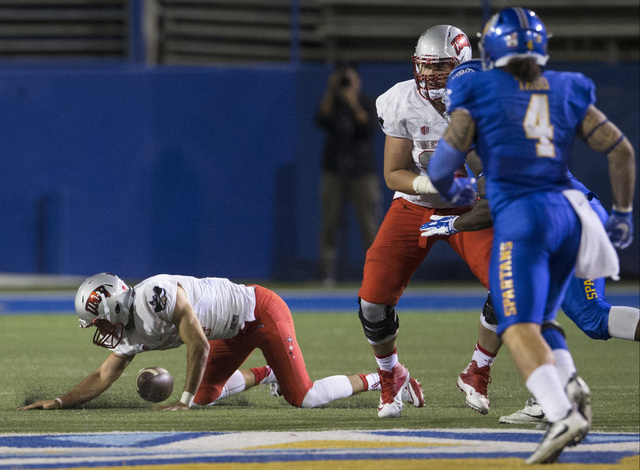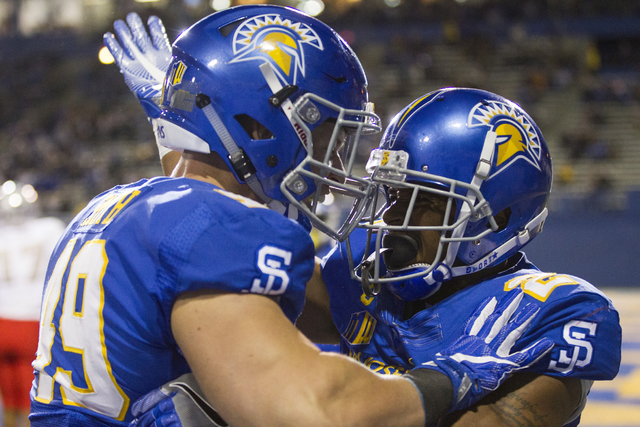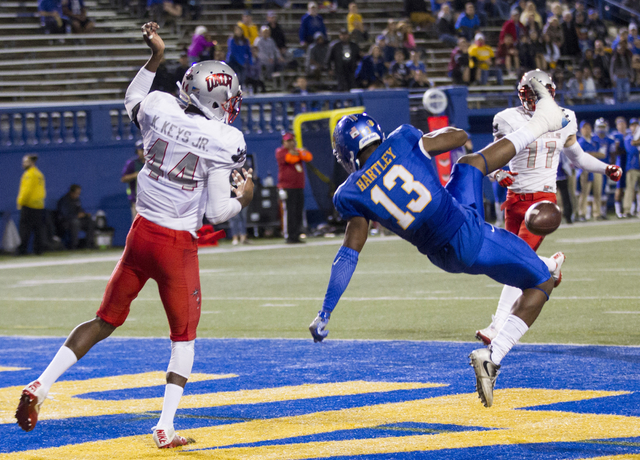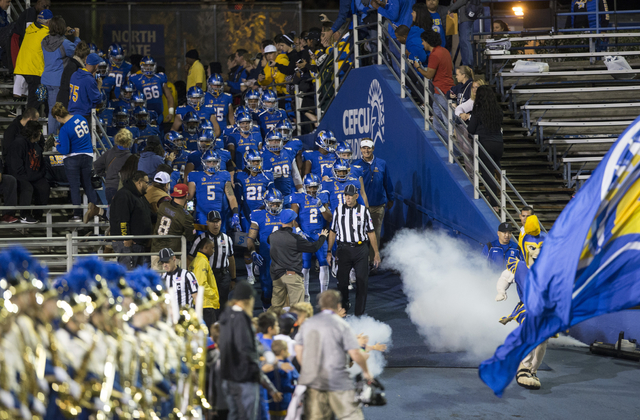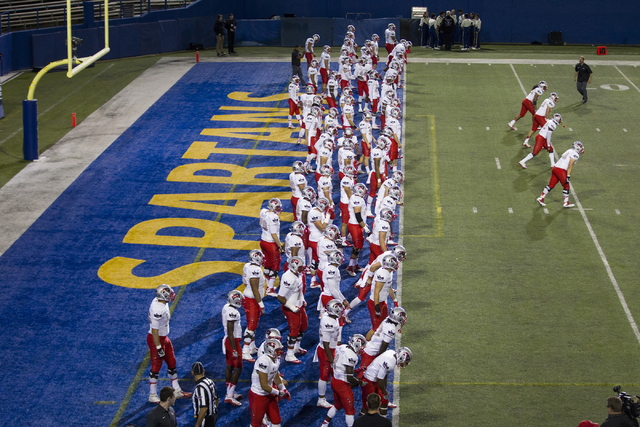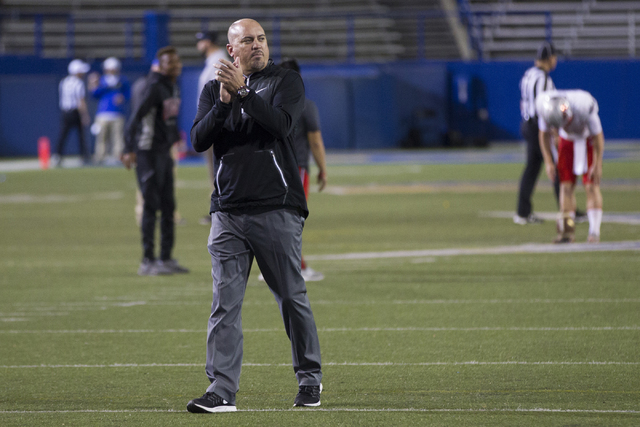 SAN JOSE, Calif. — In its second season under coach Tony Sanchez, UNLV's football team was expected to beat the so-called bad teams on the schedule.
It turns out the Rebels are the bad team.
Facing a virtual must-win to keep its slim bowl hopes alive against a San Jose State squad that entered as one of the worst teams in the country, UNLV trailed 27-10 at halftime and never fully recovered in a 30-24 loss Saturday night before an announced crowd of 15,733 at CEFCU Stadium.
Kurt Palandech replaced ineffective starting quarterback Dalton Sneed in the second quarter and almost helped bring the Rebels back from a 20-point second-half deficit. He threw for a score in the third quarter and ran for one in the fourth before throwing an interception in the final minute after driving UNLV to the San Jose State 44.
Palandech had tight end Andrew Price open over the middle but overthrew him, and Trevon Bierria picked off the pass at the 14 with 48 seconds left to give the Spartans (3-6, 2-3 Mountain West) their sixth straight win over the Rebels (3-6, 2-3), who haven't won in San Jose since 1993.
"We had a great shot at the end. You've got a wide-open guy there at the 15. If we hit him, we've got a couple plays left and we're in striking distance," Sanchez said. "It's an errant ball, but we wouldn't have been back there without (Palandech) playing well in the second half.
"It's another week of not coming out and playing real fast in the first half. The second half, we do a much better job, but we've got to put four quarters of football together."
Coming off a loss to Colorado State in which Sneed went 1 of 8 for 14 yards and an interception as UNLV fell behind 35-0 in the first half, the redshirt freshman struggled early again, going 2-for-9 for 24 yards before getting replaced by Palandech with 9:26 left in the second quarter.
"We really struggled at the quarterback spot in the first half," Sanchez said. "We were really off."
Palandech, in his first extensive action of the season, went 10-for-21 for 161 yards and ran for 44 yards. Trailing 30-10 late in the third quarter, he completed a 64-yard pass to Devonte Boyd, then scrambled on fourth-and-goal from the 2 before finding Price in the end zone to make the score 30-17.
Palandech then rushed for a 16-yard touchdown on a keeper on third-and-9 to cap a 13-play, 81-yard drive that cut the deficit to 30-24 with 5:19 to play.
The Rebels took over at their 4 with 1:57 left, and Palandech hit Price for 20 yards and threw an 11-yarder to Boyd (six catches, 136 yards) for a first down at the Spartans 44 before throwing the interception.
"Price did a good job finding some windows. That last one got away from me," Palandech said. "It's disappointing the way it ended because we felt like we had a good chance to come back and win that one."
The Spartans entered last in the country in sacks allowed, with 38, but the Rebels barely breathed on San Jose State quarterback Kenny Potter in the first half. The senior took his time in the pocket before casually throwing two touchdown passes while going 16 of 30 for 223 yards.
Potter, who finished 24 of 39 for 292 yards, floated a 63-yard touchdown pass down the sideline to Tre Hartley (five catches, 104 yards, two TDs) on third-and-9 on the first play of the second quarter to make the score 17-7. He lofted a 29-yard touchdown pass to Hartley with 5:44 left that made it 24-7.
UNLV finally got to Potter late in the third quarter when — after closing the gap to 13 points on Palandech's TD pass — Jeremiah Valoaga sacked him twice on the ensuing possession. The Rebels finished with four sacks and held the Spartans to 1 of 7 third-down conversions in the second half after allowing them to convert 4 of 10 in the first half.
"We've got to start faster," UNLV linebacker Ryan McAleenan said. "All week, we stressed starting faster. We just didn't come out and do that."
UNLV took a 7-3 lead on a 75-yard touchdown run by freshman Charles Williams with 5:07 left in the first. Williams finished with 141 yards and a touchdown on 22 carries.
Starting running back Lexington Thomas (18 yards on five carries) left with a high ankle sprain in the first half and didn't return.
Mathematically, the Rebels still have a chance to finish with six wins to become bowl eligible. But, realistically, any bowl hopes they still harbored were crushed in San Jose. After its bye week, UNLV must sweep its remaining games against Wyoming, No. 13 Boise State and UNR. Wyoming upset Boise State 30-28 on Saturday.
Contact reporter Todd Dewey at tdewey@reviewjournal.com or 702-383-0354. Follow @tdewey33 on Twitter.