Sanchez promises to tackle UNLV job with energy, drive
December 12, 2014 - 8:03 am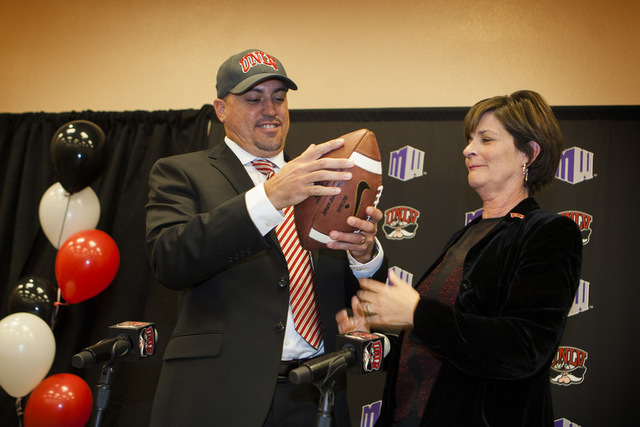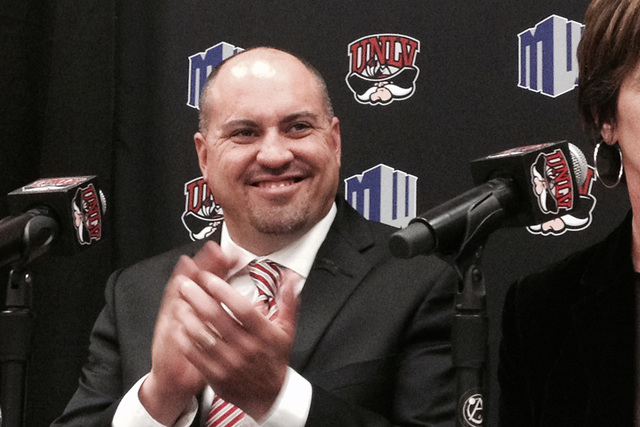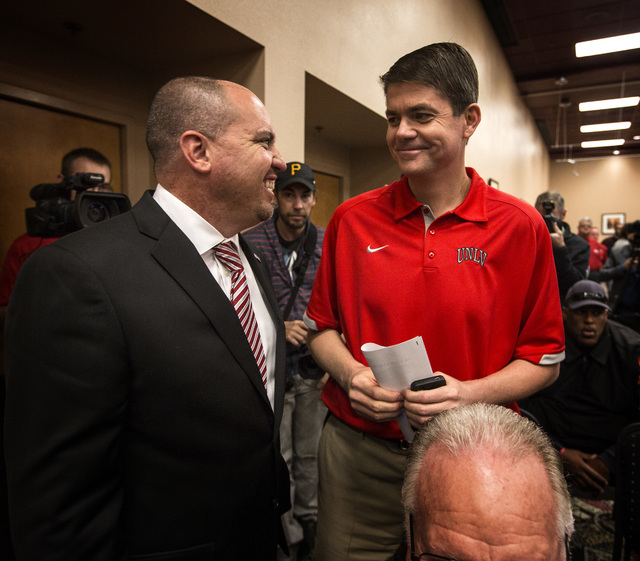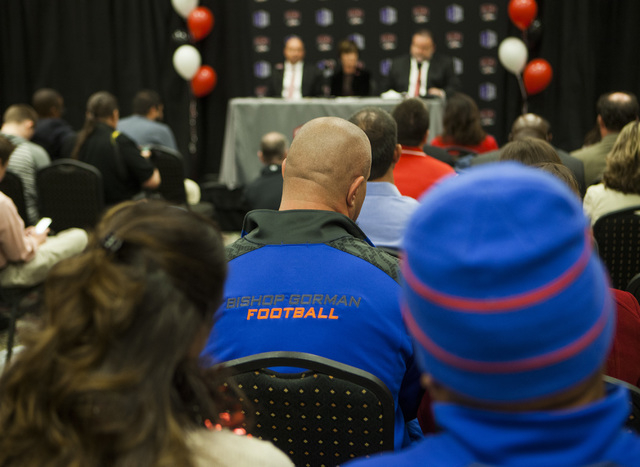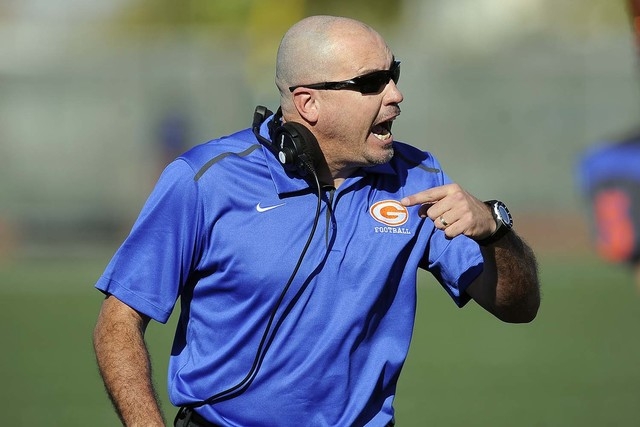 Tony Sanchez walked into the room at the Stan Fulton Building on UNLV's campus and began working the crowd.
Many he already knew. Others were long-suffering UNLV football supporters looking for a ray of hope.
The room was packed, and just less than nine months before the Rebels are scheduled to open their 2015 season at Northern Illinois, this was the time for optimism, like spring training for a major league baseball team.
Sanchez, officially introduced Thursday as the Rebels' 11th coach, knows he not only has the difficult job of reviving a program that at times seems hopeless but also must prove he can make a successful jump from the high school game to major college football.
He is believed to be just the third coach to make that transition, so as Sanchez noted, judging the situation on two prior failures isn't a large sample size. Either way, he was energized to begin the challenge of transferring his enormous success at Bishop Gorman — where he won six state titles in six years — to UNLV.
"I know it was a bold statement when I was chosen for this position," Sanchez said. "I couldn't be more excited about the opportunity. I couldn't be more energetic and more driven to see UNLV football moving in a positive direction."
Sanchez's job doesn't become official until the University of Nevada Board of Regents debates and votes on his contract at 1:30 p.m. Tuesday. His four-year deal pays an annual salary of $500,000 and is loaded with incentives.
Money was a hot topic Thursday.
Rumors have long swirled that with Sanchez would come an infusion of cash, particularly from the Fertitta family, that would upgrade a program in serious need of an enhancement to its facilities. Lorenzo Fertitta, the CEO of Ultimate Fighting Championship, has denied any money was promised.
Sanchez and athletic director Tina Kunzer-Murphy downplayed the possibility of money coming in, lashed out at the media for making it an issue and even laughed at two questions on the subject.
Both, however, acknowledged the Rebels need support of many donors to turn around a program that has produced four winning seasons in 28 years.
"I'm glad I have this opportunity to publicly thank (the Fertittas) on record for their support of Bishop Gorman over the years and really their support of the community," Sanchez said. "Every day, I drive by Fertitta Middle School. They are a very generous family and have been so good to my wife and kids. At Bishop Gorman, we were on an incredible campus, and a lot of students are benefiting from their generosity.
"Not one family can make a difference, though. It's people buying season tickets and people helping out student-athletes and people coming together to help our program move forward. I can't do it alone. I'm going to need help from the community. If we can wrap our arms around this, we can get it done."
He already is trying to get it done in recruiting. Defensive tackle Kevin Scott, a high school prospect in Los Angeles, tweeted he received an offer from the Rebels. Scott also reportedly has been offered scholarships by Fresno State, New Mexico and San Diego State, among other schools.
Sanchez also had some recruiting to do with his UNLV players, and he met with them after the news conference. UNLV can't afford to lose many players because the four-year Academic Progress Rate is 937 (930 is the minimum to qualify for the postseason), and the team is losing a 25-member senior class.
Then there is the matter of assembling a coaching staff, and Sanchez said it will be a group of assistants with college experience. He noted the two other coaches — Gerry Faust at Notre Dame and Todd Dodge at North Texas — who went from high school to major college jobs didn't surround themselves with enough experienced college assistants.
"There are going to be guys (at UNLV) with many years of experience, guys on teams in bowl games, with teams that have had a lot of wins and success," Sanchez said. "People will be excited about that. We're bringing in accomplished guys."
He said he was "confident by the next week we'll be done" assembling the staff.
The search to replace Bobby Hauck, who resigned effective Dec. 1 after five years on the job, was a fairly simple one. Kunzer-Murphy said throughout various conversations with coaches interested in the job that "we came back each and every time to Tony Sanchez."
"As a Las Vegan, we aren't afraid to take a very bold and unconventional approach in response to challenges," Kunzer-Murphy said. "We aren't afraid to challenge the status quo, and that's what makes this university and this city so great, is the courage to think different, the vision to be innovative and the confidence to build our own identity, and that's really what today is about."
UNLV interim President Don Snyder echoed her sentiments.
"The more I got to know (Sanchez) through this process, the more I knew he was the right guy at the right time to move this UNLV football program in the right direction," Snyder said. "He is certainly not the traditional choice, of course, as Tina said, but I am entirely comfortable with that. We have not been successful taking the traditional course. This is our chance to take a different one, one that I am very confident in. I firmly believe that this is the right decision."
Contact Mark Anderson at manderson@reviewjournal.com or 702-387-2914. Follow him on Twitter: @markanderson65.
Related Story:
UNLV's bold coaching experiment could blow up
UNLV football coaching history