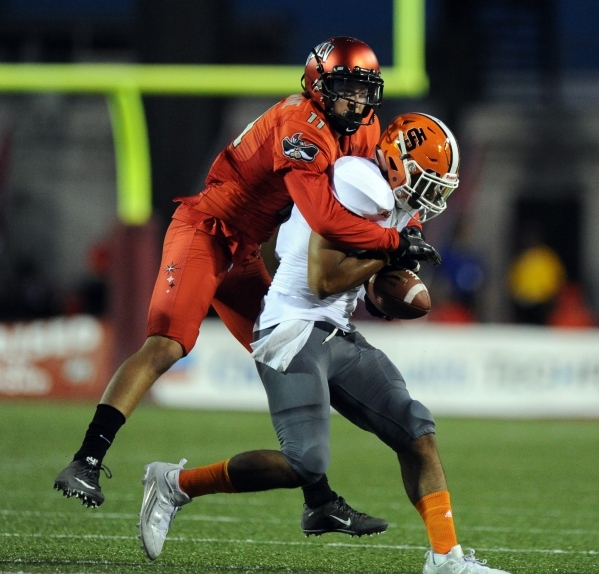 Tony Sanchez talked about how he wasn't especially proud of hitting 80 points, but he had his first victory in hand as UNLV's football coach, so he was going to enjoy it.
"It's going to be a long night in our house," Sanchez said to laughter following Saturday's 80-8 victory over Idaho State at Sam Boyd Stadium.
Eighty is an eye-popping number, something that UNLV had never reached until this game and something no Mountain West team had done, either.
But going crazy against a Football Championship Subdivision team is one thing. Doing it at Reno is another, and that's where the Rebels (1-3) are headed to meet UNR (2-2) at 4 p.m. Saturday.
Nothing like facing the fiercest rival to keep the players grounded and motivated, and it's Sanchez's style to make sure his players remain focused and energized.
He said he refused to let his players even smile on the sideline after they built a 35-0 lead in the first quarter against the Bengals.
"When we were up 35-0, we didn't act like it," Sanchez said.
No one saw 80-8 coming, but the Rebels had been building toward a breakout game after a largely promising effort in an opening schedule against Northern Illinois, UCLA and Michigan.
"When you look at the body of work over four weeks, not a lot of silly penalties, not a lot of personnel problems, not a lot of big plays given up," Sanchez said. "We've played good football. We've gotten beat by some good football teams. We went out (Saturday night) and we had superior players and we played well, and they had some miscues, and we did what we were supposed to do."
The true test of what the 80 means is what happens at UNR. UNLV has lost nine of the past 10 meetings, though the Rebels won in their most recent trip to Reno, 27-22 in 2013.
UNR is an 11½-point favorite to keep the streak alive and maintain possession of the Fremont Cannon.
The Wolf Pack rushed for 289 yards in Saturday's 24-21 victory at Buffalo, and they are averaging 210.5 per game, fourth in the Mountain West. Two UNR running backs are in the top four in the conference, with James Butler averaging 95.5 yards per game and Don Jackson 95.2.
UNLV has made a commitment to the run game as well, and the Rebels rushed for 54 times against Idaho State, producing 517 yards and six touchdowns. The Rebels are third in the conference in rushing attempts (180) and yards per game (238.5).
Getting the Rebels' attention shouldn't be a problem this week. The game against Idaho State was barely over when UNLV began to think about the opponent ahead.
"I just talked to the team about it," Sanchez said Saturday night. "We talk about getting that cannon back. Right in the middle of our locker room, there's a big platform that's empty, and that's depressing every single day we walk in there. So we've got to go fight for it."
Contact Mark Anderson at manderson@reviewjournal.com or 702-387-2914. Follow him on Twitter: @markanderson65
Check our GameDay page for all the news leading up to the UNLV-Idaho State game.