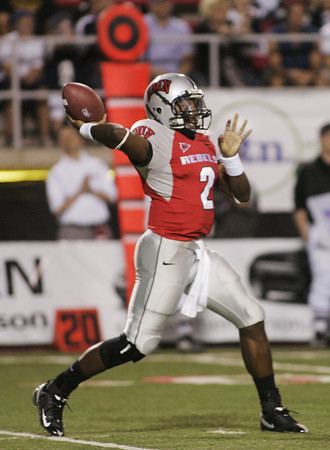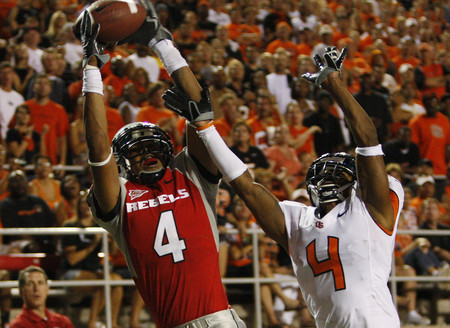 Mike Sanford doesn't leave behind many victories, but UNLV's next football coach will inherit a more promising situation than the one Sanford walked into five years ago.
"Every year, this team has gotten better quality players, better speed, better depth," said Sanford, who coached the Rebels to a 28-24 victory over San Diego State in Saturday's season finale after being fired Nov. 15. "This team will have that next year as long as they have a decent recruiting year."
That could be a problem if the search for UNLV's new athletic director drags on. The university isn't expected to hire an AD until next week at the earliest and wants that person to choose Sanford's replacement. The process could hamper the Rebels during a crucial time in recruiting.
Six grayshirts from UNLV's last recruiting class will be on campus for spring practices, but the Rebels have lost two of the eight commitments from their current class: linebacker Austin Arias and defensive end Everett Beed.
The uncertainty about who will head the program could cause other recruits to waver and current players to consider their options.
"I want to be here," sophomore wide receiver Phillip Payne said. "Who knows?"
More questions surrounded the UNLV football team when Sanford took over the program from John Robinson after the 2004 season. The Rebels had concerns at quarterback, running back, wide receiver, linebacker and defensive back.
The roster is generally stronger now.
The bottom line for Sanford was wins and losses — mainly losses.
Sanford, 16-43 in five seasons, probably still would be in charge if he could have won instead of suffering close losses against Colorado State, Air Force and Brigham Young last season and Oregon State and Wyoming this season — both 5-7 campaigns.
"We don't know what offense we're running, we don't know what defense we're running," quarterback Omar Clayton said. "We don't know what kind of coach the guy is. I feel like he can come in and have some guys he can work with, but at the same time we have to learn something completely new."
UNLV will return an experienced offense that ranked in the middle of the Mountain West Conference with 351.2 yards and 24.8 points per game.
Clayton, a junior, and Mike Clausen, a sophomore, combined to throw for 2,693 yards and 17 touchdowns this season. Top recruit Caleb Herring, who redshirted this season, will join the mix.
Another highly rated recruit who redshirted, Bradley Randle, will make a push at tailback, a position that should be competitive after returnees Channing Trotter and C.J. Cox failed to grab control of the job.
At receiver, the Rebels lose career receptions and yardage leader Ryan Wolfe as well as Rodelin Anthony and Jerriman Robinson but should return Payne, Michael Johnson and Mark Barefield.
Four offensive line starters return, though replacing guard Joe Hawley won't be easy.
But UNLV firm foundation on offense could again be offset by a suspect defense, which this season allowed a league-worst 456.2 yards per game and second-to-last 32.4 points.
The Rebels lose end/linebacker Jason Beauchamp, tackle Martin Tevaseu and nickel back Terrance Lee but bring back a mostly veteran group led by linebackers Starr Fuimaono and Ronnie Paulo and safety Alex De Giacomo.
But the new coach, no doubt, will have some serious decisions to make about personnel and scheme to try to improve the defense.
Contact reporter Mark Anderson at manderson@reviewjournal.com or 702-387-2914.
UNLV 2009 LEADERS
Passing:
Omar Clayton
2,230 yards
13 TDs
Rushing:
Channing Trotter
541 yards
9 TDs
Receiving:
Ryan Wolfe
74 catches
760 yards
Touchdowns:
Channing Trotter
9
Tackles:
Jason Beauchamp
46 solo
49 assists
Sacks:
Jason Beauchamp
61/2
UNLV 2009 LEADERS
Passing:
Omar Clayton
2,230 yards
13 TDs
Rushing:
Channing Trotter
541 yards
9 TDs
Receiving:
Ryan Wolfe
74 catches
760 yards
Touchdowns:
Channing Trotter
9
Tackles:
Jason Beauchamp
46 solo
49 assists
Sacks:
Jason Beauchamp
6-1/2