Scary-good Alabama unchallenged at No. 1 in AP's Top 25
October 21, 2018 - 12:34 pm
Updated October 21, 2018 - 12:35 pm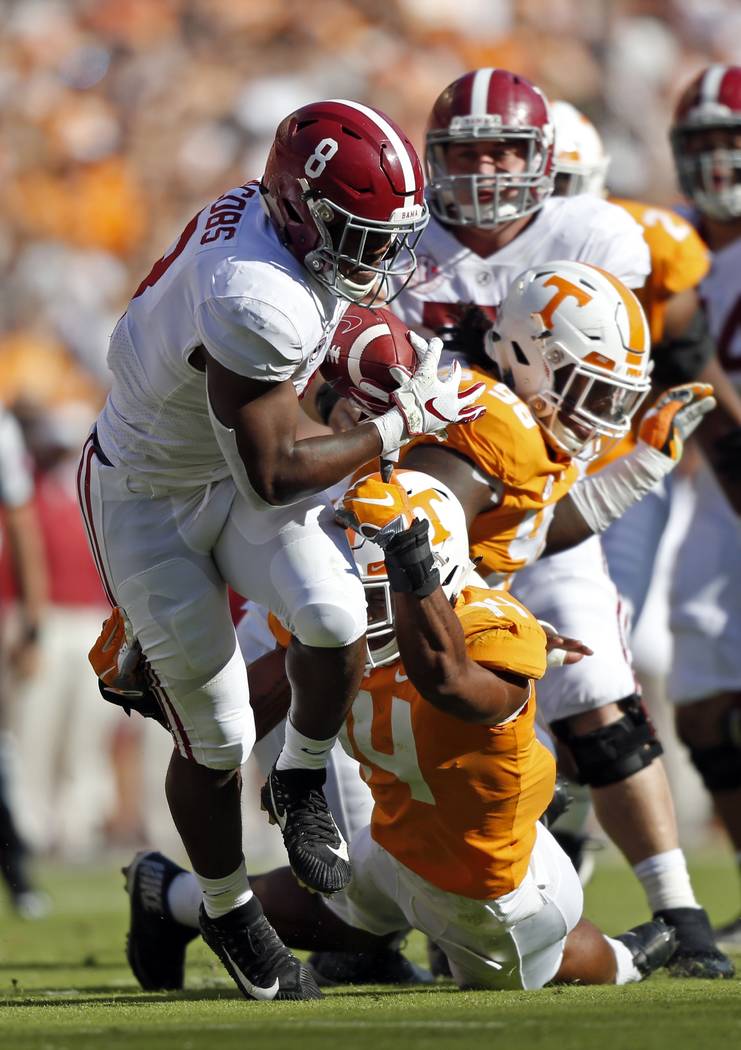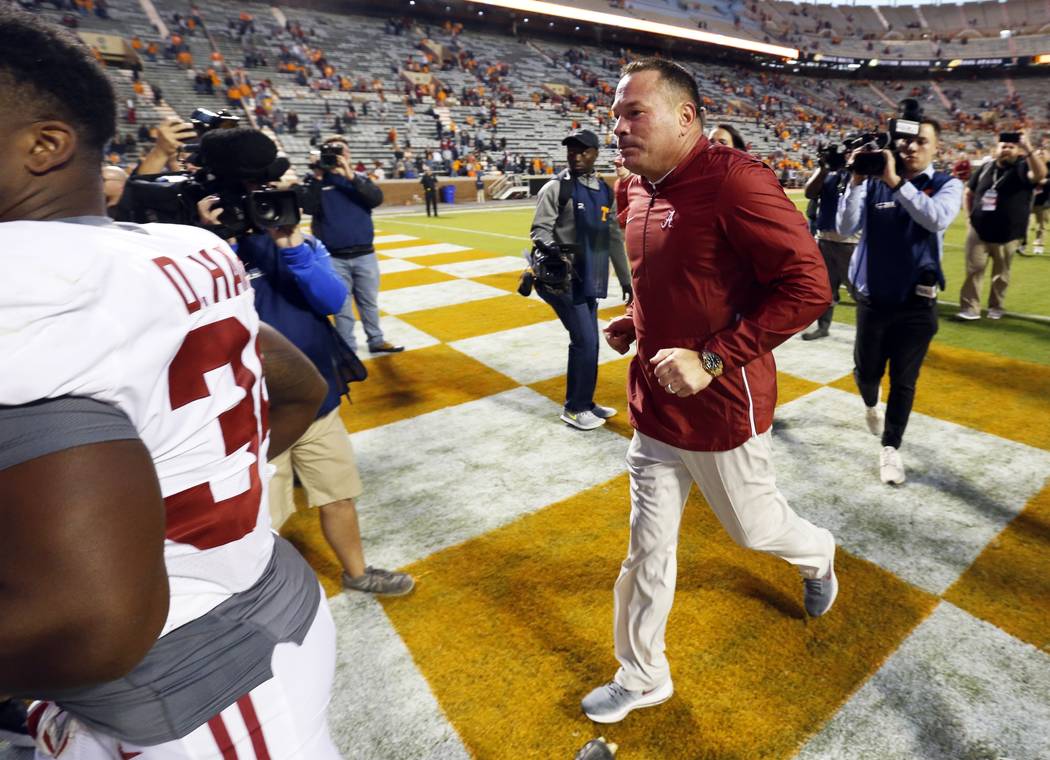 KNOXVILLE, Tenn. — After spending the first two months of the season dominating college football, No. 1 Alabama heads into its open date believing it still has plenty of room for improvement.
Opponents may wonder how much better the Crimson Tide can get. Alabama (8-0, 5-0 SEC) has outscored teams by 35.8 points per game and has averaged 54.1 points to lead all Football Bowl Subdivision programs . Alabama trounced Tennessee 58-21 on Saturday while posting the highest point total ever produced by a visiting team at Neyland Stadium, which opened in 1921.
"We are going to be in more challenging games coming up," Alabama coach Nick Saban said. "We have been 8-0 at this point a few times. It's all about how you finish. This bye week is a good time for us to try and improve so we have a better chance to finish the way we want to finish and face the challenges coming up in the future."
That challenging stretch run starts Nov. 3 with a Southeastern Conference Western Division showdown at No. 4 LSU (7-1, 4-1), which is also off next weekend. Alabama got a break Saturday when LSU star linebacker Devin White drew a targeting penalty in the second half of a 22-3 triumph over Mississippi State , which will prevent him from playing the first half of the Alabama game.
LSU still could provide Alabama with its first real challenge of the season. Alabama's closest game so far has been a 45-23 victory over No. 16 Texas A&M.
The scary part for opponents is that Alabama believes its potent offense can get even better. Heisman Trophy front-runner Tua Tagovailoa has thrown 25 touchdown passes without an interception.
The Top 25 teams in The Associated Press college football poll, with first-place votes in parentheses:
1. Alabama (61)
2. Clemson
3. Notre Dame
4. LSU
5. Michigan
6. Texas
7. Georgia
8. Oklahoma
9. Florida
10. UCF
11. Ohio St.
12. Kentucky
13. West Virginia
14. Washington St.
15. Washington
16. Texas A&M
17. Penn St.
18. Iowa
19. Oregon
20. Wisconsin
21. South Florida
22. NC State
23. Utah
24. Stanford
25. Appalachian St.
Others receiving votes: Texas Tech 54, Utah St. 50, San Diego St. 48, Fresno St. 35, Miami 34, Virginia 25, Houston 19, Purdue 17, Michigan St. 8, Cincinnati 7, Auburn 5, Mississippi St. 2, Boston College 2, UAB 1.