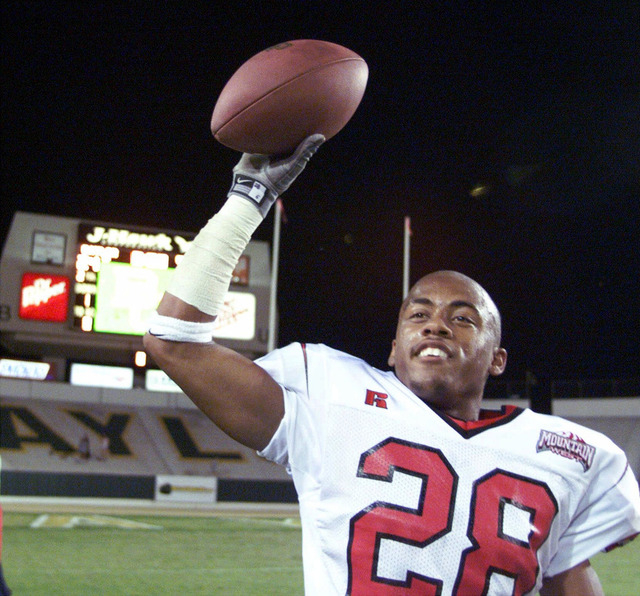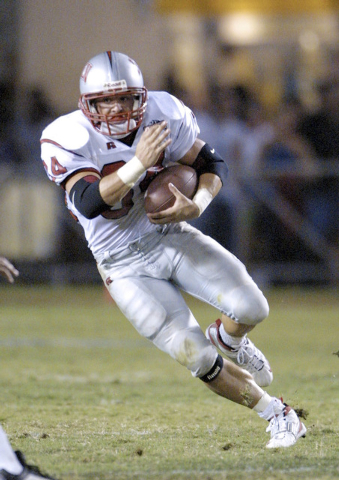 Rebel Park can be a noisy place, and not just because of coaches yelling, whistles blowing or crowd noise being piped in the week of an away game.
UNLV's football practice field also sits below one of McCarran International Airport's major flight paths, and players are accustomed to the loud engines of planes flying overhead while they go through blocking and tackling drills.
But Rebel Park was unusually quiet during a brief stretch nearly 13 years ago. The players practiced, but no planes were in sight.
"That was really odd," said Joe Haro, a standout running back on the 2001 team. "You were used to seeing a couple of planes every practice."
McCarran, as were the nation's other airports, was temporarily closed following the Sept. 11, 2001, terrorist attacks that claimed about 3,000 lives. Sporting events across the nation were canceled or postponed. UNLV's home football game against Colorado State, which was scheduled for that Friday, was pushed back to later in the season.
The Rebels' first game following the attacks was at Arizona on Sept. 22, 2001. When they play the Wildcats at 7:30 p.m. Friday, it will be UNLV's first trip back to the stadium since that night.
The 2001 Rebels, like the rest of the country, were rattled after seeing the events of that Tuesday morning in September. Four planes were hijacked, and two were flown into the World Trade Center in New York and another into the Pentagon in the Washington area. A fourth plane crashed in a Pennsylvania field after passengers rose up to challenge the hijackers.
Haro, known as "Jersey" Joe, had a direct connection to the tragedy. His roommate at the time, basketball player Eugene Brennan, lost his best friend when the Twin Towers fell, and Haro knew others who were directly affected.
"I sat in my bedroom and watched CNN and Fox News and all the news stations for hours and hours and hours," Haro said. "We huddled around as a team, and we still had an obligation with that. But when I was home, (watching TV) was all I did. There were so many families that lost loved ones, and it was hard to think about playing football at that time."
Practices became a two-hour respite for the players, but none of them truly escaped the reality of that terrible time.
"Everybody was in shock that it happened," cornerback Kevin Thomas said.
John Robinson coached that team, and he didn't expect such a deep reaction from his players.
"We were like everybody else, very numb by the whole thing," Robinson said at the time. "I was surprised. It affected our people a lot more than I thought it would. I think it's like most people that are used to the good life, and suddenly to be aware of how fragile life really is was a little stunning to them."
When reached this week, Robinson had difficulty recalling details, but remembered the players going "through the motions" of practice rather than having their hearts completely into preparing to play.
Before they played again, the players had to get back on a plane. They at least knew their flight to Tucson, Ariz., would be chartered, easing concerns they would be caught up in a second wave of attacks.
But even getting on a charter felt odd.
"It was weird getting on a plane for the whole year," Thomas said. "You didn't know what to expect. You were on edge, especially if you hit turbulence. I probably didn't get used to flying on a plane till the following year."
Haro has never lost that strange sensation.
"My mom's a travel agent; she's been in the business for 30-plus years," Haro said. "I've been flying since I was a little, little kid. She used to send me on flights to Florida to see my grandparents when I was 4 and 5 years old. To this day, I still get a little bit nervous on flights. I don't have the same comfort level that I've always had."
The night at Arizona Stadium was just as eerie as the practices had been, the fans experiencing a mixture of grief and fear about what the future held.
"I know the stadium in Arizona was just flat," Robinson said.
UNLV didn't play well that September night, falling behind 24-7 by halftime and losing 38-21.
The Rebels lost the following week, making them 0-4, but won four of their final seven games to finish 4-7.
It was a lost season for the team amid a time of unspeakable loss for the country.
"I know it affected everybody, but I didn't really realize it until I went back home that Christmas and I went to the site," Haro said. "It was a totally different atmosphere on the East Coast because it happened right there. Not that people didn't care here or out on the West Coast, but it didn't have as much of an impact because they didn't live and breathe the World Trade Center."
Contact reporter Mark Anderson at manderson@reviewjournal.com or 702-387-2914. Follow him on Twitter: @markanderson65.
Check our GameDay page for all the news leading up to the Arizona game.