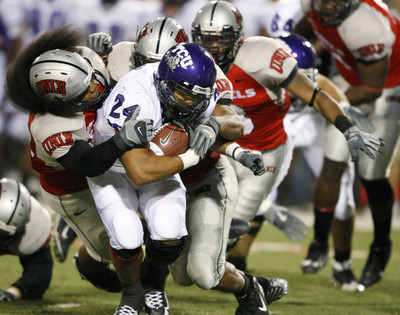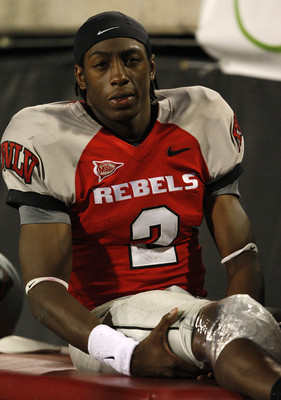 Even with no margin for error, UNLV figured it had a reasonable chance to win its final three games against a soft schedule and become bowl eligible.
That was the scenario before Saturday.
Now? Who knows?
The Rebels not only lost 44-14 to No. 12 Texas Christian for their fifth straight defeat, they might have lost quarterback Omar Clayton for the rest of the season to a third-quarter right knee injury.
He will undergo an MRI on Monday, and coach Mike Sanford said it was too early to speculate about the severity of the injury.
"I got tackled, and it didn't feel right when I got back up," Clayton said.
Redshirt freshman Mike Clausen would take Clayton's spot in next Saturday's home game against New Mexico and possibly beyond if Clayton remains sidelined. Clayton was on pace for the best season by a UNLV quarterback since Jon Denton in 1997.
With Clayton, the Rebels (3-6, 0-5 Mountain West Conference) stood a decent chance of beating New Mexico, Wyoming and San Diego State to finish 6-6 and be bowl eligible. The New Mexico game would be a toss-up, and the Rebels would have been favored against bottom feeders Wyoming and San Diego State.
Nothing is certain now, especially for a UNLV team that has lost 12 straight conference games.
"I don't want to make a statement that (Clayton is done for the season), but any time you lose your starting quarterback, especially a guy that's been playing as well as Omar has, it definitely sets us back," Sanford said.
Not much can be gleaned from how the Rebels played with Clausen at the controls against TCU (9-1, 6-0). The Horned Frogs shut down UNLV's offense even when Clayton was in the game, leading 24-7 when he exited.
He was 5 of 13 for 45 yards and a 15-yard touchdown to Rodelin Anthony, and he added 29 yards on nine carries. Clausen was 3 of 9 for 22 yards.
That was hardly unexpected from the Frogs, who came into the game No. 1 nationally in rushing defense (31.2-yard average) and No. 2 in total (218.9) and scoring defense (10.4-point average).
Their athletic unit swarmed the Rebels and held them to 175 yards, 108 on the ground. Tailback Frank Summers had only nine yards on six carries.
"They lived up to their press," Rebels wide receiver Ryan Wolfe said. "The speed was as we expected, but I think the intensity they played with, it was kind of the attitude that if we gained a yard, it was a yard too much."
TCU established control quickly, forcing a three-and-out and then driving 77 yards in 17 plays. Quarterback The first of Andy Dalton's three touchdown passes, a 1-yarder to fullback Justin Watts, put the Frogs in front 7-0.
TCU didn't play its best, but never gave up the lead. UNLV even hung around until late in the first half until Dalton completed a 4-yard touchdown pass to tight end Evan Frosch with 30 seconds left to take a 24-7 lead into halftime.
That ended any realistic UNLV comeback hopes. Dalton made sure by 16 of 29 passes. TCU spread out the rushing attack by gaining 259 yards, the fifth consecutive game the Rebels allowed more than 200 on the ground.
"That wasn't the UNLV Rebel team that I know that was playing out there tonight," Sanford said. "That is not the standard of play I expect out of our team."
Maybe not, but it might be tough to meet his standards if anyone other than Clayton is running the offense.
Contact reporter Mark Anderson at manderson@reviewjournal.com or 702-387-2914.
Slide show
HOW THEY SCORED TCU 44 UNLV 14 TCU 14 10 13 7 – 44 UNLV 7 0 0 7 – 14 FIRST QUARTER TCU 7, UNLV 0, 5:21 — Justin Watts 1 pass from Andy Dalton (Ross Evans kick). Drive: 17 plays, 77 yards, 7:57. Key play: The Horned Frogs convert a fourth-and-2 with a direct snap to wide receiver Antoine Hicks, who gains 4 yards to UNLV's 4-yard line. TCU 14, UNLV 0,3:09 — Luke Shivers 3 run (Evans kick). Drive: 3 plays, 34 yards, 1:05. Key play: TCU defensive end Jerry Hughes tips a pass from UNLV quarterback Omar Clayton, and linebacker Robert Henson intercepts to give the Frogs possession at the Rebels' 34. TCU 14, UNLV 7, 0:44 — Rodelin Anthony 15 pass from Omar Clayton (Kyle Watson kick). Drive: 3 plays, 12 yards, 0:30. Key play: TCU's Aaron Brown drops a punt, and UNLV's Chris Brogdon recovers at the Frogs' 12. SECOND QUARTER TCU 17, UNLV 7, 10:24 — FG Evans 20. Drive: 8 plays, 25 yards, 2:59. Key play: Dack Ishii's punt into the wind for UNLV goes 12 yards, giving TCU the ball at the Rebels' 28. TCU 24, UNLV 7, 0:30 — Evan Frosch 4 pass from Dalton (Evans kick). Drive: 10 plays, 40 yards, 1:37. Key play: Ishii's 17-yard punt gives the Frogs excellent field position at the Rebels' 40. THIRD QUARTER TCU 30, UNLV 7, 9:38 — Aaron Brown 23 run (kick failed). Drive: 2 plays, 33 yards, 0:43. Key play: Nick Sanders returns a punt 40 yards to give TCU possession at UNLV's 33. TCU 37, UNLV 7, 1:38 — Jimmy Young 13 pass from Dalton (Evans kick). Drive: 5 plays, 29 yards, 2:11. Key play: UNLV's Michael Johnson fumbles a punt, and TCU's Shae Reagan recovers at the Rebels' 29. FOURTH QUARTER TCU 44, UNLV 7,4:40 — Jai Cavness 1 run (Evans kick). Drive: 5 plays, 57 yards, 2:32. Key plays: Cavness rushes five times for 44 yards. TCU 44, UNLV 14, 1:44— David Peeples 1 run (Watson kick). Drive: 6 plays, 74 yards, 2:48. Key play: UNLV tailback Channing Trotter breaks free for a 58-yard run to the Frogs' 1. A —•16,121. TEAM STATISTICS TCU UNLV First downs 27 12 Rushes-yards 52-259 33-108 Passing 151 67 Comp-Att-Int 16-29-0 8-22-1 Return Yards 45 6 Punts-Avg. 4-41.5 9-29.4 Fumbles-Lost 4-2 3-2 Penalties-Yards 10-95 4-47 Time of possession 31:42 25:20 INDIVIDUAL STATISTICS RUSHING — TCU, Brown 9-60, Dalton 9-52, Cavness 8-51, Hicks 6-38, Christian 7-22, Turner 8-19, Watts 4-14, Shivers 1-3. UNLV, Trotter 1-58, Clayton 9-29, Cox 5-17, Wolfe 1-10, Summers 6-9, Peeples 3-1, Clausen 8-(minus 16). PASSING — TCU, Dalton 16-29-0 151. Clayton 5-13-1 45, Clausen 3-9-0 22. RECEIVING — TCU, Young 3-42, Christian 3-27, Watts 3-17, Hicks 2-16, Reagan 1-12, Turner 1-12, Johnson 1-11, Bryant 1-10, Frosch 1-4. UNLV, Wolfe 4-31, Summers 2-6, Flair 1-15, Anthony 1-15. MISSED FIELD GOALS — TCU, Evans 40