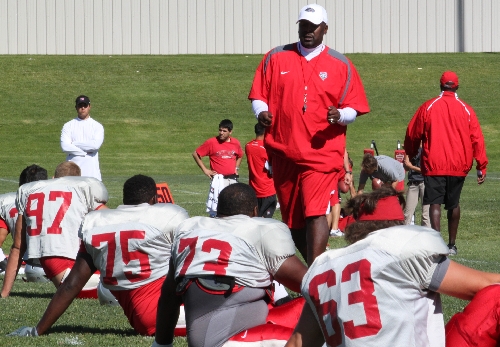 Picking the Mountain West Conference favorite wasn't even up for debate.
Texas Christian, which ran away with last season's league title in going 12-1 and finishing sixth in both major polls, received all 31 first-place votes by the conference media to again take the Mountain West.
But the Horned Frogs' ultimate goal is to become the first Bowl Championship Series outsider to win the national championship. They are ranked sixth in The Associated Press poll and seventh in the USA Today rankings.
Here is a look at each team in the Mountain West, listed in order of finish in the media poll:
1. TEXAS CHRISTIAN
Last season: 12-1, 8-0 MWC (first). No. 6 in AP, No. 6 in USA Today. Lost to Boise State 17-10 in the Fiesta Bowl.
Returning starters: 9 offense, 7 defense.
Outlook: The clear favorite to win the conference title swept the league's preseason awards – senior quarterback Andy Dalton (offense), junior linebacker Tank Carder (defense) and senior return specialist Jeremy Kerley (special teams) were named the players of the year. TCU has won at least 11 games five of the past seven years and should reach that number again this season behind one of the nation's top defenses.
Coach Gary Patterson: "People can say all they want to about us playing for a national championship. The key is if you don't dream about it, then you can't get to do it."
2. Utah
Last season: 10-3, 6-2 MWC (third). No. 18 in AP, No. 18 in USA Today. Defeated California 37-27 in the Poinsettia Bowl.
Returning starters: 8 offense, 4 defense.
Outlook: This is the Utes' final season in the Mountain West before heading to what will be called the Pac-12 Conference. Utah put itself in position for the promotion by winning two BCS games since 2004. The Utes, led by senior Eddie Wide of Cimarron-Memorial High School, have one of the Mountain West's top running attacks. That will help sophomore quarterback Jordan Wynn continue to progress.
Coach Kyle Whittingham: "My definition of a leader is the guy who makes those around him better and (someone who) the guys respond to, and our guys certainly respond to Jordan Wynn, and they believe in him."
3. Brigham Young
Last season: 11-2, 7-1 MWC (second). No. 12 AP, No. 12 USA Today. Defeated Oregon State 44-20 in the MAACO Bowl Las Vegas.
Returning starters: 6 offense, 6 defense.
Outlook: BYU has the difficult task of replacing quarterback Max Hall, tailback Harvey Unga and tight end Dennis Pitta. The Cougars, however, aren't without talent, and that's why the media expect them to continue to contend. But the Cougars will have a tough time overtaking TCU or Utah.
Coach Bronco Mendenhall: "We have four quality quarterbacks. I don't know which one will play yet. We have probably five quality running backs. I don't know which one will carry the ball yet. … But we also replaced four of five offensive linemen last year. I'm completely confident the pieces will fall into place when they're supposed to. I hope it's early, but that can't be rushed."
4. Air Force
Last season: 8-5, 5-3 MWC (fourth). Unranked. Defeated Houston 47-20 in the Armed Forces Bowl.
Returning starters: 5 offense, 5 defense.
Outlook: The Falcons have been the next best thing behind the Big Three, and that isn't expected to change. Air Force, again, should dominate on the ground. Running back Jared Tew rushed for 970 yards last season, leading an attack that averaged nearly 300 yards per game on the ground. However, the Falcons must find a way to replace second-team all-conference defensive tackle Ben Garland.
Coach Troy Calhoun: "I think an awful lot of the way we were able to operate defensively was because of how forceful and dominant Ben Garland was. There were many times last year where we only utilized the three-man pass rush."
5. Wyoming
Last season: 7-6, 4-4 MWC (fifth). Unranked. Defeated Fresno State 35-28 in double overtime in the New Mexico Bowl.
Returning starters: 7 offense, 7 defense.
Outlook: The Cowboys were the surprise team last season, and they have plenty to build around in sophomore quarterback Austyn Carta-Samuels. Wyoming switches from a 3-4 to a 4-3 defense in hopes of becoming more athletic on that side of the ball.
Coach Dave Christensen: "We're hoping to gain some momentum off our bowl victory last year. It certainly propelled us in the offseason and the initial steps of rebuilding the program."
6. San Diego State
Last season: 4-8, 2-6 MWC (seventh). Unranked. No bowl appearance.
Returning starters: 9 offense, 8 defense.
Outlook: This is one of the MWC's more experienced teams, and there's plenty to like in junior quarterback Ryan Lindley and senior wide receivers Vincent Brown and DeMarco Sampson. But the Aztecs need to greatly improve their running game and cut down on mistakes after ranking last in the Mountain West in turnover margin last season.
Coach Brady Hoke: "It's great because we have some experience, we've got guys that have been in the battle. I think it's great because our team understands our expectations."
7. Colorado State
Last season: 3-9, 0-8 MWC (ninth). Unranked. No bowl appearance.
Returning starters: 4 offense, 9 defense.
Outlook: After a surprising seven-win season in 2008, the Rams fell off badly last year in losing their final nine games, including a 35-16 blowout defeat at UNLV. Colorado State hopes an experienced defense will help get it started back in the right direction, but this program is at least a year away.
Coach Steve Fairchild: "You look back last season, I'm not sure we're as bad as that record indicated, but it's a good lesson for all of us. Football comes down to one or two plays at the end of a game. The year before, we closed it out right on a few of them and found a way to get ourselves in a bowl game, and last year we weren't able to do that."
8. UNLV
Last season: 5-7, 3-5 MWC (sixth). Unranked. No bowl appearance.
Returning starters: 8 offense, 7 defense.
Outlook: The Rebels field a veteran squad that fell a game short of bowl eligibility the past two seasons. Getting there this year, though, won't be easy. UNLV plays a demanding schedule that opens with a home game against Wisconsin and includes a trip to West Virginia. But the Rebels hope a coaching change from Mike Sanford to Bobby Hauck will improve the fortunes of a program that has hadn't a winning season in 10 years.
Hauck: "Our players have worked extremely hard. They've bought into what we're trying to get done. With that said, our schedule, with nine bowl teams on it, is one of the most difficult schedules in the country, and certainly we'll be challenged every week. It's my hope all the hard work that our kids and our assistant coaches have put in can pay off with some wins."
9. New Mexico
Last season: 1-11, 1-7 MWC (eighth). Unranked. No bowl appearance.
Returning starters: 6 offense, 6 defense.
Outlook: Last year was a nightmare first season for coach Mike Locksley, who endured horrendous play from his team and created more bad news after allegedly striking an assistant coach. The Mountain West media don't see life getting much better soon for the Lobos, who seem miles behind where previous coach Rocky Long had taken the program.
Locksley: "The 2010 Lobo football program is embarking on the second year of a four- to five-year process. Having done this my last three stops, I see the tell-tale signs of a program that's right on track."
Contact reporter Mark Anderson at manderson@reviewjournal.com or 702-387-2914.
View complete Football Preview '10 section