TCU's Hughes poses problems for UNLV
October 29, 2009 - 9:00 pm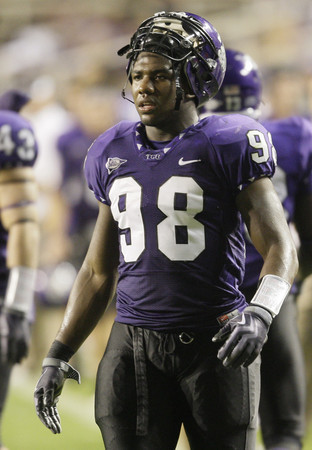 UNLV faces a dilemma against Texas Christian star defensive end Jerry Hughes: play him straight up or double-team him.
Perhaps the best defensive end in the country, Hughes set a Mountain West Conference record last season when he led the nation with 15 sacks. The senior leads the league again this season with nine sacks.
His talent probably deserves a double-team. But the problem is the rest of TCU's defense is more than capable of making the Rebels pay for doubling Hughes.
So, the task of trying to keep Hughes off the Rebels quarterback again falls mainly to right tackle Evan Marchal in Saturday's 1 p.m. game at eighth-ranked TCU (7-0, 3-0 MWC).
The 6-foot-7-inch, 310-pound Marchal drew the same assignment last season in UNLV's 44-14 loss to the Horned Frogs. The 6-3, 257-pound Hughes had two sacks, a forced fumble and a tipped pass that led to an interception.
"He's going to bring it every play," Marchal said. "He's got a motor, and he's not going to stop."
The Rebels (3-5, 1-3) have protected their quarterbacks this season. They have allowed 11 sacks, tied with Utah for fourth in the Mountain West.
"I think they're confident that they can do a good job and confident in our protections, and they've played against good players," UNLV tackles coach Gary Bernardi said. "Needless to say, statistically, (Hughes) is the best one in the conference right now, and he's well deserving of all the honors because he makes plays, and he's extremely explosive."
Paced by Hughes, the Horned Frogs lead the conference with 26 sacks, tied for fifth nationally.
Hughes lines up at left end rather than what many would consider rush end on the right side. TCU coach Gary Patterson said Hughes is more comfortable on the left, and other top TCU pass rushers such as Tommy Blake, Chase Ortiz and Bo Schobel also played there.
Hughes also fits the mold of Patterson-coached players who have moved from running back to defense, adding speed to that side of the ball.
A top high school running back in the Houston area — Hughes rushed for 1,412 yards and 19 touchdowns as a senior — he was working at defensive end when Patterson stopped by one of his spring practices.
"He never played it (in a game), but I saw two or three plays in the middle where he lowered his hips and chased a counter down," Patterson said. "It was just fortunate I happened to be there that day."
Contact reporter Mark Anderson at manderson@reviewjournal.com or 702-387-2914. Read the latest UNLV football updates at lvrj.com/blogs/unlv_sports.