Tony Sanchez will be next UNLV football coach
December 8, 2014 - 9:22 pm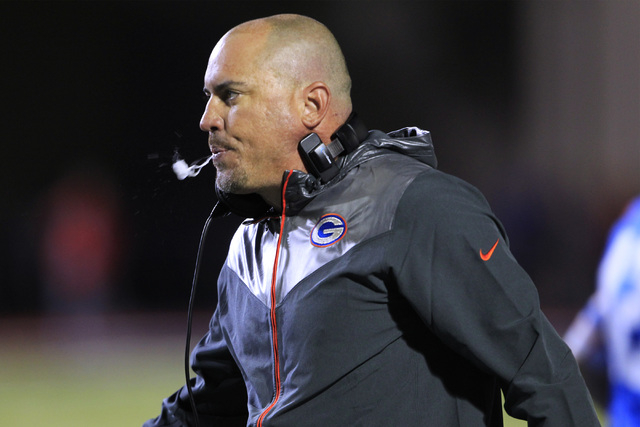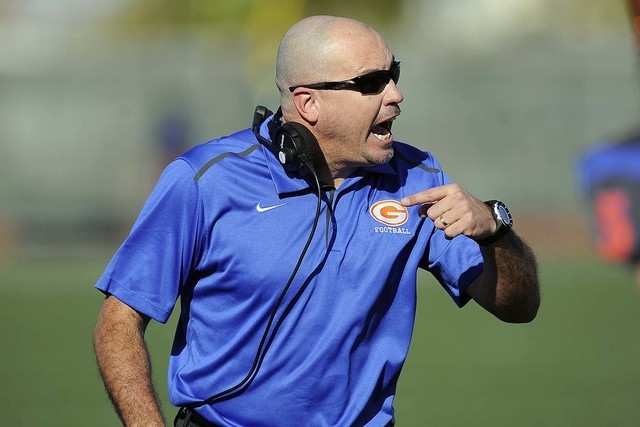 Tony Sanchez took Bishop Gorman to the top of the high school rankings, and now he will start near the bottom of the college football world at UNLV.
He will be the Rebels' next coach, sources said Monday night, confirming what has been speculated since Bobby Hauck announced Nov. 28 he was resigning at UNLV. The sources didn't want to be named because no official announcement has been made.
"I never questioned the final outcome," one source said in a text message. "Sanchez will be next coach."
Sports Illustrated also reported the contract was being finalized.
The state Board of Regents has called a special meeting for Dec. 16 to take up the contract. One source said the regents still had some issues to handle, but a basic agreement was in place.
UNLV athletic director Tina Kunzer-Murphy said in a text message she had nothing to say regarding Sanchez, and attempts to reach the coach for comment were unsuccessful.
Sources have said in recent days UNLV interim President Don Snyder has had a big hand in negotiating the deal, which could include financial support from Gorman backers.
Whether that support includes the Fertitta family remains to be seen, but Snyder and the Fertittas have a business relationship. Snyder was the president at Boyd Gaming from 1997 to 2005, and the Fertittas operate Station Casinos. Also, Lorenzo Fertitta is chairman and CEO of Ultimate Fighting Championship.
UNLV's football program needs all the financial help it can get. Kunzer-Murphy and Snyder have talked about how the school needs to upgrade its facilities in an effort to compete for recruits. The Rebels lag behind most of the other Mountain West schools in facilities, and Colorado State received approval on Friday to build an on-campus stadium.
Hiring a coach directly from the high school ranks is risky, and there are examples of failed attempts, such as Gerry Faust at Notre Dame in 1981. But the Rebels posted two victories in eight of the past 11 seasons, and they are in a desperate spot.
As Kunzer-Murphy has said, they have tried all sorts of coaches — the hot shot coordinator, the winner at a lower level, the coach with a legendary background.
The hires haven't worked, and no coach has put together a winning UNLV record since Harvey Hyde went 26-19-1 from 1982 to 1985. Hauck was the most recent to try to turn around the program but left with a 15-49 record over five seasons, including 2-11 this year.
Sanchez, 40, knows plenty about winning. Gorman won its sixth consecutive state title on Saturday, routing Reed 70-28 in Reno. The Gaels also probably will be declared the USA Today national champions.
Hiring Sanchez, who went 85-5 at Gorman, always seemed destined to happen, though Kunzer-Murphy conducted an in-person interview with former New York Giants and Las Vegas Locomotives coach Jim Fassel. She also had phone interviews for ex-college head coaches Houston Nutt and Ed Orgeron and was scheduled to interview former Hawaii and Southern Methodist coach June Jones on Monday.
Whether Kunzer-Murphy spoke with Jones couldn't be confirmed, but most of her talks with coaches were by phone, an indication those candidacies were not seriously considered.
Though all signs pointed to Sanchez eventually getting hired, negotiations didn't always go smoothly. KLAS-TV even reported last week it was a done deal — and UNLV immediately issued a denial to the story, saying no agreement had been reached. Issues had to be worked out as recently as this past weekend, one source said.
No denial came Monday night from UNLV that Sanchez would be the next coach.
Now it's a matter of waiting for the official announcement, which could come Wednesday.
Contact Mark Anderson at manderson@reviewjournal.com or 702-387-2914. Follow @markanderson65 on Twitter.