UNLV backup QB Max Gilliam improves since spring practice
Updated August 7, 2018 - 4:10 pm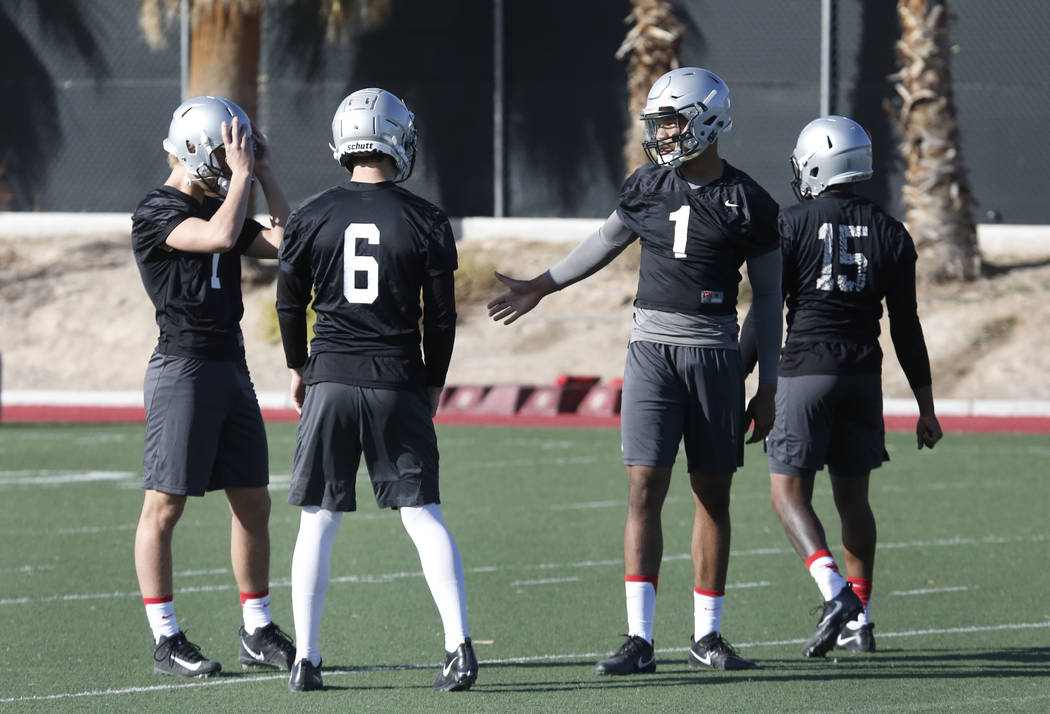 If UNLV's football history is any indication, sophomore backup quarterback Max Gilliam will start at some point this season.
Gilliam, a transfer from Saddleback College in Mission Viejo, California, consistently has been on target in practices at Rebel Park, whether delivering passes over the middle or to receivers on post patterns.
That's quite a change from spring when Gilliam struggled with his accuracy.
"The biggest thing when you bring in a juco guy is it takes a good six months, if not longer, to just acclimate to a Division I atmosphere, to know the system, to be comfortable in it," coach Tony Sanchez said. "So when you get a guy like that who comes in early and is part of the spring, he gets to make a bunch of mistakes. He gets to put it on film. He has a couple of months to watch that and re-evaluate it, and then he comes in with a whole different swagger and level of confidence."
Barring a practice injury, sophomore Armani Rogers will be the starter when the Rebels open their season Sept. 1 at Southern California. But Rogers isn't afraid to throw around his body, and he missed three games last season because of a concussion.
UNLV also hasn't had the same starting quarterback for every game since Jon Denton in 1996.
Gilliam's job is to show he can adequately replace Rogers if needed. That won't be known for sure until such a situation exists, but Gilliam — who redshirted in 2016 at California — is at least showing he has the ability.
"I definitely had a little different experience coming in here than where I went to my first couple of colleges," Gilliam said. "I know how things work and how to prepare a little bit better than I did before. I'm a lot more confident, and confidence is a big part of playing quarterback."
Being able to go through spring also placed Gilliam ahead of schedule.
"Spring ball definitely helps you get the plays down, just understand how things work around here," Gilliam said. "So spring ball definitely helps, especially at quarterback because we've got to know what everyone's doing and how everyone is operating."
Getting to work … for now
UNLV went into full pads Tuesday for the first time.
"You look at the collective five days, and we've got a lot of stuff in," Sanchez said. "We're way ahead of where we've been. We've installed a lot of stuff. It's good to see them getting out there and tackling. Football's a different game now. There are not a lot of days of full contact anymore, so when you do have those days, you have to do a really good job of making sure you're fundamentally sound."
The Rebels don't practice Wednesday, and the NCAA's decision to reduce practice days from 29 to 25 while also shortening the camp schedule forces teams to be more strategic with days off.
"I'm sure they'll go back and revisit it," Sanchez said. "The days off are huge."
Battle at D-end
Senior Jameer Outsey has been working at first-team defensive end, but Sanchez said junior Nick Dehdashtian should share plays even if Outsey becomes the starter.
More Rebels: Follow all of our UNLV coverage online at reviewjournal.com/Rebels and @RJRebels on Twitter.
Contact Mark Anderson at manderson@reviewjournal.com. Follow @markanderson65 on Twitter.