UNLV beats Fresno State, 45-20 — VIDEO
October 5, 2016 - 5:41 pm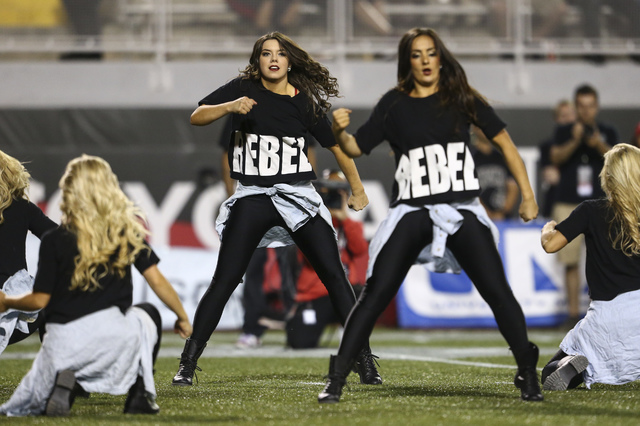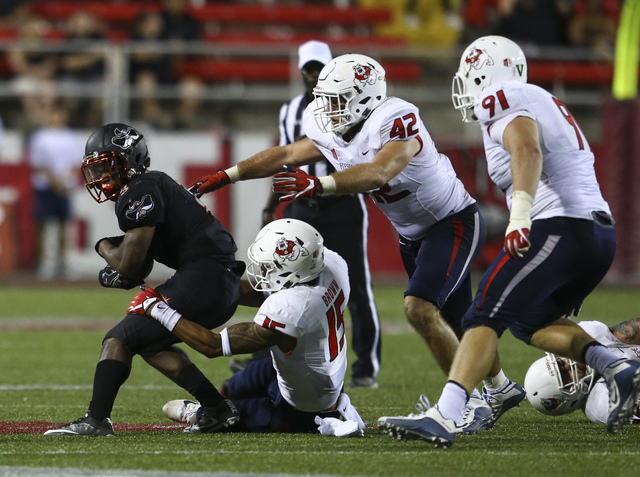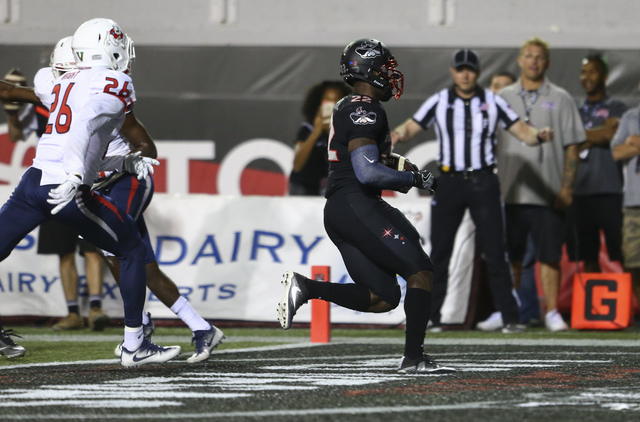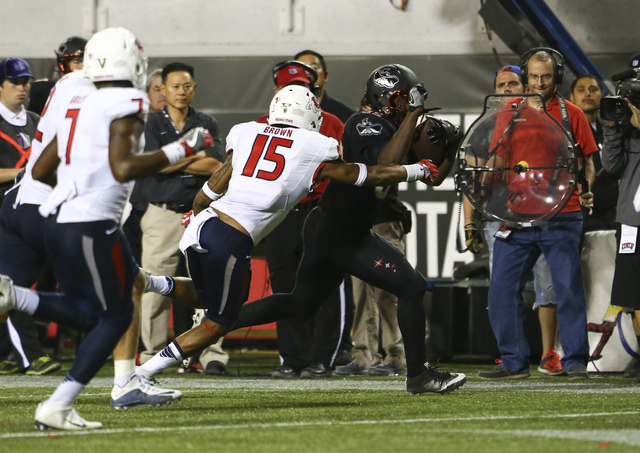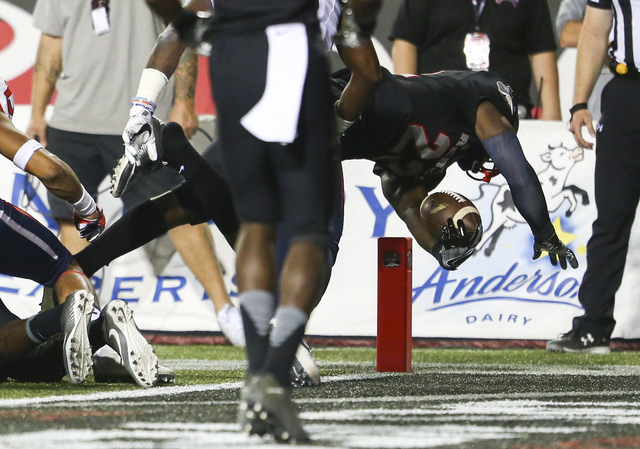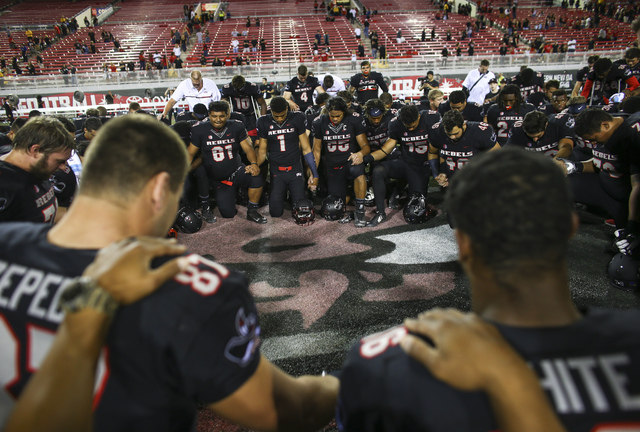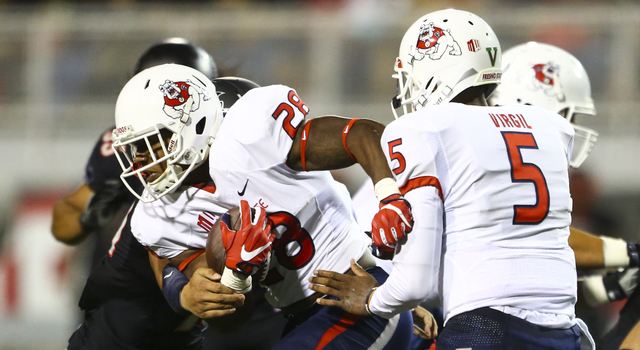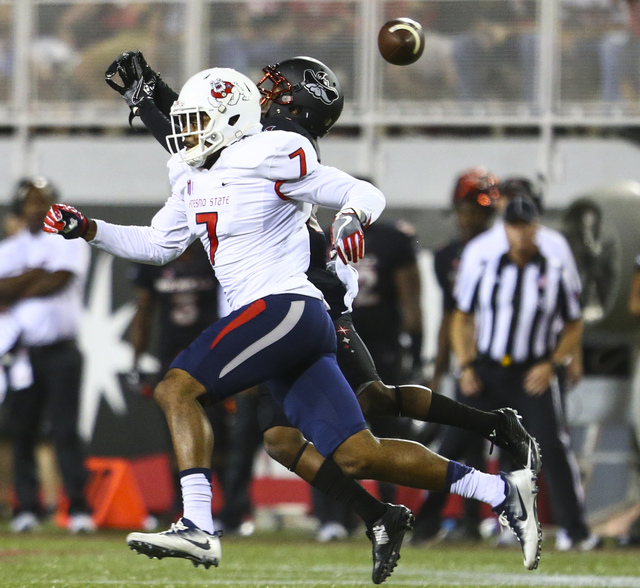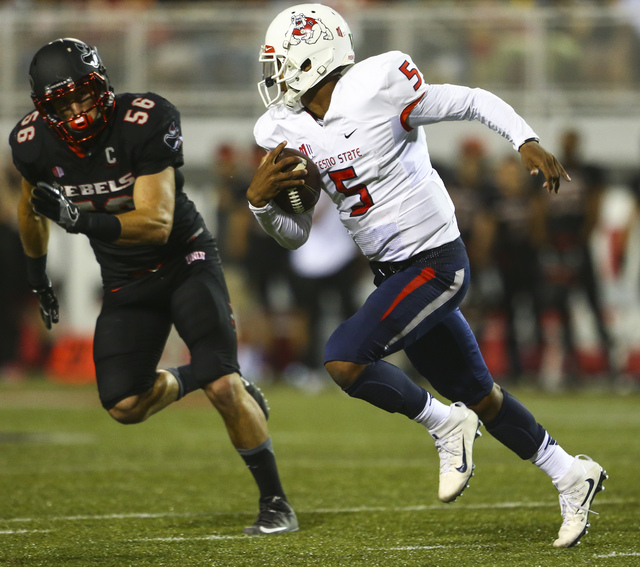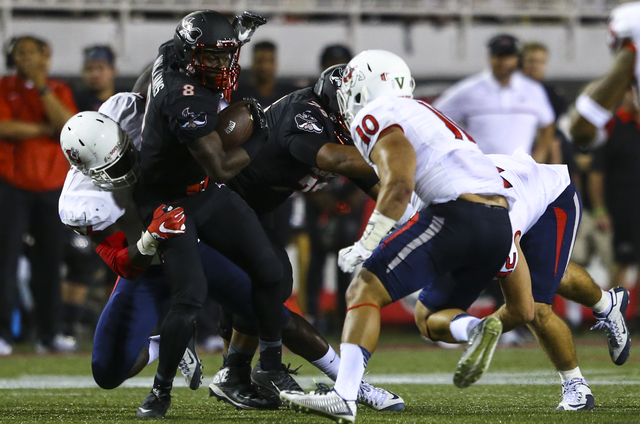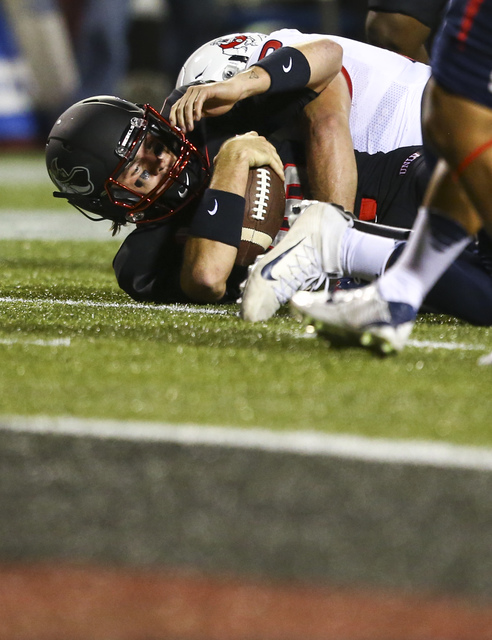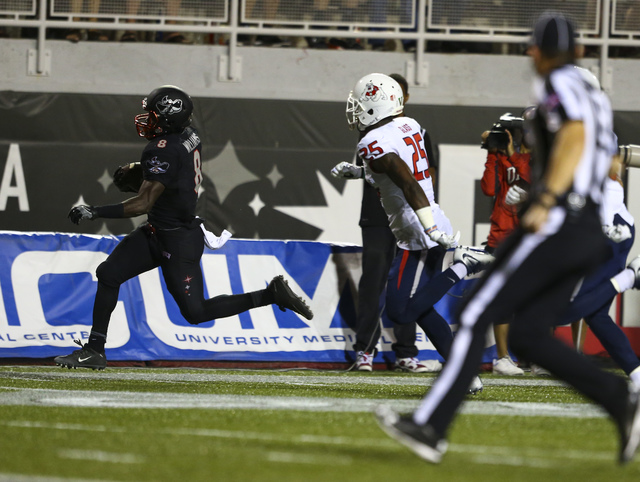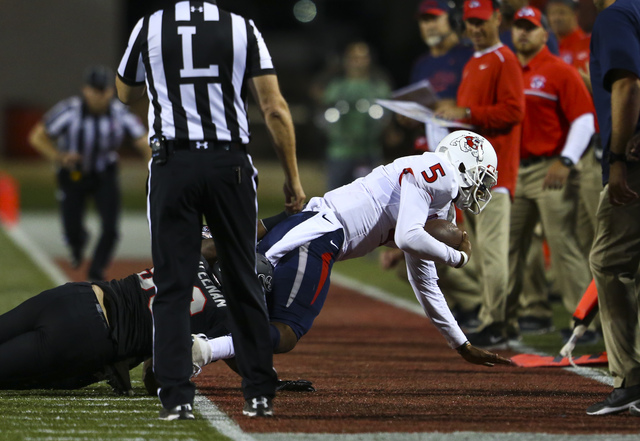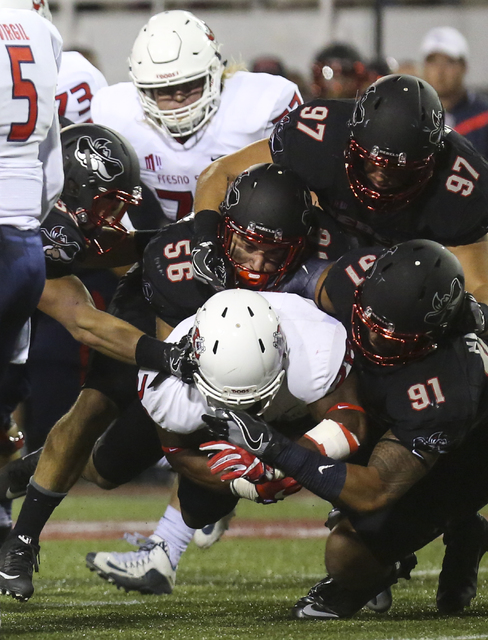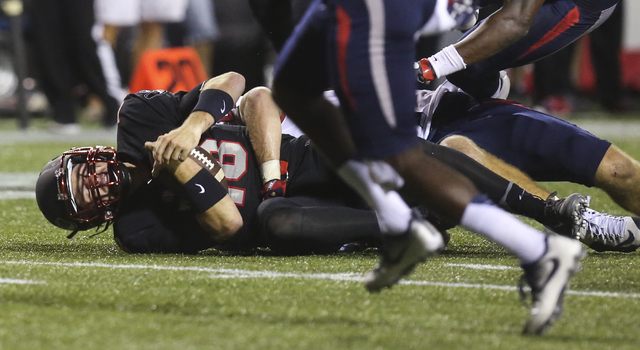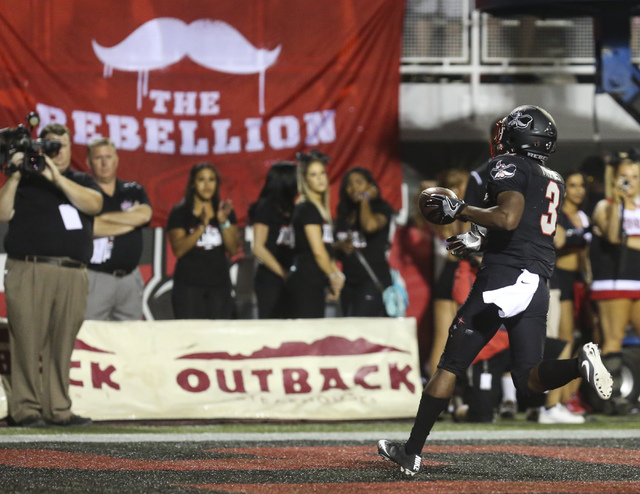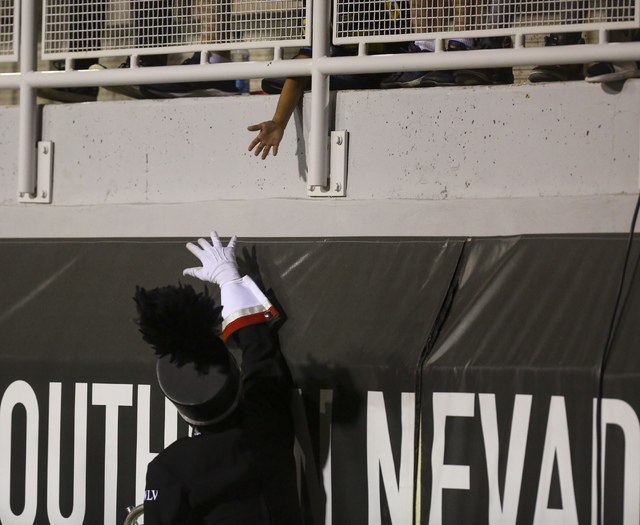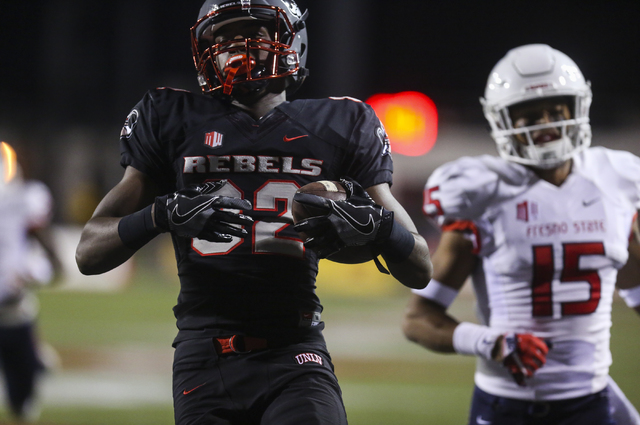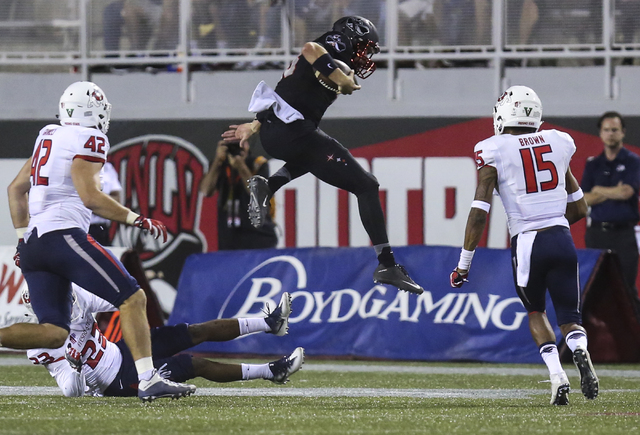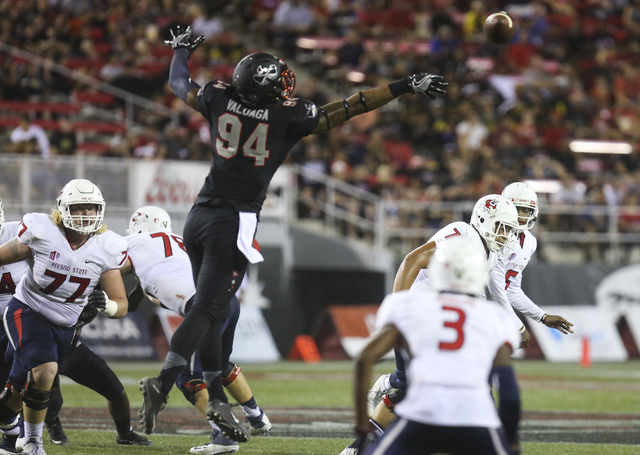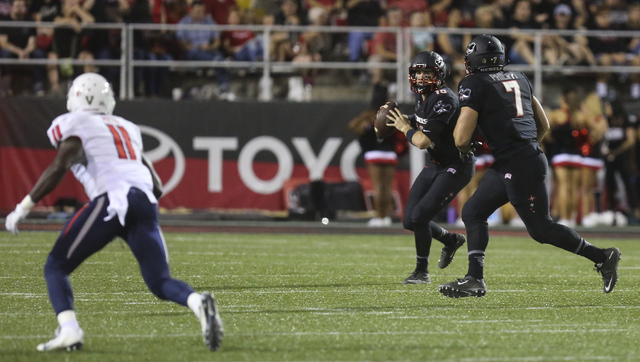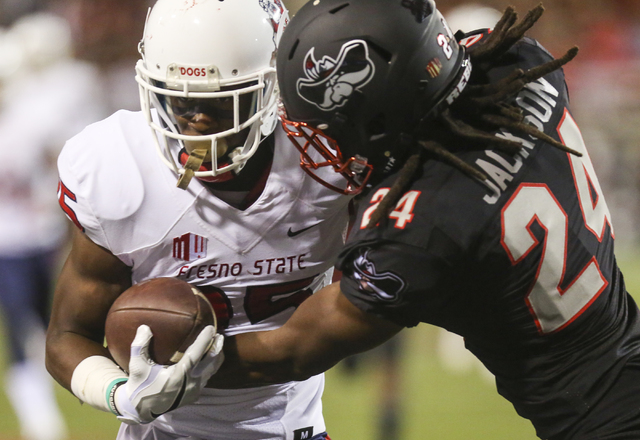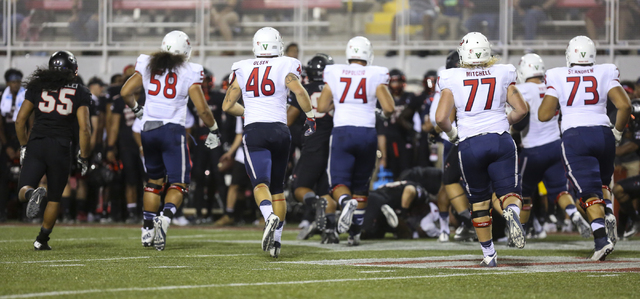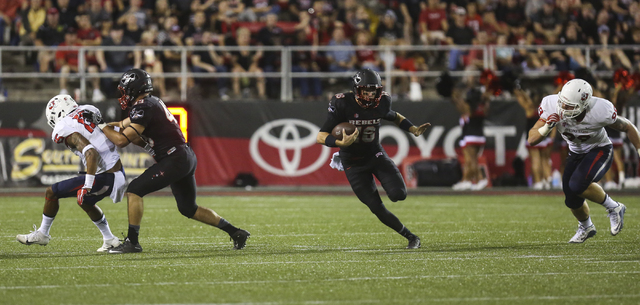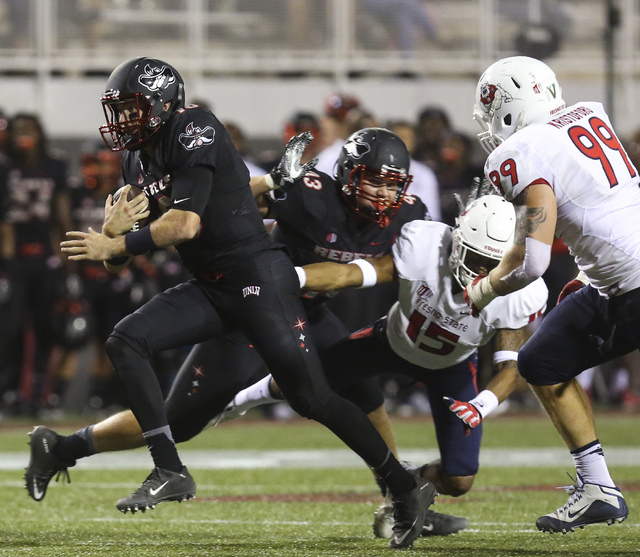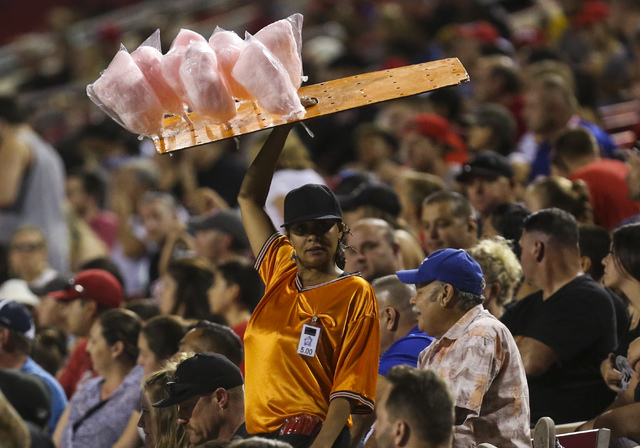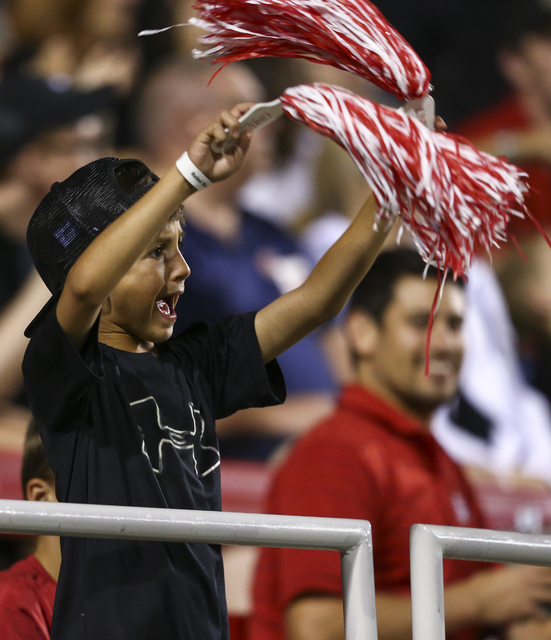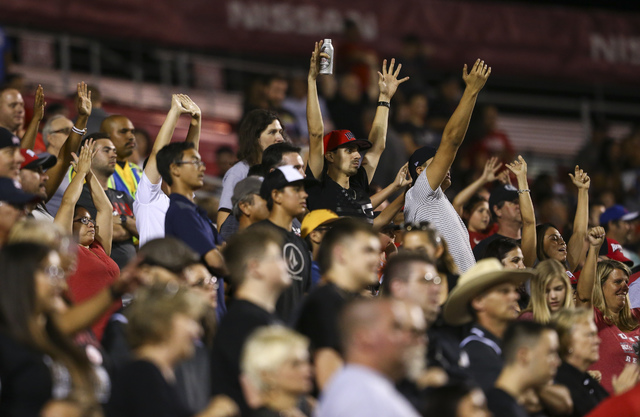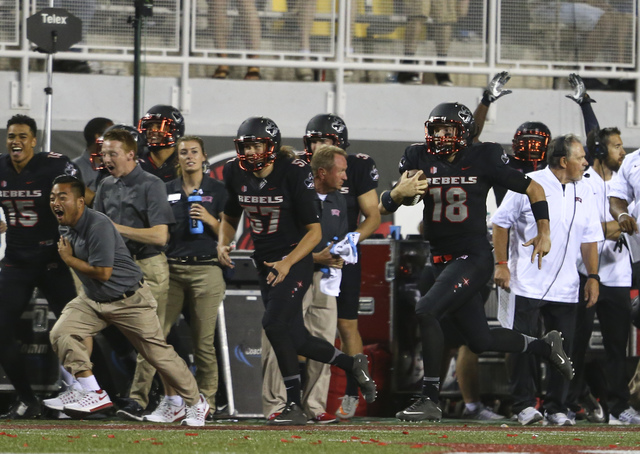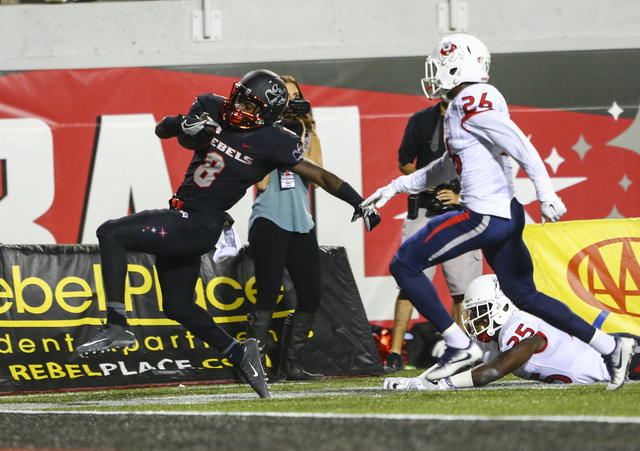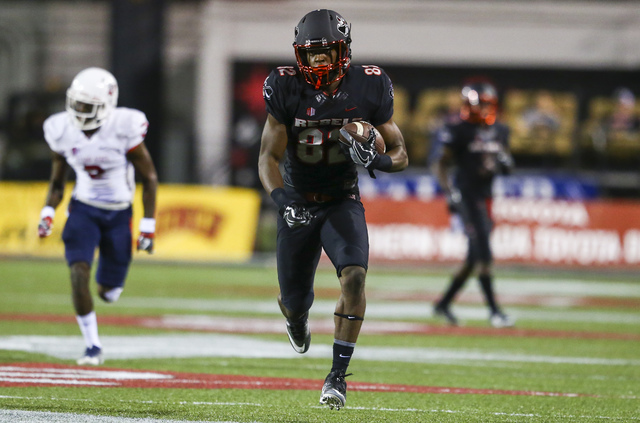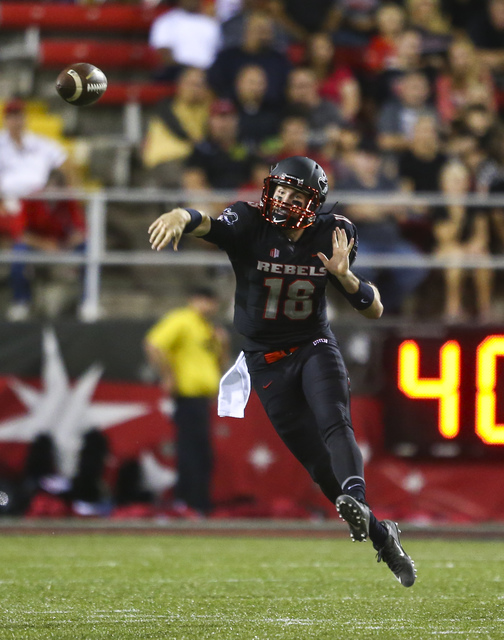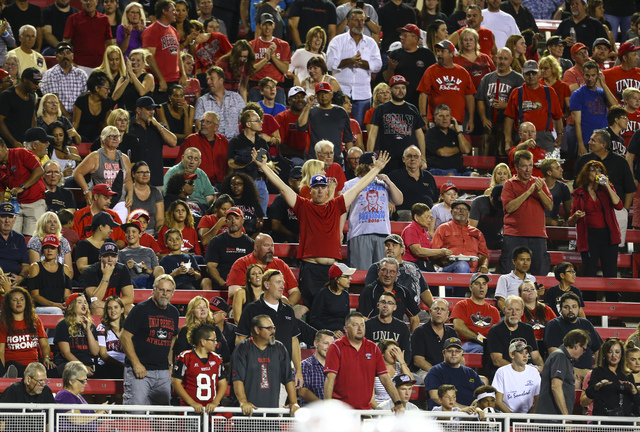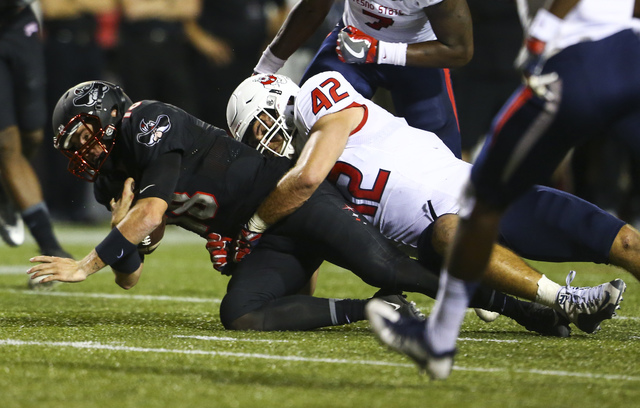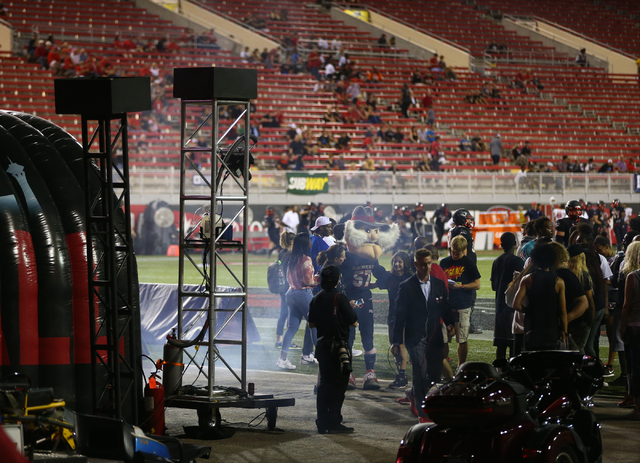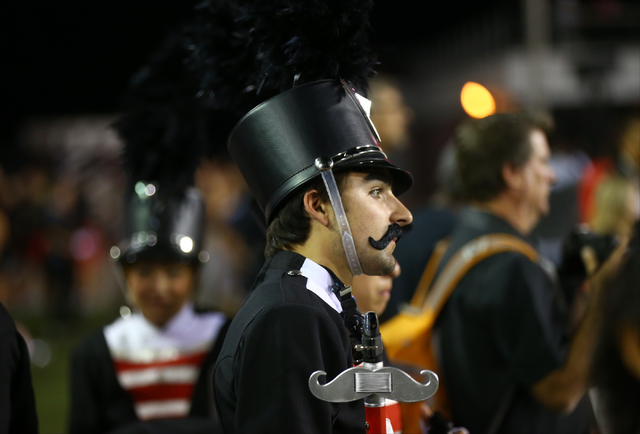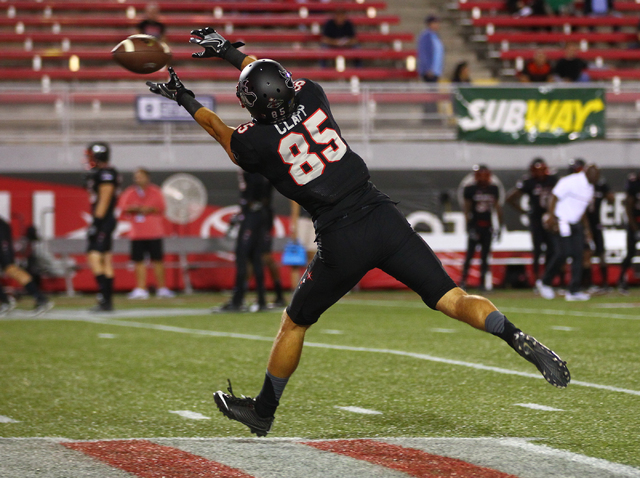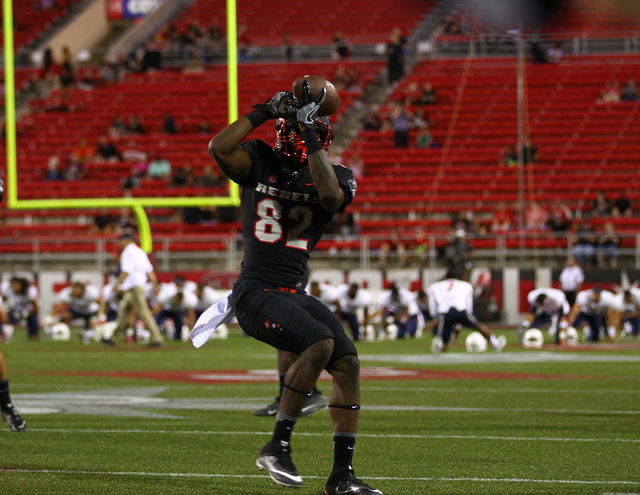 UNLV running back Charles Williams had been gearing up for Saturday night's game against Fresno State since the true freshman committed to the Rebels last year out of Fresno, California's Bullard High School.
Quarterback Dalton Sneed had been preparing for his first collegiate start since the redshirt freshman committed to UNLV's previous coaching staff in 2014.
In a virtual must-win for the Rebels, two of their aforementioned youngest players helped them to a 45-20 victory over the Bulldogs in the Mountain West opener for both teams before an announced homecoming crowd of 17,811 at Sam Boyd Stadium.
Williams ran for a career-high 153 yards and a touchdown against his hometown school, and Sneed scored on a 91-yard touchdown run that was the longest offensive play from scrimmage in school and stadium history and also threw a 61-yard touchdown pass.
The Rebels (2-3, 1-0 MW) snapped a three-game losing streak and started 1-0 in their conference for the second straight season under coach Tony Sanchez and only the fifth time in 18 years.
.@daltonsneed does it himself and runs from end zone to end zone! Longest rush in UNLV History! Officially 91 yards.#UNLVFB #SCTop10 pic.twitter.com/m5AAuN6aF2

— UNLV Athletics (@UNLVathletics) October 2, 2016
Williams and Sneed, who had 147 yards rushing on 15 carries, keyed a UNLV rushing attack that finished with 364 yards on 54 carries.
"It's funny because (Williams) has been texting me about this since we signed him," Sanchez said. "Now he'll stop texting me, thank goodness. It meant a lot to him. He was really a guy on a mission. It was great for him to have this breakout game in that situation."
Williams put UNLV ahead for good, 14-7, with a 5-yard touchdown run in the second quarter. One of the top prep sprinters in California last year, he set up the score with a 39-yard scamper on third-and-2.
"It just shows they missed out on talent," Williams said of Fresno State, which didn't recruit him as a running back. "Since they didn't look at me, I was going to make them pay for that."
.@daltonsneed finds @touchdowntros for a 61-yard bomb! Rebels lead 21-7 #UNLVFB #LightTheFuse pic.twitter.com/H2o5d9J9xJ

— UNLV Athletics (@UNLVathletics) October 2, 2016
UNLV scored touchdowns on three straight possessions in the second quarter to take a 21-7 halftime lead. The Rebels blew a 28-14 second-half lead and lost at Fresno State last season but held on this year, thanks in large part to Sneed, whose record-setting run made ESPN's Top 10 plays Saturday.
Facing third-and-11 at his 9, Sneed dropped back to pass and was pressured into the end zone, where he eluded a tackle for a potential safety. He then scrambled out of the pocket and raced down the sideline to extend the lead to 28-10 midway through the third quarter.
"It looked a little hairy for the throw, and I decided to get out of the pocket," Sneed said. "As soon as I saw that black paint in the end zone, I said, 'Oh, my God, I better get outta here because I better run to the other sideline if I get a safety here.'
"But I got out, I got a few good blocks, I turned on the jets and got six."
Sneed completed 8 of 16 passes for 129 yards and a touchdown, and the Rebels enjoyed their first turnover-free game this season. He fired his first career TD pass with 2:56 left in the first half, finding true freshman Elijah Trosclair wide open downfield. It was Trosclair's first career catch.
"At the end of the day, the game's about players making plays," Sanchez said. "You recruit guys who have competitive souls, and that's exactly what Dalton has. He put us on his back on that (running) play and made an unbelievable play. That wasn't a call. That's just his heart and spirit stepping up and doing something special."
Lexington Thomas opened the scoring with a 1-yard TD run, and David Greene added two late touchdown runs for the Rebels, who won their Mountain West home opener for just the third time since the league started in 1999.
UNLV's ongoing struggles against the deep ball kept the game interesting entering the fourth quarter, as the Bulldogs (1-4, 0-1) cut their deficit to 31-17 on an 80-yard touchdown pass from Chason Virgil to Aaron Peck with 1:17 left in the third. Virgil, who also hooked up with Peck (five catches, 194 yards, two TDs) on a 52-yard pass, finished 16-for-45 for 296 yards, two TDs and an interception.
The Rebels won the game but probably lost another starting wide receiver, as redshirt freshman Darren Woods Jr. suffered a potentially season-ending knee injury when he took a helmet to his right knee after making a catch.
"We still have to make sure, but the first word is he's probably done," Sanchez said.
UNLV already has lost starting wideouts Kendal Keys and Brandon Presley to injuries and will have to continue to rely on youngsters to step up.
"We've got a lot of young guys doing special things," Sanchez said. "We've got all kinds of young guys. I can't wait until they grow up."
The Rebels will try to even their record at 3-3 on Saturday at No. 19 San Diego State (3-1), which was upset 42-24 on Saturday by South Alabama.
Contact reporter Todd Dewey at tdewey@reviewjournal.com or 702-383-0354. Follow him on Twitter: @tdewey33
Visit our GameDay page for full coverage of the UNLV-Fresno State game.